Please select your dates to see prices:
---
MaMaison Hotel Riverside Prague in Prague, Czech Republic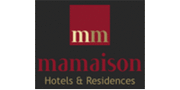 Prague is famously known for being one of the most romantic cities in the world. Let your heart soar as you enter into the MaMaison Hotel Riverside, an intimate sanctuary on the left bank of the Vltava River, and uncover a place where falling in love is easy. With its striking Art Nouveau facade and elegant belle epoque interiors, the hotel is a work of art. It is also a place of great comfort and hospitality, where most of the 45 guest rooms and suites boast fairy tale views of the city's towers and turrets.
After a leisurely breakfast in the Riverside Lounge, you might spend a day following the Royal Route of the city's old Bohemian kings from Prague Castle to the Old Town Square, or perhaps take an excursion to the 14th century Karlstejn Castle on outskirts of town. After lingering with locals in one of the Prague's quintessential coffee houses or cruising the river, enjoy sunset views from the Charles Bridge, followed by drinks amid the theatrical red décor of the hotel's Hemingway's Bar.
Location of MaMaison Hotel Riverside Prague
MaMaison Hotel Riverside Prague
Janackovo Nabrezi 15
150 00
Prague, Czech Republic
Nearest Airport: PRG
Amenities for MaMaison Hotel Riverside Prague
General Information
45 Guest Rooms
Dining
Restaurant
24-Hour Room Service
Bar & Lounge
On-Site Amenities
Concierge
Shoe Shine Service
Complimentary Newspaper
Housekeeping Service
Laundry Service
Multilingual Staff
24-Hour Front Desk
Elevator
Theater
In-Room Amenities
Air Conditioning
Business
Business Center/Services
Meeting Rooms
Nearby
Historic Sites
Museums
Reviews for MaMaison Hotel Riverside Prague
---
We arrived at this hotel after getting a private transfer from the airport for a 3 night stay. Checked into the hotel, all English speaking staff, made us feel very welcome. we were checked into room 404. one of the most innovative features I've ever seen in a hotel, they give you your own travel buddy which is basically an android powered smartphone for your stay you can fully configure it to your own logins, and tell it when you check out so your data is automatically erased. Our first challenge came when I realised that I'd forgotten our UK travel adaptors for the European plugs. I researched it on google and found out that they are quite rare in Prague. I was starting to panic, so I went down to reception and asked where I might be able to purchase one. the girl on the desk just smiled at me, reached into a box of odds and ends, and handed me a UK travel adaptor. Problem solved! I was very grateful for this, as it allowed us to charge our devices, and we also borrowed the plug from the travel buddy as it was a USB plug that worked with our cables. Another feature that I found very unique was that the ceramic floor of our bathroom is heated! the controls in the bathroom allow you to set how hot the floor gets, making it very welcoming to your feet first thing in the morning when you want a shower. as well, we were caught in a cloudburst on our second day, and came back like drowned rats, so the heated floor proved most useful in drying our gear. additionally, the hotel has free umbrellas that you can borrow on rainy days. our only complaint was that even with the heating at minimum the room was very hot, we often woke up stuck to the bed. to be fair though, we came to Prague during a period of very warm weather, something the Czech republic doesn't always have, so the hotel is obviously designed to keep you warm in cold weather, but it's just something to be wary of as the room was very hot. I also liked the fact that the hotel has a big green sign on it's roof, making it easy to spot anywhere from the river when getting our bearings around Prague. The hotel is just down the road from Petrin Hill and it's observation tower, making it easy to get to, and a bridge just outside the hotel takes you into the heart of Prague's old town. The rooms come with a minibar, with the usual high prices for minibar items, however the fridge does come in handy for storing our own things, as there is a Tesco just down the road, and we bought milk for morning tea and stored it in the fridge. We also had an amazing view of the river from our room which made a lovely sight to wake up to in the mornings, and the rooms were turned down efficiently when we were out and about for the day. Also a secure safe in the room makes it easy to store your valuables for peace of mind. One thing I did find a little unusual, the room numbers are not on the doors, they are etched on the floor outside the rooms, but this is just part of this hotels unique charm. All in all I can't recommend this hotel enough, Location, facilities, and service, all make a great experience. I would highly recommend this hotel for anyone looking to explore the great city of Prague.
David P - Newcastle upon Tyne, United Kingdom
---
We stayed in a very big room with an enormous bathroom, sadly located to the atrium rather than the river. The staff is very nice and helpful whenever you have questions or need anything. The hotel itself is located on the "Kleinseite" and in walking distance to the Charles Bridge and the Castle as well as to the big mall at Andel (checkt the food around there) and the Old Town on the other side of the river.
jkuschel - Dortmund, Germany
---
We stayed 3 nights in this hotel in April. The room was very spacious and clean and no issues. It's a 20 minute walk to the old town but it is in a very pleasant area and there are some nice bars and restaurants just 5 minutes walk away. We didn't have breakfast as seemed expensive at 15 euros especially with a couple of nice coffee shops within easy walking distance, Overall would be happy to stay here again.
JiggyG2007 - Leeds, United Kingdom
---
Prague is a wonderful city and the Mamaison hotel is a wonderful hotel. Great location and it has everything you could want or need for your visit. The staff is friendly and accommodating. From here it is easy to go to any of the many points of interest and explore this amazing city. We were there during the Easter and spring festivals and could not have asked for anything more from a hotel.
james_e_watkins - Plano, Texas
---
Very nice hotel. Room very spacious, bed comfortable and beautiful bathroom! We arrived quite late for check in (11pm) but the lovely man at reception welcomed us with a warm smile and answered all the questions we possibly had. Would recommend!
---