Please select your dates to see prices:
---
Blue Haven Resort in Providenciales, Turks and Caicos Islands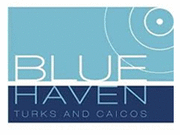 Opened in 2013, Blue Haven Resort is the first resort on the far north end of the Turks and Caicos. It's a far cry from the all-inclusives on Grace Bay – the resort is sleek and colorful and boasts an outstanding restaurant, yet it's friendly to guests seeking self-sufficiency. Suites are outfitted with stainless steel Sub Zero and Thermador appliances, and a full marina invites commissioned boat rides to surrounding islands.
Swim up to the bar at the edge of an oceanside infinity pool. So what if the morning sun is still overhead? A tart concoction of Bombay gin, cucumber juice, limes and prosecco is refreshing any time of day. In the afternoon, gallop on horseback along the shoreline of a deserted beach. Dine on Dover sole in lemon consommé, and take desert in the lounge – let the flames of the fire pit warm a dish butterscotch bread pudding topped with ice cream.
Location of Blue Haven Resort
Blue Haven Resort
Marina Road Leeward, TKCA 1ZZ
Providenciales, Turks and Caicos Islands
Nearest Airport: PLS
Amenities for Blue Haven Resort
51 Rooms & Suites
Non-smoking Rooms
Pets Not Permitted
Private Beach
Fully-equipped Kitchens
Marble Bathrooms
Infinity Pool
Swim-up Bar
Outdoor Spa Treatments
Beach Volleyball
Bicycling
Bocce Ball
Horseback Riding
Four-wheel Drive Excursions
Nature Hikes
Whale Watching
Scuba Diving
Snorkeling
Kite Boarding
Deep Sea Fishing
Bonefishing
Boat Excursionss
Kayaking
Paddleboarding
Yachting
Reviews for Blue Haven Resort
---
We just came back from a 4 night stay at this All Inclusive Resort. We were so disappointed in this hotel. We stayed in a 2 bedroom suite which was probably the only feature we enjoyed. From the moment we arrived I didn't have a great impression. Check in is a slow process as there is only one desk and one person doing check in. The staff all appear to be unhappy and hardly say hello or smile. I've never experienced something quite like that while on vacation. I am shocked to read all the rave reviews about service- we just did not see that. The service is lacking big time. The room comes equipped with washer/dryer so I packed with that information in mind. It was a process to use the washer/dryer as they have it locked behind a door and seemed like an ordeal to get someone to unlock it. They do not supply any detergent which is extremely odd. The room didn't even have a hair dryer. The beach is decent. Quiet and calm water which was nice for my small kids. We did take the shuttle over to Alexandra Hotel. Grace Bay is beautiful and worth the 15 minute shuttle. As for the all inclusive- if you have been to other resorts that are all inclusive you most likely will be disappointed. There is really only one choice for dinner and it's buffet. Lunch is ok at best. Breakfast was probably the best meal. To me what stood out the most was the service or lack of. I honestly have never seen such unfriendly people on vacation. Don't expect anyone to come asking if you want a drink or food. In our 4 days at the beach/pool, I think it is safe to say we were asked maybe 3x if we needed a drink/food. After spending a decent amount of money on this vacation we left feeling so disappointed. We would return to TC but not to this resort.
---
Very unhappy with our visit to Blue Haven which was extremely disappointing as we love coming to TCI! Let me start with the positives. Kid friendly, small resort with large rooms with full kitchens, we stayed in the 2 bedroom suite. All downhill after that. Service- mediocre at best! After staying in Mexico at an all inclusive in January that was HALF the price, this service paled in comparison. Not attentive, very slow and forgetfull! In 5 days we had 2 meals that we ordered at the bar that we NEVER received! Keep in mind, it is never busy here with only 42 rooms which makes it that much more inexcusable! Activites- there are no horseshoes or volleyball as advertised as that area near Salt appears to be abandoned since the storm. Food- this is where we feel like we really got cheated. There is no Mediterranean menu as mentioned on the website as dinner was buffet only every night we were there, although they said that would not be the case. There is no dinner menu, you get whatever they put out. Salt bar and grill was not really opened. They opened a couple nights to only serve the pool bar food which consisted of burgers and quesadillas with fries. The only food option you have until 530pm is the bar menu mentioned above. Buffet does end at 930pm which is your last food option of the day as there are no choices or room service after that. Top Shelf drinks- they don't have them! Top Shelf vodka for instance was Absolute which is far from top shelf. Same thing for all other liquors which is not what you expect at an all inclusive at this price! All in all their website is very deceiving and this should not be considered an all inclusive resort. More like all EXCLUDED which is what forced to spend another $1,000 on dinners outside of the resort so that we could at least eat the foods we expected to be at the resort based on the description and the photos. Next year, to Beaches we go!
---
We just returned from 6 glorious nights at the resort and absolutely fell in love with Blue Haven and Turk and Caicos. This was our first time visiting the island and we were not disappointed. The resort was beautiful, clean and staff amazing. They truly go out of their way to make your stay perfect. We visited the two sister properties and they just can't compare to Blue Haven. Alexandria is older and beach is very crowded to the point where it was uncomfortable. The Beach House was nice (make sure to reserve chairs in the morning) but the layout and accessibility to the beach couldn't compare to Blue Haven. We were thankful each afternoon to return to the resort. Blue Haven is just very laid back and everything is centrally located. What really sets it apart is the team working there. I was very ill by the time we arrived the first night and everyone was gracious to expedite us getting to the room. I would like to acknowledge a few team members that really made our stay amazing: Sharick and Nadhalia at reception/concierge, Scott and Robert at the beach bar/restaurant. We loved our stay so much that we extended another night and wish we were still there. We plan on returning and this is the only place we would consider staying. We had a two bedroom ocean view suite and it was spacious, clean and modern. It provided a great deal of privacy based on the layout. We ate three nights at Kitchen 218 (make reservations in advance)at the Beach House and the food was exquisite. The breakfast was very good at the resort and you can certainly eat all your heart desires. The lady cooking the omelets was also wonderful. Fire and Ice for dinner was a buffet each night, which wasn't appealing to our tastes so we found other options. They also offer fresh baked chocolate chip cookies at reception 24 hrs a day...we visited quite often to indulge :) I know there have been other reviews that mentioned the shuttle service, but we had no issues. It was timely and served it's purpose. We made sure to be ready and waiting about 10 mins prior to the shuttle time just in case it ran early. If one filled another shuttle was called. We did also book snorkeling and a jet ski tour through Caribbean Cruisin (that's how they spell it), which is right behind the resort and super convenient. Had a wonderful time. Thank you for making our trip stress free and memories that will last a lifetime. Kudos Blue Haven team!!
MissSiu - misssiu@aol.com
---
Well stocked refrig was 2 beers Beach sand gritty and course Sand in water mushy like mud If you like to run/walk on the beach this is not the place for you. The beach is man-made with very gritty sand with ground up shells in it. Also, it is only about 1/8 mile long, and not ocean front. It is on a canal with an island in front of it. Only waves you get are boat wakes! The water is blue but not very clear. Can see only about 2 feet in it. The restaurant was all buffet but the 2 sister resorts were ok It was hard to get a drink in the bar in evening due to one bartender working both the bar and the restaurant Our room was advertised as oceanfront but had no balcony (buyer beware) On the first day we only had $20's and could not get change to tip, so the service sucked even when we started tipping! Staff is nice, people in Turks are nice and friendly, and beach at the sister hotel (Beach House) was great. We rented a car and went to that beach every day! The good side (just to be fair): It is a great place for little kids. Beach is shallow, calm and very safe.
tsimko - Pittsburgh, Pennsylvania
---
This was my first trip to Providenciales and what an amazing experience. The Resort was set at a beautiful location, the food was delicious, and the staff was incredibly accommodating. I want to especially thank Cisco, Riley, Mike, and the young lady working the pool grill who really went well above my expectations and made us feel so comfortable. The all-inclusive experience was wonderful and it was nice to check out the other resorts. Dinner at the Beach House was romantic and delicious. Sunset beach is only a 5 minute bike ride away. I highly recommend the Blue Haven Resort and would/will happily stay there again.
---