Please select your dates to see prices:
---
Gansevoort Turks + Caicos in Providenciales, Turks and Caicos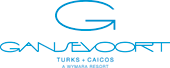 Golden sands, the gentle rush of waves rolling ashore, and the shimmering Caribbean Sea welcome you to the beauty of the tropics and the lap of luxury at Gansevoort Turks + Caicos, a Wymara Resort. Right on the sand of gorgeous Grace Bay Beach, this fabulous hotel is a perfect blend of sleek modern style and relaxed beach atmosphere. Spacious rooms are bright and inviting, with a chic elegant design and a gentle, uninterrupted flow from indoors to out, allowing you to enjoy the lap of luxury and the island's natural beauty all at once. Sliding glass doors and walls of picture windows create a sunny, relaxing space, while your private terrace presents breathtaking sunset views of the bay. Complete with enticing soaking tubs, stylish rainshowers, and all the modern entertainment options and service, discover pure beach bliss with your stay at Gansevoort Turks + Caicos.
Before venturing out for a day of beach fun, make your way to Exhale Spa to keep up your routine and emerge feeling relaxed and rejuvenated. Stroll down to the beach and find your perfect spot in the sand, then dive into the surf to cool off before a game of volleyball. Glide along the coast on a delightful kayaking adventure, and enjoy a morning ride aboard a catamaran. In the afternoon enjoy a fabulous and fascinating expedition to the world's third largest barrier reef, and scuba dive amidst some of the world's most vibrant sea life. Return to the island for a relaxing round of golf at nearby Provo Golf Club, then lounge by the pool and enjoy an evening cocktail before dinner. As the stars begin to emerge over the island, find a seat at Stelle and Beach Bar and enjoy fine Mediterranean cuisine, Caribbean classics, and perfectly crafted cocktails, all while the sun sets romantically behind the sea.
Location of Gansevoort Turks + Caicos
Gansevoort Turks + Caicos
300 Graceway House Grace Bay Beach
Providenciales, Turks and Caicos
Nearest Airport: PLS
Amenities for Gansevoort Turks + Caicos
General Information
91 Guest Rooms
Pet Amenities
Ecologically Sustainable Practices
Dining
Poolside Dining
Restaurant
24-Hour Room Service
On-Site Amenities
Concierge
Spa on Property
Laundry Service
Fitness Center
Outdoor Pool
Beach Club
Laundry Facilities
In-Room Spa Services
In-Room Amenities
Turndown Service
Air Conditioning
Bathrobes
CD Players
DVD Players
In-Room Safes
iPod Docks
Whirlpool Bathtubs
Luxury Linens
Luxury Bath Amenities
Vaulted Ceilings
Kitchenettes
Fully-Equipped Kitchens
Activities
Deep Sea Fishing
Scuba Diving
Ecological Excursions
Yoga
Fitness Classes
Mini Golf
Business
Business Services
Family
Cribs
Babysitting
Kids Club
Rollaway Beds
Nearby
Historic Sites
National Parks
Casinos
Golf
Interests
Beach
Summer Getaways
Reviews for Gansevoort Turks + Caicos
---
My husband and I, along with my college-aged daughter vacationed at the Gansevoort for five nights in mid March. We are very lucky to have experienced some really wonderful vacation spots...One and Only Ocean Club, Blue Waters in Antigua, Las Terrazas in Belize, Jamaica Inn and Half Moon, etc. To plan these vacations, we use American Express Travel and Trip Advisor. We rely on Trip Advisor a ton. Before we committed to the Gansevoort, we read all the reviews on the Gansevoort. The reviews were pretty much spot on. Below is ours: Positives: It is sooo close to the airport (never heard an airline while relaxing on the beach), which was bonus. Once you arrive, you are met with a view of the beautiful pool followed by the beach and ocean. This is not the kind of resort where you experience a beautiful drive up to the entrance...as soon as you turn off the roadway, you are in front of the hotel. Check in was quick and accurate. Our room was not available so we ate lunch on the beach. When our room was ready, we were welcomed into a one bedroom ocean front room on the first floor, enabling us to walk right on to the beach. The room was spacious and clean with an up to date large bathroom with a great rain shower. Separate tub. We had a nice roll away for my daughter which was placed in the den. It felt like we were in a Gansevoort. Beach was terrific...deep enough so you did not feel like everyone was on top of each other; service to the beds was terrific (service was great if you purchased a beach bed for the day or if you just got regular chairs). We never had an issue with getting chairs. The sand was unbelievably soft and relatively clean (there was seaweed but did not bother us). Gym was adequate, clean and updated...at times you could not get a treadmill but there were many other machines you could use while you waited to run. Food was delicious both on and off the property. On property, the free buffet breakfast was great...we read reviews where people did not like it but we thought it offered a great variety. Everything was fresh, omelettes made to order, great pancakes, French toast, meats, yogurts, fruits and baked goods (although we do not think that the baked goods are made from scratch). It's too bad that the restaurant was not on the beach or did not have a view of the water but it did have a view of the pool. Also, dinner at Stelle (on campus restaurant) was so good we ate there twice. We also ate a Via Veneto, Baci, Somewhere Cafe and Magnolia. Highly recommend the weekly fish fry which occurs next to the resort...a lot of fun. The resort is on the quiet side...it is smaller than Seven Stars (which we visited) but we like boutique resorts. If you want action, just walk down the beach. Service was perfect. People were friendly, willing to help however they could. We had asked that our rooms be cleaned early in the am, and they were. Attendants on the beach made it very easy to order drinks and food. The concierge helped with restaurants (make reservations a few weeks before landing) and our fly board outing. There were a few negatives which prevent us from giving the resort a 5. 1). Over Priced...the cost of the room is pretty expensive which we knew but at every turn, there is a cost which is high. For example, a snack sized bag of Doritos $5. A small bag of almonds $10. Hard Alcohol drinks ran from $14-20 (Coronas were $11). Entrees at dinner ran from $30-50. On average, we spent about $300 every night for dinner (we ordered two apps; three entries; two desserts and two alcoholic drinks). Because the Gansevoort is far from town, you need a cab everywhere which is another $25 just to get to a restaurant or activity. But the place where the costs were most egregious were at the spa. 2) We have been lucky enough to experience some of the world's best spas. We have no problem paying $150 for a 50 minute massage but Exhale is not close to a world class spa. It is cramped, very little atmosphere, no "relaxation" room, no robe, nothing. It felt like a spa you would find at a strip mall. We had three, 50 minute massages which cost nearly $700 (this number includes tips and a million taxes they add on)!!! The spa services themselves, were good. However, the price/experience was out of balance. 3)The resort and island do not feel like a lush, floral, colorful Caribbean island. Feels more like Miami or even Montauk...a lot of long green grasses, dunes with a few pretty flowers placed here and there. It's not necessarily bad, just different. All in all, we would likely come back...the high incremental expenses may make us think twice, but overall, the Gansevoort delivered on our expectations.
lovefamily93 - Long Island, New York
---
Before you even leave home, you are treated to the amazing customer service that this beautiful resort is known for. A detailed email and follow-up itinerary began our memorable experience. This was our third visit to T&C and we will definitely return to this resort. The pool is stunning, the food is wonderful [the breakfast which is included is amazing], the spa was lovely. But the staff really take wonderful care of the guests. Most notably, Francis who is the lead bartender of Stelle the fine restaurant is by far the most inviting and exceptional bartenders we have met. In fact I would refer to him more as the "conductor" of a fine restaurant experience than simply a bartender. We will definitely return - hopefully soon - to this beautiful property.
BayVTravelMom - Bay Village, Ohio
---
We wandered onto the property at Gansevoort and were blown away. The entrance looks like many of the other high-end hotels on Grace Bay, but just past the front entrance is a unique, stylish pool and garden. Definitely worth having lunch or a drink in the afternoon!
Kevin B - Belmont, Massachusetts
---
If your preference is for more of a "boutique" feel hotel as opposed to "resort" then Gansevoort is for you. It is a lovely place with a delightful pool area. No chair on chair. Not many children at all ( if any) at least this week 3/1- 3/8) The rooms are spacious with pool or ocean views and depending on your price range can be suite with kitchen or butlers bar area. We were scheduled for only 5 nights but extended to 7. It's very friendly. Very "homey". Very comfortable set up.
brnbrklyn - Long Island New York
---
This place is ultimate relaxation. My husband and I came here for a 4 day getaway and I didn't want to leave! It's close to the airport so you're ready to relax quickly. All of the staff are warm and welcoming and there to help you with whatever you need. The grounds are beautiful and relaxing. We were choosing between here and Seven Stars and I couldn't be happier we chose the Gansevoort. It was much quieter and seemed to have less children and overall noise. The beach attendants were great, we got a bed each day and they came by often offering drinks and food. The restaurants on the property are great, all of the food was delicious. We ate at Stelle twice and enjoyed it and ate lunch each day at Zest and everything we tried was great. Leroy, Claudia and Lesha were just a few of the great servers we had. Room had a great view and all the space you needed. Shower was nice and hot and they came by each night with turn down service and extra towels if needed. It's only been a few weeks since we left and I am already dreaming about being back! It's a must stay!!!
---