Please select your dates to see prices:
---
Gansevoort Turks + Caicos in Providenciales, Turks and Caicos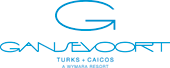 Golden sands, the gentle rush of waves rolling ashore, and the shimmering Caribbean Sea welcome you to the beauty of the tropics and the lap of luxury at Gansevoort Turks + Caicos, a Wymara Resort. Right on the sand of gorgeous Grace Bay Beach, this fabulous hotel is a perfect blend of sleek modern style and relaxed beach atmosphere. Spacious rooms are bright and inviting, with a chic elegant design and a gentle, uninterrupted flow from indoors to out, allowing you to enjoy the lap of luxury and the island's natural beauty all at once. Sliding glass doors and walls of picture windows create a sunny, relaxing space, while your private terrace presents breathtaking sunset views of the bay. Complete with enticing soaking tubs, stylish rainshowers, and all the modern entertainment options and service, discover pure beach bliss with your stay at Gansevoort Turks + Caicos.
Before venturing out for a day of beach fun, make your way to Exhale Spa to keep up your routine and emerge feeling relaxed and rejuvenated. Stroll down to the beach and find your perfect spot in the sand, then dive into the surf to cool off before a game of volleyball. Glide along the coast on a delightful kayaking adventure, and enjoy a morning ride aboard a catamaran. In the afternoon enjoy a fabulous and fascinating expedition to the world's third largest barrier reef, and scuba dive amidst some of the world's most vibrant sea life. Return to the island for a relaxing round of golf at nearby Provo Golf Club, then lounge by the pool and enjoy an evening cocktail before dinner. As the stars begin to emerge over the island, find a seat at Stelle and Beach Bar and enjoy fine Mediterranean cuisine, Caribbean classics, and perfectly crafted cocktails, all while the sun sets romantically behind the sea.
Location of Gansevoort Turks + Caicos
Gansevoort Turks + Caicos
300 Graceway House Grace Bay Beach
Providenciales, Turks and Caicos
Nearest Airport: PLS
Amenities for Gansevoort Turks + Caicos
General Information
91 Guest Rooms
Pet Amenities
Ecologically Sustainable Practices
Dining
Poolside Dining
Restaurant
24-Hour Room Service
On-Site Amenities
Concierge
Spa on Property
Laundry Service
Fitness Center
Outdoor Pool
Beach Club
Laundry Facilities
In-Room Spa Services
In-Room Amenities
Turndown Service
Air Conditioning
Bathrobes
CD Players
DVD Players
In-Room Safes
iPod Docks
Whirlpool Bathtubs
Luxury Linens
Luxury Bath Amenities
Vaulted Ceilings
Kitchenettes
Fully-Equipped Kitchens
Activities
Deep Sea Fishing
Scuba Diving
Ecological Excursions
Yoga
Fitness Classes
Mini Golf
Business
Business Services
Family
Cribs
Babysitting
Kids Club
Rollaway Beds
Nearby
Historic Sites
National Parks
Casinos
Golf
Interests
Beach
Summer Getaways
Reviews for Gansevoort Turks + Caicos
---
This is a very upscale modern hotel. The room was nice but the bed was very, very soft. There was a pervasive musty smell in the room. I asked the housekeepers if they could spray something but nothing was done. There's no ice machine so you have to ask housekeeping to bring some when needed. We expected a little more tranquility at a luxury hotel with a Zen-like pool area. Because there was no children's program or family pool, we didn't expect to see children at the resort. It's not conducive for children yet there were infants and toddlers as well as some older children at the restaurants and splashing around in the pool. Due to its location, you'll need to take a taxi everywhere. The going rate is $8 per person per trip. We were ripped off once by a driver who took us to the golf course and charged us $30. The return trip with a different driver was $16. Ask before getting into the taxi. Bishop was our favorite drive. The staff is very friendly and helpful. We had a patch of bad weather and the resort made an effort to provide activities to prevent boredom. The beach is gorgeous - we've never seen prettier water or a better beach! Exhale Spa if fabulous! Very expensive but worth every penny.
Waves27982 - Charlotte, North Carolina
---
The hotel is located on a quiet beach, surrounded by palms with a nice atmosphere. A very well equipped beach with a friendly staff, always available. Grace Bay main area is about 10' by taxi. In house restaurants are just ok, but I suggest to experience Caicos Cafe and Grill in Grace Bay, simply amazing. Turks and Caicos has among the best beaches in Caribbean ...just a Paradise, 3h+ away from New York. The perfect gateway
---
This is by far the greatest hotel I have ever stayed at. The team at Gansevoort did a perfect job for my proposal and went above and beyond for every expectation that I had. This boutique hotel is perfect in size and the rooms are absolutely stunning. I want to also point out that the hospitality at this place is absolutely stellar! Great hotels are reactive to guests requests, this hotel is proactive making it so no requests are needed due to the fact that they have customer service down to the tee. I never write reviews, but this absolutely stunning experience warranted me to write one. I want to also note that the friendliness of the staff is absolutely amazing! A big thank you to the whole team especially Rashaad, Weke, Tass, Vishal, etc.. Mr. Subash you have an absolute stunning team and I thank you from the bottom of my heart for making this trip/proposal the best vacation that I have ever been on. I have already recommended this hotel to friends and family and will be definitely coming back in the near future. Thank you once again for the absolute great hospitality!
---
We just competed an amazing 4 night stay... Everything about this place was stellar! The location was spectacular, 10 minutes from the airport, amazingly secluded beach, great food and drink, helpful staff. We divided our time nicely between the pool and the beach. We've never stayed at a resort like this before! Beach and/or pool staff escort you to your spot, arrange your towels and provide you with an ice bucket filled with bottled water, and each spot has an umbrella for sun relief if needed. There's a button on your umbrella in case you need food or drink. We particularly enjoyed snorkeling at the hotel in between sun soaking... Lots of schools of fish just steps away from our lounge chairs. Restaurants and bars were enjoyable. Fish fry Thursday is right next door and a fun time! Can't say enough about the staff! Extremely attentive and polite. As others have mentioned, the prices of the bars and restaurants are over the top, — consistent with the pricey rooms, but you do get what you pay for. Amazingly expensive, but amazingly enjoyable! We've already started saving for our next visit!
---
Gansevoort Turks and Caicos is a modern smallish boutique hotel that has a quiet upscale zen vibe. Great vacation for couples who are seeking a relaxing retreat. Very few children, which was what we were after. Located in a quiet area, the beach is deep and clean and the water is perfect. I will try to give you an in depth review. We had a great time and didn't stray far from this hotel other than walking the beach and attending the local Fish Fry. Taxi to hotel was $11.50 pp USD for 12 minute ride. You are close to the airport and you can hear a few planes in the afternoon overhead, but it was occasional and not an issue at all. We ate all our meals here (except for Fish Fry night) and have to say that we were very pleased with the food at the hotel. To save a bit of money we walked to the grocery store which was only 15 minutes away on foot and bought a few things for lunches and some wine, but we ate all our breakfasts and dinners here. It seemed that a lot of people go off property to eat dinner, but we stayed since we didn't rent a car and really enjoyed our meals. Yes, the food/drink bills are high here but it was always excellent. We figured that we would pay at least $25 one way to a restaurant and we could put that $50 towards a really good meal instead. We were never bored with the meal options since we took advantage of the theme nights for variety. We also enjoyed having a few glasses of wine before or after our meals on our balcony with a view of the ocean and beach. The room was a good size, very clean and comfortable. I would return to this hotel and I would recommend it for couples as a romantic getaway. We stayed for 7 nights in the east building luxury studio terrace (balcony) oceanfront on the third floor which has a great view. The pictures you see of the hotel and rooms on the Gansevoort website are accurate. The good stuff: 1) Excellent food - Breakfast included, lots of variety, fresh fruit, bacon, french toast, etc., including made to order eggs and omelettes. The organic beef tenderloin at Stelle was outstanding, the tuna tartar appetizer was so yummy we had it on two different nights. Delicious locally caught bbq'd red snapper on Fisherman's Menu night at Zest. Grouper was also excellent. 2) Excellent service - Have to commend restaurant manager Vivek for his attention to detail and going out of his way to make sure everything was up to our expectations on several occasions. Vivek was a friendly face that always greeted us. He made our time here very welcoming and we appreciate the excellent service he gave us. He told us how much he loves his job and it clearly shows. There were several other staff members at the restaurants that were excellent, didn't get all the names, but Loroy was great. Hotel staff were also great. The stuff to be improved upon, this is minor nitpicky stuff: 1) Better lighting in bathroom - Can barely see yourself in the bathrooms and the full length mirror should not be hidden in the closet which makes it awkward along with bad lighting. There is a large empty space on the wall of the room, why not put the mirror there? The newest energy efficient lightbulbs are now much brighter, use them please. 2) Better blow dryer and shampoo - For an expensive hotel, I expected better, having stayed at many high-end hotels. I know guys don't care about these things, but the ladies do and I don't have room to pack my own and I shouldn't have to. The L'Occitane shampoo needs improvement. 3) Error on one bill at Zest - Overcharged, but was quickly corrected after we made note of the issue. 4) Beach music - Although the beach rules state no music unless using earbuds, there were people playing music through phone speakers. While it was at a low volume, it was still disrupting because you are forced to listen to someone else's music choices. The beach staff allowed this. Make sure you bring your own earbuds, which I did thank goodness.
smcz2016 - Puslinch, Canada
---