Please select your dates to see prices:
---
Windsong Resort in Providenciales, Turks & Caicos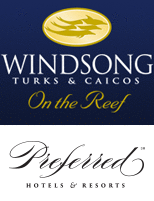 Tucked away in the heart of the Atlantic, Turks & Caicos' most stunning 4-star luxury resort offers a piece of paradise to fulfill your senses as well as your soul. Welcome to Windsong Resort, a tropical oasis in a shimmering sea of azure perfection. Stretched across 435 feet of prime beachfront property on celebrated Grace Bay, Windsong, this hotel — part of the LVX collection of Preferred Hotels & Resorts — is surrounded by a spectacular coral reef and seemingly endless turquoise horizon. A resort as picturesque and charming as its island setting, Windsong offers every convenience of home with the luxuries of resort living. So, settle back in your opulently oversized bed, or completely unwind as you enjoy a massage at Windsong Spa Tropique; the space is distinctly yours, the dedicated staff will attend to your every whim, and paradise is just outside your door.
The amenities in your artfully designed room, including lavish Moen fixtures and breathtaking ocean views, may tempt you to stay indoors, but the warm, white sand of the beach beckons. The barrier reef surrounding Grace Bay keeps the water around the resort warm and calm, while offering divers a dazzling peek into marine life. Or, stay a little closer to the resort and enjoy an underwater concert in the glistening pool with underwater stereo. Land-lovers may explore the island on two feet or two wheels, choosing to walk or bike around Grace Bay. Windsong's family-friendly atmosphere extends from the spacious accommodations to the unique amenities, including Kid's Club and babysitting services; so, when it comes time for a little romance, just contact the concierge. Many of the Caribbean's most sought after attractions are just a stone's throw from Windsong, including Provo Golf Club, ranked among the top 10 golf courses in the Caribbean, as well as casino gambling, boutique shopping, and day excursions to nearby islands. Havana Club, Windsong's newest jazz and comedy club, serves up laughs, island-inspired cocktails, and decadent desserts to satisfy both a funny bone and a sweet tooth! Between the picturesque Caribbean backdrop, first-rate service, and unparalleled amenities, it is no wonder Windsong Resort is the preferred destination for weddings, honeymoons, family vacations, and intimate escapes.
Location of Windsong Resort
Windsong Resort
Stubbs Rd
Providenciales, Turks & Caicos
Nearest Airport: PLS
Amenities for Windsong Resort
General Information
53 Rooms and Suites
Dining
Poolside Dining
Cafe
Room Service
Beach Wait Service
On-Site Amenities
Concierge
Spa on Property
Housekeeping Service
WiFi
Live Entertainment
Butler Service
Gazebo
Gardens
Beach Access
Elevator
Outdoor Heated Pool
Laundry Facilities
Beach Amenities
Marine Park
Private Garage
24-Hour Fitness Center
In-Room Amenities
Air Conditioning
Bathrobes
DVD Players
Hair Dryers
In-Room Safes
Televisions
Iron/Ironing Boards
Marble Bathrooms
Coffee & Tea Facilities
Mini Refrigerators
En-Suite Bathrooms
Fully-Equipped Kitchens
Activities
Bicycling
Excursions
Fishing
Kayaking
Sailing
Wine Tasting
Scuba Diving
Snorkeling
Parasailing
Nature Walks
Fly Fishing
Boat Excursions
Whale Watching
Wildlife Viewing
Bird Watching
Volleyball
Boating
Paddleboating
Water Sports Programs
Business
Business Center/Services
Meeting Rooms
Conference Facilities
Family
Children's Programs
Cribs
Babysitting
Highchairs
Playpens
Arts & Crafts
Nearby
Historic Sites
Shopping
Restaurants
Casinos
Golf
Beaches
National Park
Interests
Active & Adventure
Beach
Honeymoons & Romance
Reviews for Windsong Resort
---
Most relaxing vacation we've ever taken! The one-bedroom ocean-front room was breathtaking. The beds were so comfortable and the bathrooms were so spacious - the shower was huge. The living room, kitchen and deck were all so beautiful and large enough to entertain. The staff was wonderful, always there to assist you with whatever you needed. Jo-Jo's Cafe was our go-to every morning for breakfast and we were able to sit beach-side! We took advantage of the free water activities (snorkeling, hobicat, glass-bottom kayak, paddleboat). We rented a car for the week and it was just a short ride from the Windsong to get to all of the fabulous restaurants that we visited. We'll definitely be back to visit this outstanding resort.
LRHeisler - Franklin Lakes, New Jersey
---
We couldn't have been more pleased with our stay at Windsong. We stayed in one of the Jr. Suites without an ocean view. At first I was nervous that the lack of the ocean view would be disappointing, but we were actually quite pleased with the room and preferred our location behind the main buildings as it seemed our locale was a bit quieter overall - which was great with a baby who naps twice a day. We spent enough time on the beach that we didn't feel like we missed out in any way by not having a view. I do want to clarify for people interested in the Jr. Suite that while they do have two separate bathrooms, there is still only 1 toilet and 1 shower. One bathroom had a toilet and sink and the other had a sink and a shower - I didn't think that was accurately portrayed on the website. Prior to our stay I read through a host of reviews that described disappointment in the food served by JoJos - we therefore dined at JoJos our first night with low expectations and we were in turn, pleasantly surprised. Both my husband and I thoroughly enjoyed our dinner as well as each breakfast and the few lunches we had on the beach from JoJos. The service is slow, but that seems to be the status quo for Turks island service, and is not unique to Windsong in any way. The one minor complaint we had was that despite the fact that we were out of the room for a large portion of the late morning and early afternoon each day, housekeeping always seemed to arrive while our daughter was napping late in the afternoon (despite the request that we had made to have housekeeping come during the specific hours we were going to be out of the room). For this reason, our room wasn't cleaned for a few days in a row. Finally, on our last day, they arrived just as we were about to put her down for a nap and as we delayed her nap, they hurried to clean the suite. It was a minor inconvenience and we did appreciate the fact that they worked to quickly clean the suite, even if they arrived at the exact time we told them we'd be returning to the room that day. Finally, the staff were wonderful at Windsong, we really couldn't have been more pleased with this vacation and I think it was in large part due to the friendly service and atmosphere of the Windsong. I had considered staying at a larger, all-inclusive, family-friendly resort for this vacation and I couldn't be happier that we instead chose Windsong.
---
Where do I start with all the wonderful things about this hotel? If you can't decide on where to stay while in Turks, look no further than the Windsong. Check in - We arrived at the resort and were immediately greeted by two staff members in the lobby. One took our reservations and the other took our bags and brought us a rum punch. We were then given a small tour of the main building and took us to our room. There was no delay what so ever, which is nice when you're tired from the flight. The room - The room we stayed in was a studio, this was the only regret we had. Even though our room was very nice with a view of the ocean, we didn't have a balcony. We really wish we had a balcony. However, we couldn't complain too much because the room was spacious even though it was a studio room. There was a queen size bed, small sofa, small table and two chairs, a desk with one chair, a dorm frig, sink, and microwave. Which came in handy through out the week. It was very clean with a beachy decor. The bathroom was a decent size, only one sink but a big bathtub. House keeping came every day and evening for turn down service. It was a great extra each night. Resort Grounds - The grounds are small but that's what makes it extra special. The pool is nice and clean, and the beach is breath taking. Every morning we had our continental breakfast on the dune. Either get there when they first open for breakfast or after the first rush is over otherwise you might not get a table overlooking the beach. But there will be plenty by the pool/bar area. All of the wait staff were friendly and attentive. Oh and take full advantage of the happy hour before dinner. From 5 to 7 it's buy one get one on the specialty drinks. The beach- there are plenty of chairs and umbrellas for everyone that is staying at the resort. The staff will bring out free water bottles to all of the guest, will bring out cold rolled towels during the heat of the day to cool off, and bring yellow flags so they know you would like a drink or food at the beach. The staff will set up all hotel customers with paddle boards, snorkel gear, hydro bicycles, and anything else none electronic on the water. There are also stationed floats in the water which were awesome when it gets too hot to stay on the beach chairs. The reef was a big hit for not just our resort but other resorts as well. It's the best there is on the island and it's right by the Windsong. There are only two suggestions I have for the resort. Bigger water heaters in the studio rooms and blackout curtains. I love a really hot shower and I would take all the hot water. Oops! So it would have been nice to be able to have two hot showers in a row. And the curtains, we loved to take afternoon naps. I shouldn't complain about how bright it was in the room, but it would have been nice to have a little bit of darkness in the middle of the day. I still got my naps in though. I can't say how much we loved this resort. We really enjoyed the staff and our stay. Everyone is so friendly and courteous. We walked down the beach and realized that we picked the right place to relax and enjoy each others company. The Windsong gave us memories we will forever treasure. Thank you for that! And we will be back but next time we want a balcony!
Tina M - Saint Louis, Missouri
---
We certainly enjoy our stay, this is our second visit to the Windsong Resort. The service is exceptional, your butler will arrange for everything you need from ground transportation to groceries to restaurant reservations. Everyone is so friendly, we upgraded this trip to a suite with full kitchen, panoramic views, wonderful walk in shower, large deck, stacking sliding doors, 1.5 baths, it is perfect! The beach is great, easy access to a beautiful reef to snorkel, super kid friendly. Lots of friendly families, relaxed and quite atmosphere. Doesn't get much better than this. We were at Windsong 2 years ago for our "baby moon" photos and we returned this year for his 2 year birthday and baby moon pictures for his sister! We look forward to our return when she is 2!
Paul W - Neptune Beach, United States
---
This was our first visit to Turks and Caicos, and our first stay at Windsong. We were very pleased with the friendly staff and the impeccable accommodations. The location was perfect - right on the beach with a great reef just off shore, short distance to a grocery store and to restaurants. We were greeted pleasantly and given a great orientation. We didn't lift a finger the whole time! It was not crowded at all which meant that we had plenty of access to kayaks, paddle boards, sailboat, etc. as well as always having available seating at the beach and the pool. The only reason I did not go with five stars is because of the time it took to receive our meals at the on-site restaurant. The food was delicious, but one evening, it took about an hour to receive two entrees. The wait staff was very friendly and apologetic, but still worth noting. We chalked it up to "island time." We would definitely recommend and hopefully will return.
donnawI3588MB - Columbia, South Carolina
---