Please select your dates to see prices:
---
Windsong Resort in Providenciales, Turks & Caicos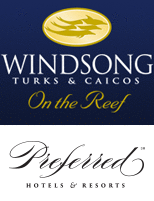 Tucked away in the heart of the Atlantic, Turks & Caicos' most stunning 4-star luxury resort offers a piece of paradise to fulfill your senses as well as your soul. Welcome to Windsong Resort, a tropical oasis in a shimmering sea of azure perfection. Stretched across 435 feet of prime beachfront property on celebrated Grace Bay, Windsong, this hotel — part of the LVX collection of Preferred Hotels & Resorts — is surrounded by a spectacular coral reef and seemingly endless turquoise horizon. A resort as picturesque and charming as its island setting, Windsong offers every convenience of home with the luxuries of resort living. So, settle back in your opulently oversized bed, or completely unwind as you enjoy a massage at Windsong Spa Tropique; the space is distinctly yours, the dedicated staff will attend to your every whim, and paradise is just outside your door.
The amenities in your artfully designed room, including lavish Moen fixtures and breathtaking ocean views, may tempt you to stay indoors, but the warm, white sand of the beach beckons. The barrier reef surrounding Grace Bay keeps the water around the resort warm and calm, while offering divers a dazzling peek into marine life. Or, stay a little closer to the resort and enjoy an underwater concert in the glistening pool with underwater stereo. Land-lovers may explore the island on two feet or two wheels, choosing to walk or bike around Grace Bay. Windsong's family-friendly atmosphere extends from the spacious accommodations to the unique amenities, including Kid's Club and babysitting services; so, when it comes time for a little romance, just contact the concierge. Many of the Caribbean's most sought after attractions are just a stone's throw from Windsong, including Provo Golf Club, ranked among the top 10 golf courses in the Caribbean, as well as casino gambling, boutique shopping, and day excursions to nearby islands. Havana Club, Windsong's newest jazz and comedy club, serves up laughs, island-inspired cocktails, and decadent desserts to satisfy both a funny bone and a sweet tooth! Between the picturesque Caribbean backdrop, first-rate service, and unparalleled amenities, it is no wonder Windsong Resort is the preferred destination for weddings, honeymoons, family vacations, and intimate escapes.
Location of Windsong Resort
Windsong Resort
Stubbs Rd
Providenciales, Turks & Caicos
Nearest Airport: PLS
Amenities for Windsong Resort
General Information
53 Rooms and Suites
Dining
Poolside Dining
Cafe
Room Service
Beach Wait Service
On-Site Amenities
Concierge
Spa on Property
Housekeeping Service
WiFi
Live Entertainment
Butler Service
Gazebo
Gardens
Beach Access
Elevator
Outdoor Heated Pool
Laundry Facilities
Beach Amenities
Marine Park
Private Garage
24-Hour Fitness Center
In-Room Amenities
Air Conditioning
Bathrobes
DVD Players
Hair Dryers
In-Room Safes
Televisions
Iron/Ironing Boards
Marble Bathrooms
Coffee & Tea Facilities
Mini Refrigerators
En-Suite Bathrooms
Fully-Equipped Kitchens
Activities
Bicycling
Excursions
Fishing
Kayaking
Sailing
Wine Tasting
Scuba Diving
Snorkeling
Parasailing
Nature Walks
Fly Fishing
Boat Excursions
Whale Watching
Wildlife Viewing
Bird Watching
Volleyball
Boating
Paddleboating
Water Sports Programs
Business
Business Center/Services
Meeting Rooms
Conference Facilities
Family
Children's Programs
Cribs
Babysitting
Highchairs
Playpens
Arts & Crafts
Nearby
Historic Sites
Shopping
Restaurants
Casinos
Golf
Beaches
National Park
Interests
Active & Adventure
Beach
Honeymoons & Romance
Reviews for Windsong Resort
---
Loved being able to grab our snorkel stuff and Walk couple steps to best snorkeling in front of hotel. We saw Turtles and all types of beautiful fish. Word of caution with the beach I attract bites and I had know idea there is such a thing as sand flees I got eaten alive by the flees and mosquitos. Since that trip I found Off Wipes. They come individually packed and easy to throw in a bag. Worked beautifully in Belize no bites! They have a decent pool that was crowded but nice. The hotel has bikes you can use. We rode into town for lunch. We would defiantly stay here again
Elaine925 - Danville, California
---
Where to begin!? I just spent 5 nights at the Windsong with two of my best friends to celebrate our 60th birthdays. It was the best choice we could have made! From the moment we arrived we were impressed with everything from the check-in service, to the tour of the resort by Derran, to our gorgeous ocean-front 2 bedroom suite! To top it off - our room was decorated with balloons, a birthday banner, and a birthday cake! It was over the top! The suite was impeccably clean and with all the amenities you could wish for -- full kitchen, two baths, plenty of nice thick towels, blow dryer, washer/dryer, iron, 3 televisions, a comfy sitting room lined with sliding doors to our private patio overlooking the pool and sea. The master bedroom also had a sliding glass door with it's own small patio. Service at the hotel was perfect - the wait staff, the butlers, Khalil and Gustav, and beach attendants were always happy to help in any and every way. The hotel is, as they say, a boutique hotel - and was just what we wanted. We went to the beach every day and were greeted by Gustav or Larry who gave us towels, bottled cold water, and cold - aromatherapy scented wash cloths mid afternoon to help us to refresh and cool down. Larry took us for a long, beautiful ride on the Hobie Cat in the most beautiful turquoise water you'll ever see - and kept us entertained along the ride, telling us all about the island. Continental breakfast was included and we were able to dine waterside daily. Johnson was our very attentive waiter every morning and served us on the beach as well. Never a wait for good, fast service! JoJo's Cafe manager, LaVonne, was very pleasant and engaging and chatted with us one morning at breakfast and the hotel manager stopped by another morning to see how we were enjoying our stay. I can't say enough good things about the staff at the Windsong. The hotel is perfectly located -- away from the bigger hotels and any crowds so that it really enabled some much needed time for relaxation -- yet, not so far that you couldn't walk just a few steps down the beach to have a drink and something to eat at Somewhere cafe. It's just a 15 minute walk to the Thursday night Fish Fry and a short cab ride (by Michael orTroy) to one of the many local restaurants for dinner. We had lunch at Windsong's JoJo's cafe just once, and didn't get to have dinner there, but the menu looked good so we will have to make time for that on our return trip! The hotel offers several water sports that you can take advantage of right on the beach in front of the hotel -- snorkeling, kayaking, paddle boating, and sailing on the Hobie cat. There are several other local sports that the butlers would be happy to set you up with, but we were happy enough with what was offered at the hotel. I highly recommend snorkeling - do it every day because you never know what you'll see from one day to the next! The Fish Fry on Thursdays is a MUST DO. You can taste foods and drinks from many of the local restaurants and there are local vendors selling jewelry and other "island" souvenirs. Bring enough cash and your credit card because you will want to shop! Cab rides were a little expensive - but worth it to get around the island and try different restaurants. We also took advantage of the daily 4pm ride to the local grocery store on our first day and stocked up on some lunch foods, water, and snacks for the room. Again - a little expensive, but worth it. I can say for sure that we plan to return to the Windsong! The island's beauty of both sand and sea, it's hospitality, and it's fine dining make it the perfect destination!
jdberney58 - Long Island, New York
---
We chose Windsong for their beautiful suites and views and space for our baby to crawl around. We travel a lot and this is by far the most beautiful suite we have stayed in! Absolutely breathtaking! Loves: •Free Breakfast was plentiful and delicious •Beds were cozy and my baby slept well in the provided crib •Resort was never crowded, no chair or towel game with having to save your spot •Free bottled water everyday at the beach was great •Loved the floaty yellow rings in the beach! •JoJo's Rum punch-yum! •The ROOMS, by far the best part. Traveling with a baby can be hit or miss and I wanted to make sure if she was fussy I had a nice terrace to sit on still, thankfully she was wonderful all week! •Beautiful grounds and flowers, I walked around the front entrance every day admiring the vegetation What you might want to know: •Some confusion I am still having is about the complimentary breakfast. I had read several reviews prior that we could have it delivered to our room for a $5 fee, the front desk confirmed this as well, but when I talked to Jojos cafe they said they wouldn't do it... •This might be cultural, but not every staff member was overly friendly or happy, I have definitely had better service in other countries. Service wasn't bad, but not amazing •WiFi was veryyy slow everyday Overall we will definitely be back, I am dreaming of that 1 bedroom suite!
kimthailand - Pennsylvania
---
We loved it ! This was our 1st visit to T&C and won't be our last. Windsong has a small charming feel to it, and its situated further away from denser concentration of hotels. It is perfectly located right next to the best off-beach snorkeling on the island. Our suite was huge, comfortable, and well appointed. The ocean view from the wrap-around balcony was lovely. There is no need to rush out early in the morning to secure a beach chair and umbrella like you have to do with some bigger, crowded all-inclusive hotels we've been to on other islands. There are enough chairs, umbrellas, and cabana tents for all at Windsong. And the beach service was outstanding ! Cold water bottles were brought to us throughout the day. A daily sorbet brought just to refresh. The beach server who took care of us was Gustave. He was amazing ! Took care of everything. Super hard worker and always smiling and friendly. He truly made this trip special for us. Windsong found a special employee when Gustave joined their team. Hotel butlers Derron and Khalil were also top notch. Knowledgeable, professional, efficient, and courteous. Front desk staff also excellent. The poolside restaurant Jojo's is decent though not a destination for people at other hotels to visit. Definitely does the job with breakfast and lunch and numerous beachside cocktails ! If you're looking for action, party atmosphere, loud & crazy... try a different all-inclusive style hotel. If you want quiet elegance, perfect beaches, good snorkeling, and lavish service, Windsong is a great choice. We'll be back.
Daniel S - state college, United States
---
This was our third time staying at Windsong Resort and each time is better than the last. We cannot say enough about the wonderful staff and service. Our room was immaculate as usual. The food was amazing and we particularly loved the dinner at Windsong during our stay. They also have lovely special nights, such as the Caribbean Jerk Night (which is always one of our favorites!), pasta night and sushi day. Also, it can't get any better being right on Bight Reef! We have seen sea turtles, eagle rays, sting rays, puffer fish, squid (2!), snappers and groupers. We always have so much fun and this trip rejuvenates us. We will be back at the Windsong! We could not imagine traveling to any other destination or staying at any other resort!
KStan226 - Worcester, Massachusetts
---