Please select your dates to see prices:
---
Inkaterra Reserva Amazonica in Puerto Maldonado, Peru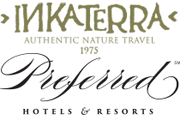 Imagine the pristine rainforest, vibrantly verdant and enchantingly majestic, practically untouched and unchanged from its natural state, and you will picture the splendor of Inkaterra Reserva Amazonica. Along the Madre de Dios River, in southern Peru's Tambopata Nature Reserve, this fabulous tropical escape welcomes you to cast off from the world and truly experience the rainforest and its secrets. 35 thatched roof cabanas are open and inviting, crafted from rich natural woods, as cool breeze flows freely throughout. Relax in complete serenity as you stretch out on your screened porch, resting in the delightful comforts of your own tropical hammock. In the evening enjoy deeply comfortable beds as lantern light magically plays throughout your room. At Inkaterra Reserva Amazonica, truly immerse yourself in the enchanting simplicity of rainforest life, discover the beauty of Peru, and find inner peace.
As the sun warms the jungle canopy, make your way to the main building for a delicious breakfast in the dining room. Venture out ready to explore, and hike through the rainforest wetlands along the Anaconda Walk. Continue on to the botanical gardens of Hacienda Concepcion, delight in a jungle canopy tour as you walk 103 feet above the forest floor, then stroll through the enchanting and magical Inkaterra Butterfly House. In the afternoon relax as you canoe across the placid waters of Lake Sandoval, then enjoy some fishing on Lake Valencia before returning to the resort for a deeply refreshing massage at ENA Spa, right on the shores of the river. As the sun begins to set over the Amazon take part in an evening boat excursion down the Madre de Dios River, and watch as the rainforest magically transforms from day to night. After an amazing day exploring all that the nature reserve has to offer, sit down in the dining room for an amazingly fresh, local dinner paired with the perfect cocktail. Retire to your cabana that night, lanterns shining through the forest, and fall asleep to the gentle sounds of Tambopata, Peru and Inktaterra Reserva Amazonica.
Location of Inkaterra Reserva Amazonica
Inkaterra Reserva Amazonica
Rio Madre de Dios KM 15
Puerto Maldonado, Peru
Nearest Airport: PEM
Amenities for Inkaterra Reserva Amazonica
General Information
35 Guest Rooms
Ecologically Sustainable Practices
Dining
Restaurant
Bar
Afternoon Tea
On-Site Amenities
Spa on Property
Gift Shop
In-Room Amenities
Bathrobes
Ceiling Fans
Hammocks
Private Porches
Activities
Hiking
Ecological Excursions
Nature Walks
Wildlife Viewing
Bird Watching
Family
Highchairs
Children's Menus
Interests
Active & Adventure
Family
Summer Getaways
Reviews for Inkaterra Reserva Amazonica
---
We found every aspect of Inkaterra to be thoughtful, informative with a quality touch. Our guide was knowledgeable and the excursions all were well run with an emphasis on ensuring we saw and heard aspects of the jungle. All excursions are voluntary and well run. There were only a couple at extra cost but over three days we did the excursions included and there was good variety. The thatched hut was very comfortable and in keeping with sustainability. The food was very good and staff were all friendly and helpful. We could not fault any adpect of Inkaterra and it is very good value for money.
juliedyer237 - Melbourne, Australia
---
I visited inkaterra with my husband and parents. The inca trail and the stay at inkaterra were the most expensive parts of our trip to South America. The setting of Inkaterra is lovely and the cabins are very comfortable. Here is a breakdown of overall experience: 1. Service: all the staff members were very friendly but service was slow at times and they seemed to be a bit all over the place. For example, they had no fish on the menu for lunch but we were informed and so we ordered fish skewers. When the dish came it was chicken, we checked with the waiter who said no it is fish. He then came back 2 mins later and confirmed it was actually chicken and they didn't have any fish!!! 2. Food and drink: we stayed two nights and three days and all three days there was no fish available. There was no replacement of dishes either so the menu was very limited. The lunch menu was the same each day we were there so without the fish it became extremely repetitive. The food wasn't that tasty, some dishes were better than others but nothing to write home about. The alcohol was extremely expensive. 67 soles for a gin and tonic. Local beer was cheap. Their wine selection was quite poor - we asked to try a few of their bottles which they kindly let us but none had any body or good flavour to them. 3. Excursions: it rained a lot when we visited and so, understandably we couldn't do some of the excursions so I can't comment on many of them. We did do the excursion to the other sister lodge which was good. On the day of our arrival we got in at lunch and as soon as we got their our guide told us he would take us out in the afternoon, he did not give us a choice of which excursion. We ended up walking around the grounds of the lodge for 45 mins followed by another 45 min talk in the eco centre about all the excursions available for the next few days. This was a waste of time. We were given a booklet with all the same info in it. What was a waste of time was the walk we got taken on, instead we would have opted to do one of the other excursions such as the canopy or anaconda walk, if we were given the choice. This seemed like a quick and easy option for the guides to do and meant that we were one afternoon down. Our guide was very softly spoken and sometimes it was hard to understand him. As it was rainy season when we went I presume that a lot of the days it rains as it did with us on our second day. The lodge prices in this low season don't really reflect the impact that the rain has on the activities you can do. We were pretty much bored for the whole second day as it was raining too hard to do anything and the lodge has no other indoor activities. I would suggest adding a few, maybe cooking classes or yoga or something to do when it rains! Also, two of their excursions are not included in the package. One of them was a whole day trip with a chef etc where you can go pirhana fishing on a lake etc. We were really interested in the fishing but didn't want the whole day with the chef on board etc and also we also didn't want to pay the extra after already paying a lot. The fishing activity should be provided as a half day activity that is included. Overall, what they charge is not justifiable when considering the quality they provide.
---
Coming to Inkaterra Reserva Amazonica I had, to be honest, an image of some SPA resort, but what I have received in the reality has been much-much more greater experience. First of all staff is awesome, they help you with each request, very friendly, speak fluent English. Excursions were well planned and we enjoyed diving into the jungles and observing it sort of from the side. Amazing feeling to be honest! Also I enjoyed a lot night "hunting" from the boat (its when you on the boat with the guides look for night animals). In this way we could see a lot of alligators, some monkeys and birds. Second, I would like to mention food as far as they grow most of the things by their own on the farm that you can also visit during one of the tours. Must to try their chocolate pie! It is amazingly wonderful! I have never tried anything like that before! Also, worthy to mention that you leave in bungalo. It is opened, so you keep being into the jungles and observe animals running around, like aguti. It is important to keep in mind that you do not have any connection! At all! No mobile phones, no internet, nothing! And I mean it! But for me it became an opportunity to read some books that I could not start for a while, to clean my brain from thoughts and to get inspired with new ideas. So I would say I have got sort of like "spiritual retreat" . It is a place where you have to remember that its not jungles invade your space, but its you invaded jungles and you have to respect that. If you are too spoiled person who got used to high luxury resorts, where you come with your Gucci bag and expect to be a star then my advise, just do not go there! It is not the right place for you! For all the rest I would suggest it as a must in your list.
Nataliecam - Utrecht, The Netherlands
---
We were 6 family members (3 couples) visiting Peru. We planned to visit as many of the interesting places. Our idea was to start from the lower elevation and to slowly reach the highest elevation to keep altitude sickness under check. So flew to Puerto Maldonado via Cusco. We were picked up at the airport and taken to the Inkaterra Reserva Amazonica by boat. We booked the cottages facing the river. Every day there were activities that were included in the package. There were extra activities offered like the visit to the clay lick to watch the birds. If one is hoping to see Anaconda, Jaguar, or any other Amazonian animals you will be disappointed. We saw many birds, camens and Monkeys. We did not spot one bird while we were on the canopy walk. But the whole experience of walking in the jungle and staying the cabanas was well worth it. The food offered was excellent the waiters were fantastic. Our guide Charles was very knowledgeable and passionate about preserving the flora and fauna of the region. He went out of the way to show us as much as he could. When we spoke to those who went with another guide made us realize that we saw more. The boat ride at night and the canoe rides were moments of zen. The rooms were comfortable and clean. The owners are striving for the preservation of the rain forest. From here we went to the Sacred Velley, Then Machu Picchu, Cusco and last to Lake Titikaka.
---
Wow! We started our 12-day visit to Peru at this resort. It proved to be the best possible way to unplug and decompress! I totally forgot about work and all other worries as the experience was so amazing. The accommodations were great for my family! The experiences in the dining room were great - food and service. Yomi was our tour guide for our excursions. He is simply the best. Informative, patient, friendly, great sense of humor. We cannot say enough great things about him. We saw incredible wildlife - from ants to Tarantulas to monkeys to macaws to black caimans. We were there over the holidays. On Christmas morn, Resort management had a gift for EVERY guest staying in the resort. We stayed at three Inkaterra properties during the course of a week and were spoiled by their accommodations, service and Food & Beverage. Thanks for such fond memories!
DJM20724 - Virginia Beach, Virginia
---