Please select your dates to see prices:
---
Eden Roc at Cap Cana in Punta Cana, Dominican Republic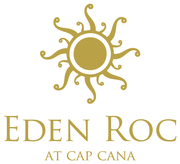 Eden Roc at Cap Cana is a five-star boutique hotel that's part of an exclusive 30,000-acre private community at the eastern tip of the Dominican Republic. It's no wonder that guests get their own golf cart to explore the far reaches of quiet beaches and forests interspersed with manicured greens. Cheerful Caribbean colors liven up shades of white in suites and villas where lighting, TV and sound are controlled via iPad app.
Wander through coconut palms to the sugar-sand beach, and continue walking along the receding tide. Explore cliffs and lagoons. Float among tropical fish. Relish the sun on your face as you savor a plate of baby lobster fajitas with spicy guacamole onshore. After dinner, channel carefree days with a Negroni and live piano music at the retro Riva Bar.
Location of Eden Roc at Cap Cana
Eden Roc at Cap Cana
Cap Cana, Juanillo, Playa Bavaro
23000
Punta Cana, Dominican Republic
Nearest Airport: PUJ
Amenities for Eden Roc at Cap Cana
General Information
34 Suites
Pet Amenities
Pet Friendly
Ecologically Sustainable Practices
Dining
Poolside Dining
Outdoor Dining
Private Dining
Wine Cellar
Room Service
Organic Cuisine
On-Site Amenities
Beauty Salon
Concierge
Pool
Shuttle Service
Spa on Property
Spa Services
Hiking Trails
Housekeeping Service
Fitness Center
Private Beach
WiFi
Sauna
Butler Service
Multilingual Staff
Hamam
Golf Course
Gardens
Beach Club
Beach Access
Outdoor Whirlpool
In-Room Spa Services
Outdoor Pools
Barbeque Area
Tennis Court
Marina
In-Room Amenities
Air Conditioning
In-Room Safes
Mini Bar
Built-In Power Adapters
Flat-Screen Televisions
Luxury Bath Amenities
Outdoor Showers
Private Pools
Vaulted Ceilings
Kitchenettes
Work Desks
Activities
Deep Sea Fishing
Excursions
Hiking
Sailing
Tennis
Wine Tasting
Pilates
Scuba Diving
Snorkeling
Nature Walks
Yoga
Boogie Boarding
Boat Excursions
Fitness Classes
Wellness Programs
Boating
Horseback Riding
Golf
Business
Business Center/Services
Meeting Room
Meeting Rooms
Business Center
Business Services
Family
Kids Club
Kids Pools
Kids Spa Treatments
Play Area
Nearby
Golf
Beaches
Marina
Interests
Active & Adventure
Beach
Family
Golf
Honeymoons & Romance
Spa & Wellness
Reviews for Eden Roc at Cap Cana
---
Some hotels in Bavaro and Cap Cana have day or night passes depending on their occupancy so we tried the beach club at eden roc for a day! Decent sized beach yet private, well cleaned yet water was v wavy! Common pool was small but between lounge chairs, good drinks, beach and beautiful well laid out plage, the day was heavenly. The golf terrain near their Palapa resto offers great scenery especially when the waves hit the rocks on shore! Their beach staff understood english which is really good and probably expected
suzelkhoury - Beirut, Lebanon
---
My husband, son and I, just returned from the Eden Roc and I felt it necessary to write a review and to specifically mention some of your outstanding staff. First and foremost, Samira was such a gracious concierge and really went the extra mile to make sure our family was taken care of with exceptional service. Samira is extremely personable and also took the time to give us a tour of the property when we arrived. The property is paradise. We wanted to get away to just relax and unwind and we did just that. I also wanted to mention the italian restaurant and staff were also truly exceptional. The Manager, Italian Chef and the waiters made our last evening when we dined magical. If you're looking to spend quality time with your family and want to relax and unwind, I would highly recommend vacationing at the Eden Roc!
---
Everything about Eden Roc at Cap Cana is first class, especially the restaurants. Our junior suite with pool was private and quiet, a great place for my wife and I to relax and get away from it all. Beautiful beach, infinity pool, excellent exercise room, best spa ever and impeccably maintained grounds round things out. The staff is amazing with Santos being the most friendly, helpful, happy staff member we've ever met in more than 40 years of travel. It should be noted, however, that luxury at Eden Roc does not come cheap. Not only are the room and food prices expensive, 10% service and 18% tax are added to the bill, as is common in the Dominican Republic.
---
Three night stay for two of us in early March 2018 in Junior Garden Suite number 17 - £3,360.42 i.e. £1,100 a night B&B paid in advance from the UK. Three dinners and three beach side drinks took the extras bill to US$ 908.05 (approx £654) so the total cost for three days was £4,013 or £1,338/night - that makes any equivalent Relais & Chateaux in Europe or South Africa (we have stayed in over 20 so are making a fair comparison) look really good value. Watch out, there are taxes of 10% tax and then 18% tax on top on all bills so US$100 becomes $110 and then $129.8, i.e. all stated tariffs are 30% more than shown. This is clearly stated on all menus and not Eden Roc's fault but caveat emptor. JUNIOR GARDEN SUITE Entrance hall, large bedroom cum sitting room, picture windows with French doors to the garden and private pool. Large very comfortable bed. Large bathroom suite with jacuzzi (of which more later) "his n her's" basins, indoor and outdoor showers, double walk in wardrobe with safe, separate loo. Bath robes, towels Aqua de Parma smellies. Hot water took a very long time to arrive both inside and out and was never too hot to use straight away - no cold tap used. Asked for a post dinner jacuzzi one night but the maid had filled the jacuzzi with COLD water and the circulation pump could not be turned off. A romantic evening was spoiled by maids returning and maintenance men with spanners dismantling the pump. Outdoor plunge pool was a nice touch but a contra-current swimming feature was not provided. Pergola and sun loungers in a semi private garden, semi private because although there are party wall hedges between suites the rear area is an open pathway to allow groundsmen access with fumigators of acrid smoke every evening to kill mosquitoes. Fortunately their machinery is noisy so there's time to cover up before their arrival. No outdoor towels provided but plenty of indoor ones. Minibar - not as ruinously expensive as some hotels but still worth avoiding. The fridge didn't work and although ice buckets were readily available allow a thirty minute delivery time. Free water bottles in the room and at the gym, also sometimes by the pool. Kettle for tea making provided at no charge - coffee maker provided too. BEACH CLUB - a five minute golf buggy ride away - gym, pool, two restaurants and a nicely maintained beach with sunloungers with shady palm leaf parasols. Lots of beach facing rooms in this area too. Fresh fruit on kebabs provided "free" at about 11am every morning. Pool towels provided. GOLF - there's a very well maintained links course available adjacent to the Beach Club at, we were told, discounted prices for residents but we are not golfists so can't comment further. SERVICE - initial welcome good, non alcoholic cocktail and cold towels. Tour of the estate in golf buggy by charming hostess. Later experiences of the front desk patchy with staff whose English was not good enough for a Relais & Chateaux - fortunately we speak some Spanish. Anything off piste appeared too difficult. European staff - British manager Ryan and Italian Restaurant Manager (?) redeemed the experience. Perfunctory departure procedure - no where near as good as the O'Hara's welcome, drinks and departure at the Coral Reef Club in Barbados. LATE CHECK OUT - normally midday, we asked before arrival for permission to stay in our room until collection for our flight at 6pm. We were offered 1pm and negotiated 2pm free with Olga who is uber-efficient at front of house. A later stay would be 50% of the daily room rate or £550 - no thank you. Given that we had stayed three days, already paid over £3k and the hotel was only 50% full this would have been an easy win and a no-cost option to the hotel. As it was we were refugees from 2pm - 6pm and although allowed to use the pools, beach and gym one is made to feel a bit like a squatter. RESTAURANTS BLUE (at the Beach club) - excellent tuna carpaccio, good fish, tasty desserts and five glasses of house wine by the glass. Good overall but very pricy at US$294 - £211. LA PALAPA - table right by the sea for 6pm dinner. Great location but rubbish food. Gespacho good, catch of the day fatty and tasteless. Three glasses of house rose. No dessert. Avoid, or just go for a burger and a beer at lunchtime as many golfers do. US$217 - £156! MEDITERRANEO - long trousers and closed shoes required. After the previous two nights at Blue and La Palapa we were ready to be underwhelmed but were pleasantly surprised. Amuse bouches, good breads, excellent steaks and shared pudding. Wines again by the glass US$311 (£224) but this time worth it. An equivalent but much better meal at say 36 on the Quay at Emsworth in the UK would be less and much better. BREAKFASTS - are also served at Mediterranean. A la carte (try the Dominican breakfast complete with avocado and Spam!) and so no waste and anything you want - but sorry Brits no Marmite or baked beans. GYMS - modern, clean and well equipped. OVERALL - we really enjoyed our three day stay mostly because of the sublime weather - 28c by day and 20c by night, very comfortable bed and the general ambiance. The beach was also excellent and the general feel of Eden Roc was very good. Service was slow and patchy and the hotel was only half full. Consultants from Sandy Lane in Barbados (clearly Eden Roc is trying to become the Sandy Lane of Dom. Rep.) are advising the management team apparently. BUT £4k for three days is a huge investment and so we were expecting, not unreasonably something really really special but we were dissappointed, hence only 3 stars. We hope that the shareholders of Eden Roc are happy with their return on our investment.
Sm0ky - Petersfield, United Kingdom
---
Great suites with private pool. Food is good and lovely staff. Nice beach, a little small but really nice resort. Great for a quiet vacation. Food prices are a bit high but good good. Some local restaurants off the resort to mix it up.
---