Please select your dates to see prices:
---
Eden Roc at Cap Cana in Punta Cana, Dominican Republic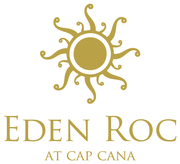 Eden Roc at Cap Cana is a five-star boutique hotel that's part of an exclusive 30,000-acre private community at the eastern tip of the Dominican Republic. It's no wonder that guests get their own golf cart to explore the far reaches of quiet beaches and forests interspersed with manicured greens. Cheerful Caribbean colors liven up shades of white in suites and villas where lighting, TV and sound are controlled via iPad app.
Wander through coconut palms to the sugar-sand beach, and continue walking along the receding tide. Explore cliffs and lagoons. Float among tropical fish. Relish the sun on your face as you savor a plate of baby lobster fajitas with spicy guacamole onshore. After dinner, channel carefree days with a Negroni and live piano music at the retro Riva Bar.
Location of Eden Roc at Cap Cana
Eden Roc at Cap Cana
Cap Cana, Juanillo, Playa Bavaro
23000
Punta Cana, Dominican Republic
Nearest Airport: PUJ
Amenities for Eden Roc at Cap Cana
General Information
34 Suites
Pet Amenities
Pet Friendly
Ecologically Sustainable Practices
Dining
Poolside Dining
Outdoor Dining
Private Dining
Wine Cellar
Room Service
Organic Cuisine
On-Site Amenities
Beauty Salon
Concierge
Pool
Shuttle Service
Spa on Property
Spa Services
Hiking Trails
Housekeeping Service
Fitness Center
Private Beach
WiFi
Sauna
Butler Service
Multilingual Staff
Hamam
Golf Course
Gardens
Beach Club
Beach Access
Outdoor Whirlpool
In-Room Spa Services
Outdoor Pools
Barbeque Area
Tennis Court
Marina
In-Room Amenities
Air Conditioning
In-Room Safes
Mini Bar
Built-In Power Adapters
Flat-Screen Televisions
Luxury Bath Amenities
Outdoor Showers
Private Pools
Vaulted Ceilings
Kitchenettes
Work Desks
Activities
Deep Sea Fishing
Excursions
Hiking
Sailing
Tennis
Wine Tasting
Pilates
Scuba Diving
Snorkeling
Nature Walks
Yoga
Boogie Boarding
Boat Excursions
Fitness Classes
Wellness Programs
Boating
Horseback Riding
Golf
Business
Business Center/Services
Meeting Room
Meeting Rooms
Business Center
Business Services
Family
Kids Club
Kids Pools
Kids Spa Treatments
Play Area
Nearby
Golf
Beaches
Marina
Interests
Active & Adventure
Beach
Family
Golf
Honeymoons & Romance
Spa & Wellness
Reviews for Eden Roc at Cap Cana
---
Our first visit to the Dominican Republic was even more relaxing and luxurious than we hoped it would be. Eden Roc provided us with an amazing suite in Villa 32 that had it's own pool and a lovely view of the lagoon. The shower was incredible, with a door to the outside that we could leave open, and a sumptuous tub. As if that wasn't enough, we also had an outdoor shower-- full privacy! We were given the use of a golf cart to zip around the enormous yet uncrowded property. We felt pampered and had plenty of privacy. The views are stunning!! The hotel also offered bicycles for free. I had amazing bike rides and sunrise experiences. Breakfasts are beyond extraordinary! Go to Mediterraneo and start with the Green Juice. Add a plate of fresh fruit, the Dominican Breakfast and then have caramelized French toast and a cappuccino! Heavenly!! The waiters are so helpful and kind,. Have the pizza at Blue for lunch-- it is incredible!
Meg H - Boston, Massachusetts
---
My family and I had a very nice stay with beautiful weather in early April. Unlike other reviewers I found the palapa restaurant to be lovely (especially our awesome server Yunior!). We had a Priceline special rate, so we were less concerned about the fact that this isn't really a world-class $1000/night experience. Beware though, if you take a room rate without breakfast, you will have no other choice but to pay $50pp for breakfast each day. The food was fine, and occasionally excellent (From what we could tell, people don't come to the DR for the gourmet food). The Blue restaurant serves Asian-Peruvian inspired cuisine at dinner, and was very high quality. Everything is very expensive and there are few alternatives in the area. Don't make the mistake we did and think that you can walk around anywhere and find an alternative restaurant-the Cap Cana marina (a taxi ride away, not "steps away" as in the brochure) is entirely empty, and nothing else is close. FYI there is no tennis at the resort, only nearby on a very small and poorly maintained court. We did have surfing lessons about 45-min away, a short snorkel trip, and the zip line park, so there was enough for a nice 5-day vacation.
jenCB - Buffalo, New York
---
We recently brought our 3 kids (6,4,1) to Eden Roc. We had an amazing time and felt we needed to write a review. Easy pick up from Punta Cana in private car.. made better by the quick trip to Cap Cana. We booked a family suite with a pool at the main resort so that the older kids could play/swim while 1yr old napped. Needless to say we used that pool a lot (including first thing every morning before breakfast). Everyone is provided a golf cart to get around Cap Cana which the boys loved. The trip to and from the beach club from our villa was 3 minutes max. We also were able to drive over to Punta Espada golf club with and without the kids.. and it only took 5 or so minutes. The beach club was awesome. I'm not sure where in the Caribbean you can have a private cove with waves large enough for kids to boogie board but small and safe enough for parents not to be worried. The pools are a step away when one of the other kids wanted to go up and swim. The food. The breakfast is included at Blue and Mediterranean. Would say that Blue is less formal and better for the kids.. and you can just hang at the beach club right after breakfast. We ate at Palapa almost every day for lunch simply because the sushi and fish were so fresh. Pizza, burgers, and salads are all available at the beach but it was nice to get off the sand for a bit. Dinner was great at all of the restaurants but we found Palapa and Blue to be the best. Mediterranean was great food but found it expensive for what you get. We will probably explore Cap Cana for other choices next time. We did use the kids club several times when it was hot in the middle of the day. A nanny can be hired to stay in the club with 3yr old and under.. which we did with our daughter while the older boys played with other kids. It worked out great for all of us. Eden Roc was awesome. Yes.. the food and drink is expensive but have to put it into context. We have been to Beaches Turks twice and when you compare the trips Eden Roc is still more affordable. The food is 100000 times better at Eden Roc. We found ourselves so much more relaxed at Eden Roc and at times the resort seemed empty even though it was not. We never had a problem getting beach or pool seats as you would at other places. We will be visiting again very soon and if you are considering ... just go. It's great with kids and way better than any resort we have been to recently. Thanks to all the staff that made the trip amazing for us!!!!
Joe H - New York City, New York
---
I must say I am disgusted and extremely dissapointed by the behavior and accommodations at this hotel. The managments response to fix things was sorry, that's it really. And when effort was made too, it was made clear to us that this was a "favor" not an actual fix. Truly they are not doing me favors when I'm paying for something. At first Maurizio "tried" to fix things but failed miserably at it as he was not able to follow through effectively. I don't think there was much they even knew how to do. Everyday there was one issue or another. Everything in the hotel was inconsistent, service, food, safety, regard/respect. Everything. I was tired of complaining and the negativity. Having to let them know everyday, I couldn't even enjoy a single day without an issue. I have lodged a significant complaint with FHR I do believe they will be in touch with the hotel. Just as much as the maurizio "tried" to fix issues I tried to look for positives and have a good time by repeatedly giving them second chances. But again it was a major fail to my upset. I even contact amex on 7/10 I believe and spoke to FHR manager Alma, her response was to address the issues directly with American Express and lodge a complaint and contest of charges because services due were not delivered. This was done. I felt stuck between a rock and a hard place. Everything was just a big mess. I just couldn't even deal or recover from the anxiety I experienced on my vacation. Instead of enjoying the 9 days I took away from my patients I felt significant tension and honestly a desire to return to work so as not to waste my free time which is scarce as I run a full time practice working over 60-70 hours a week. I'm just extremely irritated by the waste of time (aka a vacation). Upsetting to admit this. For heavens sake, I had to console my partner because she was upset and consistently requested to leave Early because she just couldn't have a good time. Room was unsafe/insecure : I also informed Samantha and staff about the back door of the room/suite consistently being left unlocked! How is this even appropriate? Also, the door from the room to the pool was unstable and partially broken making it very tense for me to sleep properly at night. I have a video that I took and upon day of leaving again showed Samantha. In addition, the toilets wouldn't flush, and were clogged at least 4 times during the stay that I called for them to fix. The AC would go off at 2 am and 4 am waking my fiancé and I up at night uncomfortably sweating. This was also reported to maurizio/olga and the gang. They did nothing they would just send someone to try and fix but it would continue to go out and did throughout our stay. The AC unit went out every night and two times during the day. Restaurants: The first time we are at blue the air conditioning was broken! Which 5+star resort doesn't provide alternative options and frauds their patrons? In my opinion that discomfort that ruined my entire meal that cost me $360 should have been taken care of or at least happily discounted or at least provided us with an option to be delivered to my room so I could swallow my food in peace without sweating profusely. La Palapa; this restaurant was a disaster. The staff was unprepared they didn't know the food items on the menu. Nor could they communicate the ingredients which to me was very important as I have some medical allergies to gluten and borderline diabetes. I could have gotten sick and not had a clue what support I had in this foreign place where the hotel staff was not supportive to begin with. Hence I chose not to eat. No apologies nothing, maurizio stated he took care of the check as my fiancé ate something. But he made his attempts to be seen as favors. This seems to me to be the appropriate way to handle things if you are management. At the restaurant, my expectations were clearly stated but I couldn't even communicate them to the staff because they didn't really understand and/or know the menu and ingredients to begin with. I believe this to be managements fault not the poor staff that barely speaks English. I am unsure how this property passed FHR criteria. But this is being explored with AMEX already. I felt unsafe and ridiculously uncomfortable almost every day. Maurizio attempted to fix things but eventually also quit trying to actually fix the issue and just said sorry that's it. He did not fix anything. He did make it a point to make sure house keeping came to clean my room in the morning, coffee was delivered to my room upon my request (albeit inconsistent/late and food was gross). This to me is the very basic thing in service at hotels. So it's not significant to me that he courteously sent house keeping to my room every morning. I believe this is just normal. I was there 9 days and could not wait to leave. I have never had such despicable service and disregard. Then upon checkout Stephano and maurizio were supposed to refund the night for 7/6/2017 as a result of significant problems not only at check in but also with the additional option of rooms being dirty. Not even was the first one dirty but so was the one they loved us to. From 19-13 then again changed us to 20. Then in this suite they had two full size mattresses attached together versus a king size mattress? How awkward and unprofessional. I couldn't even sleep comfortably upon complaining regarding even this night of sleep being ruined Stephanie in embarrassment had the mattress changed. My question is why did this all occur in the first place? Why was I placed under such tension and stress. More so, Instead of crediting the charge for this night at check out managment threatened that unless I signed a document "acquitting them of any wrong doing or damage" they were not going to do so. I do have a copy of the document Ofcourse I declined to sign any such document. This was a silly move on maurizio/Stephanos part as I believe they dug them selves a while they now cannot get out off. This is definitely not legal and/or professional and/or service oriented at all. They went back on their word and I saw this as a threat. Instead I took up the mater with my credit card company as they made clear expression of their lack of desire to even keep their word and instead tried to bully me into signing some affidavits. I have never experienced such disregard in my life not even in my professional career. In addition, I have clear pictures and other evidence/documentation that I spent my vacation time noting. Instead of actually enjoying my vacation. I was under the impression that unless I had documentation none of my concerns would be taken seriously. And of course they were not. The sad part is even with documentation and me taking the time to let them know they didn't take them seriously as evidenced by their abhorrent behavior Upon our check out. My fiancé was extremely upset and disgusted by this embarrassment/offensive move on their part as well. Till the last day they made my life hell. More about the room: on the next day 7/7/2017, when I got into the pool had a screw in it. Not one acknowledgement or concern when I stepped on the screw causing me to have a cut with metal on my foot. Instead upon check out they wanted me to sign a document relinquishing them from any liability. This was a joke. I informed Sonia and stephano and Abby about the screw. Their response -nothing. About the Spa: The spa was filthy. Dirty cups everywhere not enough room for me and my fiancé to sit while we waited for our service. Then my spa attendant had bad body odor, she was nice so I didn't want to hurt her feelings but I informed the staff, including sales manager Willy and manager of hotel maurizio. No apology nothing. Front desk/reception: Olga at the front desk had a problem with us to begin with and I'm not sure why. She however was rude and dry not very welcoming. This I was already turned off by her reception of us at check in. So when I called her during a request she was rude and I became observably upset. I insisted on speaking with a manager. She declined, not only did she decline she hung up the phone on me. Not once but twice. That was the even that led to maurizio appearing in the picture trying to fix the situation which had gotten out of hand and I was ready to call the authority to report how unsafe I felt with being in a new country and having no support or safe window to get what I needed from the very place I was staying and paying $960 a night through an FHR reservation. Maurizio and I spoke I requested olga apologize for her disgusting behavior and he at that request had her come to my suite to apologize. Then he made sure to add that he was going to comp my massage to fix this. I mean this was not a favor. This apology was due diligence and the fact that I was woken out of my massage with the therapists had body odor should have been an automatic "we are sorry." He acted as if he was doing some favor when it was ridiculous it occurred to begin with. His responses to some of the HUGE problems we encountered were "wow." One being, on a second occasion when I gave the spa another chance; I had an allergic reaction to the spa lady using perfume oil on my skin when I duly noted in English and Spanish that I'm allergic. Still nothing only a sorry oops! I had to end the second massage early because we left it 30 min sooner because I had an allergic reaction was not a favor or a comp it was mandatory. I was in a couples massage so of course my fiancé couldn't enjoy her massage either when I had allergic reaction. I could sue them for me having this issue causing me problems in a foreign country, them not following protocol and spa etiquette. This is all just the beginning. Issues occurred every day consistently. This is managements failure for not having their spa attendants properly trained to communicate injuries and allergies. This is basic here in the USA. Concierge service: failed miserably. First from the very beginning Samantha gave me misinformation on a price for an excursion. Then on top that she failed to mention that this was a cash only excursion! That if we didn't have cash that the hotel would charge a 10% fee to pay the vendor. Upon check out and my inquiry about the charge she lied to olga and said that she informed me of this. There is no such email that exists. When I asked her to come talk to me in person she blatantly lied to my face saying she informed me, "but over the phone." I questioned why she would fail to give me this information, important information on email so it was documented just as the price of the excursion was being discussed. Of course she has no credibility as she has been inconsistent and made errors even with prices of the excursion for which I have proof on my emails having a dialogue about this excursion well in advance of our trip to Punta Cana! I am meticulous and prepared at all times as this is expected of me in my professional and personal life. If I was informed there would be no question I would be prepared just as I prepared everything in advance. Upon her response I asked her to tell me why if I had brought cash to tip the captain and his first mate exactly to the number, would I just randomly forget to bring cash for the excursion. That information was absolutely not provided to me and there is no documentation in our dialogue regarding it. Concierge not only did not admit to fault but then attempted to call me a liar by telling me to my face "oh but I told u on the phone." I asked her to provide an audio recording, she said "oh we don't have that." Disgusting! I have a video of our suite door that never remained locked!!! Unsafe!
---
Simply the BEST service, accommodations, ambiance, staff, beach, pools, and restaurants! Very attentive staff and responsive to all our needs! We will be back soon and enjoy the overall positive DR experience!
---