Please select your dates to see prices:
---
Eden Roc at Cap Cana in Punta Cana, Dominican Republic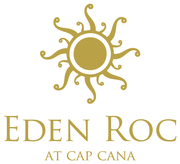 Eden Roc at Cap Cana is a five-star boutique hotel that's part of an exclusive 30,000-acre private community at the eastern tip of the Dominican Republic. It's no wonder that guests get their own golf cart to explore the far reaches of quiet beaches and forests interspersed with manicured greens. Cheerful Caribbean colors liven up shades of white in suites and villas where lighting, TV and sound are controlled via iPad app.
Wander through coconut palms to the sugar-sand beach, and continue walking along the receding tide. Explore cliffs and lagoons. Float among tropical fish. Relish the sun on your face as you savor a plate of baby lobster fajitas with spicy guacamole onshore. After dinner, channel carefree days with a Negroni and live piano music at the retro Riva Bar.
Location of Eden Roc at Cap Cana
Eden Roc at Cap Cana
Cap Cana, Juanillo, Playa Bavaro
23000
Punta Cana, Dominican Republic
Nearest Airport: PUJ
Amenities for Eden Roc at Cap Cana
General Information
34 Suites
Pet Amenities
Pet Friendly
Ecologically Sustainable Practices
Dining
Poolside Dining
Outdoor Dining
Private Dining
Wine Cellar
Room Service
Organic Cuisine
On-Site Amenities
Beauty Salon
Concierge
Pool
Shuttle Service
Spa on Property
Spa Services
Hiking Trails
Housekeeping Service
Fitness Center
Private Beach
WiFi
Sauna
Butler Service
Multilingual Staff
Hamam
Golf Course
Gardens
Beach Club
Beach Access
Outdoor Whirlpool
In-Room Spa Services
Outdoor Pools
Barbeque Area
Tennis Court
Marina
In-Room Amenities
Air Conditioning
In-Room Safes
Mini Bar
Built-In Power Adapters
Flat-Screen Televisions
Luxury Bath Amenities
Outdoor Showers
Private Pools
Vaulted Ceilings
Kitchenettes
Work Desks
Activities
Deep Sea Fishing
Excursions
Hiking
Sailing
Tennis
Wine Tasting
Pilates
Scuba Diving
Snorkeling
Nature Walks
Yoga
Boogie Boarding
Boat Excursions
Fitness Classes
Wellness Programs
Boating
Horseback Riding
Golf
Business
Business Center/Services
Meeting Room
Meeting Rooms
Business Center
Business Services
Family
Kids Club
Kids Pools
Kids Spa Treatments
Play Area
Nearby
Golf
Beaches
Marina
Interests
Active & Adventure
Beach
Family
Golf
Honeymoons & Romance
Spa & Wellness
Reviews for Eden Roc at Cap Cana
---
The hotel is beautiful, confortable, with a magnificent relax ambiance, the attention is excelente, the food incredible, and the beach is unique. Rooms are elegant and confortable, and decoration exquisite.
marcellac814 - Santo Domingo, Dominican Republic
---
The most beautiful blue ocean, dream white sand beach, four rooms villa with private pool and two butlers. What can go wrong? Every single thing. Remember, no matter how luxurious a place can be, service is EVERYTHING. I planned this vacations months in advance as it was a very special trip for me and my family for many reasons, my step-daughter's 18th birthday, my 34th birthday and the first one to be able to celebrate with my kids in 5 years as they currently live in Argentina and thanksgiving holiday. Finally, after waiting for so many years, I was going to be able to celebrate with all my family and I was relying on Eden Roc and their staff to provide us with an unforgettable week. EDEN ROC CAP CANA IS A RELAIS & CHATEAUX LUXURY BOUTIQUE RESORT LOCATED LESS THAN 15 MINUTES FROM PUNTA CANA INTERNATIONAL AIRPORT, IN THE DOMINICAN REPUBLIC. The transfer from the airport to the hotel was really nice, our driver was very polite and he was waiting for us with a brand new SUV, something that made me feel comfortable that I was chosen a nice place to stay with my family. Our villa wasn't ready when we arrived so the Guest Relationship Manager at the moment Mr. Abby Absar gave us a tour and showed us the whole resort, we were amazed by it and very thankful to Mr. Absar for welcome us like that and he promised us that we would have the most luxurious vacation ever. I'll describe the good things about this resort now because right after our first night the problems started and there wasn't one day we were able to fully enjoy our vacations.The views are amazing, the beach and the ocean are like a paradise. The public pools are really stunning and basically the whole resort infrastructure is astonishing. Our villa was gorgeous, four big rooms with private bathroom and hot tub, office, sauna, private pool, beautiful decoration, it was perfect. The villa included a private lounge at the beach and they provided two golf carts so we could have transportation during our stay, so far so good. Whoever the big issue was the customer service, the staff and sadly all the personal (from the lowest rank employee to executive directors) they had none or very basic training on how to deliver a basic hospitality service, like I just read in a google review someone describe the hotel as a "luxury resort managed like a motel" and I have to disagree with this, I stayed at many motels in my life and I received a better service than I did at Eden Roc Cap Cana. The food and room service: Remember, we had 2 butlers apparently working full time for us and there wasn't one day, from breakfast to lunch and dinner that the food we ordered took less than 90 minutes to arrive to our villa and worst than that, every time was wrong or wasn't the things we ordered so we had to wait another hour for them to fix it and bring it back, so everyday waiting at least 2 to 3 hours to eat. Terrible. As I was super excited about my birthday dinner so the day before that night I met with their Executive Chef Gianluca Re Fraschini and he promised me to have an "unique birthday dinner that I will remember forever". The menu for me and my family was going to be premium lobster, filet mignon and chicken with steam vegetables, and a special birthday cake. What happened that night was the worst birthday dinner experience I have ever had, the dinner was schedule for 8PM and the staff arrived at 7:50PM, when I told them my worries about being so late to prepare fresh premium food, their answer "Everything is precooked" and yes, everything was precooked. This was according to them, premium filet mignon and grilled chicken. I don't even think I have to describe how dry and overcooked was the food, they never served us the lobster and the vegetables came 30 minutes after we got the meat, and when the moment of the cake came, they forgot the candles. I was so confused when my whole family was signing the "happy birthday" I asked the butlers "where are the candles?" the looked at each others and answered "We just brought you the cake so you can see how pretty it is, you will blow the candles later". This happened for real, it isn't a joke. I asked them to leave, I grab a candle from the bathroom and finally blew them with my family. That was the end of a $3500 US dollar dinner. Right after this I met with Mr. Giovanni Odaglia, Executive Chef Gianluca Re Fraschini and (again) Mr. Abby Absar. I told them I was considering going to a different hotel because all the issues we were having and they promised me, again, that everything will be fixed. Mr. Absar promised my kids that next days they will have cake, toys and inflatables for the pool (that never happened, no next day or any day during our stay). The butlers and Concierge service: As soon as we got into our villa we got introduced to both of our butlers, they were the point of contact for any of our needs. They gave us a cell phone to call them directly and they will be there for us in less than 5 minutes. Full VIP personal service that sadly, we never got the opportunity to experience during our stay. Every time I tried to call the butlers using that phone nobody answered, even worse, the phone kept ringing and receiving sexual toned text messages from apparently females looking for the butlers, something that was very annoying and inappropriate. After a couple days of this happening I just gave back the phone as I wasn't feeling comfortable and honestly the phone wasn't helpful as the butlers never answered it. So every time we needed something we just called front desk and wait until one of the butlers decided to show up. The first day I tried to book an activity to swim with dolphins with my family so I asked the butlers and concierge, one butler told me that the activity was in the middle of the ocean and we get there by a 45 minutes boat ride, and the other butler told me that the place was only 15 minutes bus ride in an aquarium, none has no idea about pricing and they obviously didn't know how to get there or how the activity was so I decided not to book it. Two days after a driver came pick us up at our room for a dolphin activity but the reservation was with another name, it seems they booked the activity for a different family but with our villa information. The night of my step-daughter birthday we decided to go out dancing and I ask for a luxury car with a driver, then send me an old white taxi with a driver in his 70's and half way to the club I had to ask him to take us back to the hotel because he was clearly drunk, just looking at his phone don't putting attention to the road and we almost got into an accident. Cleaning staff: As soon as we got into the villa we notice some uncommon issues for a luxury resort like this, we found old food in the backyard lawn, missing toilet paper in bathroom, bad odor in hot tubs and more. They wouldn't come to clean or pick up old food sometimes for more than 24 hours and we had to call them many times for they to finally come. The first day we asked them to please bring dry clean towels for the pool every morning, they only did it twice during our 7 days stay. Really bad service. Billing and post trip customer service: Another big problem that we had was that they charged us for food and drinks that we didn't consume, after I left I asked to send me details of everything because I was worried that that could happen as I was able to see that they were very disorganize and this is what I found. As you can see the first ticket has my signature and suite number, the other ones has my forget signature and they even included tip. One is almost $250 dollars and we don't even drink alcohol but you can read 5 bloody mary, grey goose and more. Just before leaving I came back to the villa and I found an envelope so I though "Good, at least they wrote a letter to apologize", no, it was the bill. After talking with many directors, writing emails to Relais & Chateaux and try contact then by social media. They refund me $8000, they didn't charge me for my birthday dinner, but they never apologized, no even once. It is very sad as this place is really beautiful but it is insulting the way that they treat their clients, my family came back home really upset and for sure we will never go to a Relais & Chateaux hotel again. I even hand wrote a letter to Relais & Chateaux but sadly, I still have no official apology. Total Cost of the Trip: More than $25,000.- My Review: Terrible, not good for family trips. Staff: I do have to make an special mention to Olga Myronova (Front Office Manager) as she was the only one always answer me and trying to give me solutions and helping with all the issues. Mr. Abby Absar (Guest Relationship Manager) Mr Absar was never able to deliver the service level expected for a establishment like this, he was also very disrespectful in the emails communications since the moment we left. Giovanni Odaglia (Food and Beverage manager) Mr. Odaglia was very polite and open to listen however he couldn't fix the issues. Mr. Gianluca Re Fraschini (Executive chef) The level of disregard from this person to me and my family was awful, he literally answer his cell phone while having a conversation with us about fixing all the issues and walked away like we didn't exist. Stefano Baratelli (Managing Director) Tried to contact him many times by social media but never answer me back. Juliana Cordones Sabala (Sales & Marketing Manager)Tried to contact her many times by social media but never answer me back.
---
My husband surprised me for our 20th anniversary with a trip to Eden Rcc! Wow it was amazing!The hotel is absolutely gorgeous. The food is delicious! Breakfast is to die for! Oscar took great care of us every morning and Michelle greeted us with a smile every morning!The beach Bar was our favorite spot!!!! ADRIAN WAS AWESOME! So on point an very attentive. Nicest person and his attention to detail was perfect! ELVIS: has a great voice! Always happy and asking about our day. Now there are two Robertos! They again were both awesome. Roberto Gomez the sommelier knows his wine to a tee. Mediterrano is a great restaurant and with his knowledge of wine makes it even better He selected perfect wines every time. ROBERTO at the aqua bar is another great bartender. He would surprise me with cocktails and they were all delicious!YENNY CARPIO the hostess at mediterraneo was so polite and made everything a great experience!Honestly the whole staff was top notch. This is an amazing destination with the beauty, awesome rooms, great food AMAZING GOLF and pleasant people. We travel a lot and this was one of my top five trips!Hakim who was in charge of guest relations was awesome. He checked on us everyday and made sure everything was to our liking. I highly recommend this resort!
---
Extremely well managed resort. Everyone friendly and willing to please. Breakfast is delicious and plentiful. Just what the doctor ordered for a great getaway in the DR and don't miss a great massage at the spa !
gayleb497 - Washington DC, District of Columbia
---
We arrived at the Eden Roc Cap Cana for a three night stay in May 2018. At check in, the concierge charged my card for the full stay plus incidentals. I thought this was a little strange for a "five star" hotel but soon learned why. On our tour of the property, our guide mentioned they were having a slight issue with the beach. What he failed to mention was the beach was completely closed, with heavy construction equipment going back and forth all day removing seaweed from the area. Not a good start to our beach vacation. Other than the buffet breakfast (which is included in your room stay), the food at this hotel is inedible. After suffering through 2 meals, my girlfriend and I started making the 30 minute trek on our golf cart to the public beach of Juanillo to find nourishment. I have never been so excited to eat a margarita pizza or dedillos de polo in my entire life. On our last night at the hotel we decided to kick our feet up and hop in a hot bath to wash away the misery of our trip. After filling the tub for 10 minutes with piping hot water, the facet started to run icy cold with the bath 20% of the way full. A great end to a terrible trip. I wouldn't recommend this hotel to anyone I know.
josephcridge - New York City, New York
---