Please select your dates to see prices:
---
Belmond Copacabana Palace in Rio de Janeiro, Brazil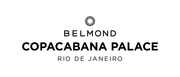 To preside lavishly over one of the world's most well known beaches, book a penthouse suite at the five-star Belmond Copacabana Palace. Here you'll have a bird's eye view over the coast, where two million people flock to watch the fireworks each New Year's Eve. Named a cultural patrimony of Rio, the 90-year-old landmark once hosted Marilyn Monroe, The Rolling Stones and Diana, Princess of Wales. It retains a French-inspired feel after a 2012 restoration, and the social scene at the expansive pool is as hot as the Rio sun.
See and be seen on Copacabana's wide swatch of sand. Give up your white-umbrella-clad throne and return for lunch, a feijoada stew – Brazil's national dish – at the poolside bar. Indulge in a spa treatment that uses white clay from the Amazon. Snag a sake cocktail at celeb chef Ken Hom's MEE restaurant. Sway to bossa nova with a hot local at the piano bar.
Location of Belmond Copacabana Palace
Belmond Copacabana Palace
Avenida Atlantica 1702
CEP 22021 001
Rio de Janeiro, Brazil
Nearest Airport: GIG
Amenities for Belmond Copacabana Palace
General Information
226 Guest Rooms
Dining
Poolside Dining
Outdoor Dining
24-Hour Room Service
Piano Bar
Spa Cuisine
Afternoon Tea
Pool Wait Service
On-Site Amenities
Beauty Salon
Spa on Property
Fitness Center
WiFi
Boutique
Outdoor Pool
Tennis Courts
Personal Trainers
Beach Amenities
In-Room Amenities
Air Conditioning
Hair Dryers
In-Room Safes
Mini Bar
Satellite Television
Luxury Bath Amenities
Vaulted Ceilings
Business
Business Center/Services
Meeting Rooms
Nearby
Historic Sites
Shopping
Art Galleries
Museums
Restaurants
Nightlife
Parks
Theatres
Reviews for Belmond Copacabana Palace
---
I stayed here with my partner 11 years ago to celebrate his 40th birthday. At that time the weather was so (unusually) bad that we just had to revisit to see Rio in better weather. So, we returned to the Copacabana Palace in late April / early May for 6 nights, to celebrate 25 years together. We arrived late in the evening after a delayed flight. We were upgraded to a city view suite (like last time!) in the Tower wing. The room was beautifully refurbished, very spacious and had views to sugar loaf mountain and the city streets below. There was some sparkling wine in our room and some beautiful flowers to celebrate our anniversary - a lovely touch. We had breakfast each morning at Pergola and there was a wonderful buffet selection with fruit we had never seen before, "green juice" as well as others, eggs made to order and a great selection of hot and cold dishes. We stayed over the public holiday weekend, and the hotel was very busy. Space by the pool was at a premium and it was in shade a lot of the time. We found a cabana on the upper balcony overlooking the street. Each day we would sit up there with virtual privacy and (almost) constant sunshine. The pool bar (a great addition since last time) serves great drinks and has a free water dispenser. There is also sun lotion and plenty of gorgeous fluffy towels. On public holidays Copacabana Beach is wonderfully busy with families enjoying the sun and sea. The hotel has a beach area but we didn't try it. We enjoyed walking amongst the beach-goers and enjoying the atmosphere. We had arranged 2 day trips through Belmond. Christ the Redeemer (last time we were drenched and didn't see much!) and a favela tour. Unfortunately the favela tour was cancelled for security reasons. So we did Sugar Loaf mountain (again) instead. Our guide and driver looked after us so well and ensured we got the most out of our visits. We had our anniversary dinner at MEE. We love oriental food, and visit that part of the world often. We were the first diners at 7pm and actually had to knock on the door to be let in! The room was freezing with very fierce air conditioning. We had a glass of champagne (eye-wateringly expensive) and a bottle of Brazilian wine. We tried various Brazilian wines during our stay here (and later at Iguacu Falls) and liked them all. The food was very good, but no more special than other meals we have had elsewhere. The service was hit and miss, but care was taken to ensure my partner's nut allergy was catered for. I think it's the first pad thai he's ever been able to have! It was certainly the most expensive meal we had during our stay in south America this time. We certainly had the good weather we had hoped for, and had a wonderful stay at Copacabana Palace (again). We headed off to the Hotel Cataratas in Iguacu Falls thinking it would be hard to beat.....
Chocgirl - Yorkshire, England
---
My wife and I stayed here for the first time in April for 9 days. The Hotel certainly lived up to it's reputation. Everything was amazing. All staff from Reception to pool to restaurants were extremely attentive and nothing was too much trouble. There are a few specific members of staff we would like to mention for their fabulous service. Umberto at reception, Roberto the concierge who helped us plan trips and buy tickets, Milton our driver who was extremely knowledgeable and Cesar who frequently made a point of checking with us at our breakfast table to ensure everything was perfect. Small details such as calling us by name and remembering our room number go a long way to making for a superb holiday. Our meal in Cipriani was an unforgettable experience! Thank you to all the staff there for impeccable service. We also went to the Sunday Brunch which was amazing! A tip for other travellers..... if you get the chance to upgrade to the ocean view room looking onto Copacabana beach do it! We did, and it made our holiday. Waking up to that view every morning is breathtaking.
Duncan F - Carlisle, United Kingdom
---
I had visited this iconic rio de Janeiro landmark before Belmond took it over, and it felt a bit tired and shopworn. I returned in January to find this 1920s art nouveau gem restored to its original luster, with rooms that are perfectly appointed in Brazilian Deco style and two of the best restaurants in Rio, the classic Hotel Cipriani, and the sister to the Michelin-starred Sao Paolo restaurant, Mee. An oasis in the frenetic craziness of Rio, it's a true gem.
jsoroff - Boston, Massachusetts
---
We recently stayed at the Copacabana Hotel - iconic hotel, pool area and poolside cabanas delightful, breakfast excellent, location great, staff excellent - the only place to stay in Rio. Enjoyed a lovely dinner poolside as well as their excellent Asian restaurant
lesley093 - Sydney, Australia
---
I stayed at the hotel several times but always at the main building. I was always curious about the Annex building with large balcony. This trip, the ocean front suite was not available on the main building so we booked the annex building for the first time. CHECKING - IN , It was unusual that I had to wait 18 mins standing in line with only 2 counters working. There was no water or welcome refreshment by the counter. However, the room was ready to check in by 12:00 PM pretty good for today's standard in the Brazilian 5 Stars hotels. THE SUITE - The suite was much older than I expected but the size of this suite was indeed, very large. The bathroom was also very large with a separate shower and large soaking tub. But it was old and need looking after. There was a small pantry in the room probably convenient for a longer stay. The suite also has a large balcony with nice ocean view. But before I can complain, a welcome house brand ( Copacabana Palce) sparkling wine and chocolate arrived..awww The service is impeccable as always. The staff were wonderful, knowledgeable, helpful and the longer they had worked there , the better, kinder, and efficient they are. The advantage of this building is that it's right on top of their Spa and hair salon as well as their famous French Restaurant. Going down to the Spa was convenient. Also it's a little way back from the beach and the main road so it's quieter and more secluded. The hotel recently renovated their main restaurant Pergola very beautifully since I last visited Rio: Beautiful during the day, elegant and romantic at night. Well done! Verdict : I certainly recomend this iconic hotel but I still prefer the main building. I feel very safe at this hotel. No issues at all. Rio is just beautiful, rain or shine!
TWWS - Philadelphia, Pennsylvania
---