Please select your dates to see prices:
---
Belmond Copacabana Palace in Rio de Janeiro, Brazil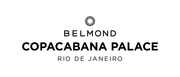 To preside lavishly over one of the world's most well known beaches, book a penthouse suite at the five-star Belmond Copacabana Palace. Here you'll have a bird's eye view over the coast, where two million people flock to watch the fireworks each New Year's Eve. Named a cultural patrimony of Rio, the 90-year-old landmark once hosted Marilyn Monroe, The Rolling Stones and Diana, Princess of Wales. It retains a French-inspired feel after a 2012 restoration, and the social scene at the expansive pool is as hot as the Rio sun.
See and be seen on Copacabana's wide swatch of sand. Give up your white-umbrella-clad throne and return for lunch, a feijoada stew – Brazil's national dish – at the poolside bar. Indulge in a spa treatment that uses white clay from the Amazon. Snag a sake cocktail at celeb chef Ken Hom's MEE restaurant. Sway to bossa nova with a hot local at the piano bar.
Location of Belmond Copacabana Palace
Belmond Copacabana Palace
Avenida Atlantica 1702
CEP 22021 001
Rio de Janeiro, Brazil
Nearest Airport: GIG
Amenities for Belmond Copacabana Palace
General Information
226 Guest Rooms
Dining
Poolside Dining
Outdoor Dining
2 Restaurants
2 Bars
24-Hour Room Service
Piano Bar
Spa Cuisine
Afternoon Tea
Pool Wait Service
On-Site Amenities
Beauty Salon
Spa on Property
Fitness Center
WiFi
Boutique
Outdoor Pool
Tennis Courts
Personal Trainers
Beach Amenities
In-Room Amenities
Air Conditioning
Direct Dial Telephones
Hair Dryers
In-Room Safes
Mini Bar
Satellite Television
Televisions
Luxury Bath Amenities
Radio & CD Players
Vaulted Ceilings
Business
Business Center/Services
Meeting Rooms
Nearby
Historic Sites
Shopping
Art Galleries
Museums
Restaurants
Nightlife
Parks
Theatres
Reviews for Belmond Copacabana Palace
---
We stayed for a week in the Belmond Copacabana Palace Hotel and were delighted by the good service, the very charming staff and the good location. the rooms were welkl maintained, the restaurants are great and the pool area is fully serviced.
Pascal P - Karlsfeld, Germany
---
My wife and I stayed at this hotel for 2 nights during a tour through South America with Tauck. This hotel is gorgeous, the rooms are large, very comfortable and quiet. Service was perfect. And the location is just across the street from Copacabana beach. Hard to ask for more.
niagarariverfatman - Buffalo, NY
---
This is a lovely place to stay. I chose it because the conference I attended was held here. My "standard" room was terrific. Very quiet. It didn't have an Ocean view but then I think the rooms with such a view may suffer from traffic noise (there is a highway between the hotel and the beach). Anyway, I was perfectly happy for five days and would recommend a room like mine (320) unreservedly! The staff are, without exception, delightful. I'm trying to plan a return trip....First photo shows the amazing view from the Pergula breakfast buffet. Second shows the hotel from the beach. Stay here! Take my word for it!
Paul T - Chalfont St. Giles, United Kingdom
---
I have been staying at this marvelous Gran Dame hotel (at least 15 times now) every time I visit Rio, and it never disappoints! In fact it always surprises me in the very best way. The design of the lobby, grounds, and rooms are beautifully designed and constantly updated. The pool area is one of the nicest city pool hotels you will ever see. And the buffet morning breakfast with delicious local fresh fruits and traditional Brazilian breads, pastries etc is simply delicious. Not to mention the 2 additional restaurants, Cipriani and Mee for your evening meals. This hotel offers all amenities including a wonderful full service Spa, fantastic toiletries in every room including robes and flip flops should you want to step down to the pool, Spa or cross the avenue to the beach! It is true that the area of Copacabana beach is no longer as chic as it once was but given this wonderful gem of a hotel, with its wonderful staff who strive to meet every need you might have and with its superb security, I choose not to stay anywhere else but at the Copacabana Palace when in Rio.
Nanahya - New York City, New York
---
First of all, ignore any negative comments about the physical condition of this hotel made before they started their renovations. I believe this was fairly recent, and I did hear some minor apparent renovation noise while I was there in February 2018, so maybe they are still in progress. The entire hotel is immaculate. The staff is uniformly excellent. The rooms are well-designed and artfully decorated. The breakfast is unbelievably fantastic. In addition to a HUGE buffet of very high quality hot and cold selections, you are offered specially cooked egg-based dishes. I had an ocean-front room on a lower floor. Because of the double-paned windows, you hear no traffic noise, so lower floors are actually more desirable, as you feel closer to the beach. Beach-facing rooms are preferred but not essential, as in any event you are right on the beach when you walk out the door. The hotel pool is, again, immaculate. And huge. Ipanema is widely considered to be a more desirable area than Copacabana. Yes, the restaurants in Ipanema are better. But the hotel stock there is a bore. And taxis are absolutely everywhere, so going to and from Ipanema is simple and cheap. Regarding beach quality, again, Ipanema might win, but Copacabana beaches are much deeper and less crowded. The friends I travelled with stayed in Ipanema. They all wished they had stayed at the Palace. I wanted to stay at a hotel with character. The Palace has that in a manner beyond belief. Ipanema hotels don't.
USAAworldtraveler - New York City, New York
---