Please select your dates to see prices:
---
Balaji Palace at Playa Grande in Rio San Juan, Dominican Republic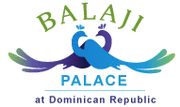 On the gorgeous white sands of the Dominican Republic's stunning north shore, discover Balaji Palace at Playa Grande. This luxurious 13-room resort in Rio San Juan is nestled between lush verdant forests and the shimmering blue waters of the Atlantic. Each room is open with high ceilings and multiple double doors, providing wonderful breezes and a gentle atmosphere. Done in bright, cheerful colors, or warm earth tones, you will relax in tranquility. Recline on your private balcony and gaze out over beautifully manicured gardens for a truly peaceful morning. Or perhaps, soak in the warm sun and tropical feel. At the Balaji Palace at Playa Grande, your stay will at once relax and invigorate, all while in palatial surroundings.
Make your way to the 1000-foot private beach of Playa Grande for a great morning of tanning on the white sands, or splashing in the warm waters. Or perhaps head to the nearby Caleton Beach for some great snorkeling and to try your hand at surfing. If you prefer an afternoon cocktail, glide through the seaside pool to the swim-up bar. For some great shopping and nightlife, experience the village at Rio San Juan, or perhaps head to Cabarete. Guests who desire a great golf game need look no further than the Playa Grande Campo de Golf Course. Set on 370 acres of breathtaking ocean-side cliffs, and cool tropical forest, your game will be a thing of beauty regardless of score. For a wonderful meal at any time of day, return to the Balaji Palace at Playa Grande and delight your palate. Here, custom dining is truly inspiring, as every meal is planned in advance and served in any setting. Have breakfast in bed, or perhaps in the garden, take in lunch by the pool overlooking the ocean, or have a romantic dinner for two by candlelight on the beach. At the Balaji Palace at Playa Grande you will be treated like royalty, and with the natural beauty of Rio San Juan and the luxury of the resort, you may feel that way too.
Location of Balaji Palace at Playa Grande
Balaji Palace at Playa Grande
Playa Grande
Rio San Juan, Dominican Republic
Nearest Airport: POP
Amenities for Balaji Palace at Playa Grande
General Information
13 Guest Rooms
Dining
Private Chef
Swim-Up Bar
On-Site Amenities
Concierge
Spa on Property
Billiards Table
Heliport
Private Beach
WiFi
Multilingual Staff
Outdoor Pool
Gardens
In-Room Amenities
Turndown Service
No Televisions or Telephones
Individually Designed Rooms
Activities
Excursions
Pilates
Snorkeling
Yoga
Billiards
Table Tennis
Volleyball
Business
Business Services
Family
Babysitting
Beach & Pool Toys
Nearby
Shopping
Golf
Nightlife
Interests
Beach
Golf
Summer Getaways
Reviews for Balaji Palace at Playa Grande
---
From the beautiful gardens to the majestic architecture, everything was amazing! the beautiful and impressive view of the sea on the boulevard from the jacuzzi or from the balcony of the room so perfect!. The food was excellent, my favorites the coconut fish fillet with jasmine rice was delicious and the paella too !! All the staff very polite and helpful, cleanliness and perfect attentions! They have game of villar, table of ping pong, a huge swimming pool and elevator inclusive. anywhere you can take many photos because there are different environments. very romantic to see the sunrise with my cup of coffee and the sunset in front of the sea was wonderful, you can always hear the waves of the sea and the birds. They also have a helipad and the beach is completely private, you have access to the golf camp too. OMG I took incredible photos !! I'm sure I'll be back soon!
Jane F - Punta Cana, Dominican Republic
---
My boyfriend and I were looking for a place for our annual weeklong vacation, and I found an incredibly affordable deal for The Palace on one of the travel sights. After reading some reviews and doing some research, I emailed Juan, the wonderful manager, and asked to be upgraded to an ocean view room as well as the meal plan. Well. We arrived to a loftlike room with high ceilings, a huge bathroom, and an incredible balcony overlooking the sea with a jacuzzi! So past our expectations. And we have stayed in some lovely places. We were there in off season, and beside one other couple we pretty much had the place to ourselves. The whole staff was available whenever we needed anything. They gave us several choices for meals, we were NEVER disappointed! The food was varied and fresh, served beautifully by the nicest people you can imagine. It was like having your own staff. The beach in front of the hotel was seasonally not usable, so we drove 10 minutes to a gorgeous long beach where you can just walk and take a towel. Or, as we discovered, as you walk through some vendors they will offer you beach chairs to rent for $2, meals for $5, and I will say it was perfect. Not pressured. Juan had just bought us new snorkel gear (!) as he knew we wanted to snorkel. That was one instance of the type of personalized service we constantly received. Several days into our visit, the owner, Dr Balaji cane for a visit, and he extended himself and we had some lovely visits with him. What a nice and interesting man. Oh! I also had an incredible massage on the spa balcony one afternoon. And peacocks walk around the property. We were incredibly sad to leave. It felt like home. It is a beautiful place to visit.
---
Before booking our honeymoon to the Dominican Republic blindly, we made sure to read the reviews and do our homework. I'm sure you're doing the same thing if you're reading this, but I'm sorry to say that there are no pictures that can appropriately capture the beauty, no amount of words on a website can adequately describe the little slice of heaven that is the Balaji Palace. From the second you enter the Palace, you are greeted by the kindest, most welcoming staff. Juan Carlos, Philipe, and Javier all went above and beyond to ensure that my wife and I had anything and everything we needed. A New Orleans native, I can't help but to pay special attention to the local cuisine anytime I travel, and I was certainly not disappointed. The freshest fish and lobster, the most succulent entrees and vegetables, the purest, sweetest fruits; we couldn't pick a favorite dish. While we enjoyed a relaxing day at the Palace one day complete with a massage for my wife (and a trip into town for some cigars for myself), we took Philipe up on his offer to show us around the following day. He showed us three different breathtaking beaches, took us zip-lining into a stunning lagoon, toured us through a nearby cave, drove us up and down the countryside, and we ended our journey at Playa Grande where we feasted like royalty... Again! As I mentioned before, I can sit here typing about breathtaking views and babbling about how wonderful our trip was, but it simply won't do the Balaji Palace justice. If you are looking for the most relaxing, best vacation of your life, book this trip.
adairwatkins - New Orleans, Louisiana
---
We stayed at Balaji Palace for the first part of our honeymoon (4 days). This place is ABSOLUTE PARADISE. I cannot even believe that we were there, this is the most lavishly majestic place you could imagine. I cannot even express how beautiful the palace, each room, the decor, and the grounds are. It feels like you're literally in paradise. Imagine peacocks walking around, unbelievably beautiful Indian architecture, beds fit for a king, and have I mentioned the most delicious food and service?! Javier was SO AMAZING!!!!! We were there back in February and we still remember Javier with such fondness!!! He goes out of his way to make you feel like royalty. We had the most incredible last night dinner on the balcony, candle lit with the waves breaking beneath and the sunset. Breathtaking. The most romantic dinner I have ever had. Just unbelievably delicious food, and different every single morning day and night. The freshest fruit, vegetables, and meat. The beef was so succulent, I am salivating again just remembering those meals. Juan Carlos is so wonderful, as are the beautiful ladies there and the rest of the crew. Everyone is so warm and welcoming, cannot rave about each of the people there enough. When we came into our room there was a gorgeous heart of flowers on the bed. Each day and night there is a guard there, so even when we were the only ones staying in the palace (we were traveling on an off-peak week), we felt very safe. The grounds are out of this world spectacular. Seriously, it's like this entire place was built for a king. Unbelievably beautiful. We cannot stop raving about this place, and have been recommending it to everyone. We cannot wait to return to that paradise!!!! We did make a mistake while traveling -- we haven't traveled much, especially to the Caribbean, and we didn't bring enough cash. You MUST bring at least $500+ when traveling here because mostly all the activities are in cash, plus cab rides, plus tips. We put more tip on the final bill, but don't be stupid like us and definitely bring lots of cash with you. Thank you Balaji Palace for the most majestic, royal, incredibly beautiful experience of a lifetime!!!
Lessa K - Finger Lakes, New York
---
This is a beautiful mansion type small resort. The architecture is stunning as it is modeled after a Palace in India. We were fortunate that the owner was on site during our visit. Originally from India, he is a renowned cardiovascular surgeon in the US. Our visit of 5 nights was totally relaxing. Our ocean view room was large with a large patio. The manager Juan Carlos was very friendly and accommodating. The wait staff, Charlie, Felipe and Javiar strived to meet our every need. If you looking for a small, intimate, relaxing resort, this is it.
richard s - Denton, Texas
---