Please select your dates to see prices:
---
Hotel d'Inghilterra in Rome, Italy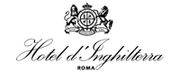 Just a few steps from the Piazza di Spagna, the Hotel d'Inghilterra has been one of Rome's most exclusive hotels since 1850. Once the 17th-century guest house of the Princes Torlonia, the hotel possesses an atmosphere of intimate elegance in its common rooms and an air of refinement in its bedrooms adorned with fine period furnishings. Against a backdrop of the Trinita dei Monti, Villa Medici and Villa Borghese, this property boasts a luxurious top floor suite with a garden terrace and rooftop views over the historic city center - along with the renowned Café Romano restaurant, a favorite gathering spot for local luminaries.
No matter how many photographs you have seen, or how many stories you have heard, there is nothing that can compare to daily life in Rome. Masterpieces by Michelangelo are as frequent as laptops and cell phones, and it often seems as if you will round a corner to discover Audrey Hepburn zipping down the street on a charming Vespa. From the Sistine Chapel and Coliseum to Fellini films and wine bars, this is a unique city where the ancient and modern reside together peacefully, harmoniously and, of course, eternally.
Location of Hotel d'Inghilterra
Hotel d'Inghilterra
Via Bocca di Leone 14
00187
Rome, Italy
Nearest Airport: FCO
Amenities for Hotel d'Inghilterra
General Information
106 Guest Rooms
On-Site Amenities
Concierge
High-Speed Internet Access
In-Room Amenities
Air Conditioning
DVD Players
In-Room Safes
Marble Bathrooms
Flat-Screen Televisions
Individually Designed Rooms
Business
Conference Facilities
Nearby
Historic Sites
Shopping
Art Galleries
Museums
Restaurants
Nightlife
Theatres
Public Transportation
Monuments
Interests
City
Culture & Arts
Summer Getaways
Reviews for Hotel d'Inghilterra
---
If you're looking for a perfect location kind of hotel , this can't be any more central. We walked everywhere to shop, sight see , make it to the restaurants we wanted to visit. It's the perfect location! The staff are very friendly and welcoming, and the hotel is very sweet with a little area to sit and have a coffee and read a magazine or news paper. The room I stayed in was very nice , clean and smelt lovely. They offer room service which we used and was great . They also give you a map upon check in which can be helpful to those who aren't familiar with the city.
stranacrazyinlove - Taormina, Italy
---
Loved the hotel, very flexible, needed a change in my stay, they were to do it although had a non flexible rate. Moreover, ask to organise a surprise for my hubby's bday, they have done it perfectly! The entire staff was very helpful! Booked train tickets, they were helpful, done it for me. The room was great, 390! Not all rooms are renovated so make sure to ask for a renovated one. Very warm, cozy, night service impeccable! One suggestion is to give natural complimentary water instead of frizzy and two bottles per room instead of one. Toiletries from ETRO, huge flat screen on the wall. Great welcoming chocolates 😍 Very good breakfast, especially for italy, gluten free wide options. Delicious apples in the hall, very nice butler, always runs towards u with and umbrella if u need one. Perfect! Thank you! Be sure this is my choice when i visit Rome next year!
Olitza B - Chisinau, Moldova
---
We were so looking forward to our stay at D´Inghilterra, but it definitively did not meet our expectations. I booked four rooms, they were all in the first floor, all very noisy and and all them with temperature problems. I don't know if we got the worst rooms of the hotel, but they surely seem to be in desperate need for a make over. Make sure you ask. We stayed four nights and my husband and I were moved to a nicer room on the fifth after I complained. Breakfast outrageously expensive and not worth it.
MARISSAV - Panama City, Panama
---
Right in the historical center next to restaurants and all kids of of ships you cannot pick a better place. Our room was spacious, breakfast was very cared for and all staff was extremely polite. Highly recommended!
Ioanna G - KaterĂ­ni, Pieria, Greece
---
This location is absolutely unbeatable - for the shopping, and it's close to the metro station. It might not be as Instagram-y as say, Hotel de Russie, but the service and the food at the breakfast buffet is much better so would much rather stay here. The hotel is slightly worn but it adds to its charm.
thewednesdaygirl - Sydney, Australia
---