Please select your dates to see prices:
---
Hotel d'Inghilterra in Rome, Italy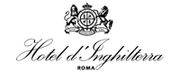 Just a few steps from the Piazza di Spagna, the Hotel d'Inghilterra has been one of Rome's most exclusive hotels since 1850. Once the 17th-century guest house of the Princes Torlonia, the hotel possesses an atmosphere of intimate elegance in its common rooms and an air of refinement in its bedrooms adorned with fine period furnishings. Against a backdrop of the Trinita dei Monti, Villa Medici and Villa Borghese, this property boasts a luxurious top floor suite with a garden terrace and rooftop views over the historic city center - along with the renowned Café Romano restaurant, a favorite gathering spot for local luminaries.
No matter how many photographs you have seen, or how many stories you have heard, there is nothing that can compare to daily life in Rome. Masterpieces by Michelangelo are as frequent as laptops and cell phones, and it often seems as if you will round a corner to discover Audrey Hepburn zipping down the street on a charming Vespa. From the Sistine Chapel and Coliseum to Fellini films and wine bars, this is a unique city where the ancient and modern reside together peacefully, harmoniously and, of course, eternally.
Location of Hotel d'Inghilterra
Hotel d'Inghilterra
Via Bocca di Leone 14
00187
Rome, Italy
Nearest Airport: FCO
Amenities for Hotel d'Inghilterra
General Information
106 Guest Rooms
On-Site Amenities
Concierge
High-Speed Internet Access
In-Room Amenities
Air Conditioning
DVD Players
In-Room Safes
Marble Bathrooms
Flat-Screen Televisions
Individually Designed Rooms
Business
Conference Facilities
Nearby
Historic Sites
Shopping
Art Galleries
Museums
Restaurants
Nightlife
Theatres
Public Transportation
Monuments
Interests
City
Culture & Arts
Summer Getaways
Reviews for Hotel d'Inghilterra
---
The staff at the hotel were not courteous and did not seem to care that our room was very hot. We we're there at the beginning of April and the temperatures outside reached 75 degrees Fahrenheit, really not that hot. But the room was very warm and the air conditioner did not work. We were told to open the windows. We were on the second floor and the cigarette smoke from their outside cafe drifted up to our room. Additionally, noise from trash collection started at approximately 4am, so we received little rest. We used nothing from the minibar since the price for items were exorbitant. However, when I returned home we were charged for minibar items we did not use, with no further explanation. The hotel is in a great location, near designer shops and the Spanish Steps. However, there are many great hotels in that area, and I suggest you look to another for a better overall experience.
BrianPSF - San Francisco, California
---
ABSOLUTELY DISGUSTING! The hotel is advertised as a five star hotel but is more like a two star, if that. The rooms are tiny, dark and dirty. The bathrooms are MOLDY and the carpets are dingy. In the course of one hour, I saw two BUGS crawling by the bed. The room was stuffy and the air conditioner didn't work. My husband and I couldn't sleep because of the heat and noise...and all of this was AFTER we switched from an even worse room. The best part of the experience was cancelling our reservation for the rest of the week and booking another hotel. DO NOT STAY HERE. YOU WILL BE DISSAPOINTED.
---
What a truly disappointing stay on so many levels... 1) Noise is awful. While very centrally located there is absolutely no noise reduction in the rooms. We were woken throughout every single night by passing cars, at 2am with the rubbish collectors, then at 5am by the people collecting bottles. It's a total joke and meant we were all exhausted 2) Tiny rooms - we booked 2 deluxe rooms - one didnt even have a wardrobe and it was literally the size of the bed. Total joke 3) Poor cleanliness - my wife ran a bath and a slug came out of the tap I would equate this hotel more like a 3 star. AVOID at all costs if you are expecting a decent stay On the positive, the hotel is amazingly located in the middle of the shopping district just off Via Del Condotti and the bottom of the Spanish Steps so amazing for seeing the City.
Marcvg - London, United Kingdom
---
We had really good time staying at at the hotel. Just 3 min from Spanish steps but away of tourist streets, it is hidden gem. If you are in Rome for some shopping it is hard to recommend better area. Paradise for shoppers. The best asset of the Hotel is their stuff, its hard to name everyone but I attached a picture of 3 beautiful goddesses of reception. Ask them for restaurant recomendations and you will not be disappointed. They will also happy to help with anything else you may need. Breakfast is great along with excellent service. I could not find better Cacia e pepper anywhere else in Rome. ADVICE: You can book the hotel directly from starhotels.com website, but sometimes you can find a lot better deals on Trivago, Orbitz, and such. Keep in mind hotel does not offer price matching. Best rooms in 4th floor, they have small but very nice balconies. AC could be a bit complicated, do not suffer-ask for help:)
mmikH - New York City, New York
---
This lovely boutique hotel is perfectly situated in Rome. It's a stone's throw from great shopping, restaurants and sites to see. The concierges, Massimo, Gabriele and Teodora helped us maximize our stay searching out great tours, tickets to museums and restaurant reservations. They were fabulous! The rooms are small but very cozy and warm, and with nice amenities. The breakfast buffet is lovely and the espresso delicious. The only suggestion I might make is to bring earplugs. The street noise is quite loud, as you might expect in a city of 5 million.
Jennifer E - Bend, Oregon
---