Please select your dates to see prices:
---
Mecenate Palace Hotel in Rome, Italy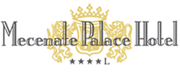 Near the Colosseum central to some of the city's best historic sites and modern attractions, Mecenate Palace Hotel is a luxury hotel experience in Italy's capital. Overlooking the Basilica of Santa Maria Maggiore and Rome's unique skyline, this elegant retreat offers comfort and class with impeccable service and amenities. 74 guest rooms and suites are decorated with refined style and traditional Italian touches, and all include air conditioning, mini bar, satellite television, and wireless Internet access. Perhaps the hotel's most spectacular highlight, the beautiful rooftop garden is an ideal place to enjoy a buffet breakfast while taking in views over the city and surrounding landscape. With 360-degree vistas, the rooftop restaurant, Terrazza dei Papi serves up Mediterranean and international cuisine along with its breathtaking views, or you can simply relax with a glass of wine as you relish in the scenery. In addition, Caffè Papa Sisto in the hotel's lobby provides a warm ambiance for coffee, pastries, and light snacks. Rest and respite in the best of hands during your days in Rome, at Mecenate Palace Hotel.
Step out to explore the Eternal City and its myriad historic monuments, museums, cathedrals, and cultural attractions. Your location at Mecenate Palace Hotel puts you within easy access of the Colosseum and Roman Forum, and you are right in the historic city centre, which itself is a UNESCO World Heritage Site. Around virtually every corner lies breathtaking fountains, churches, grand ruins, statues, and more. For more modern adventures, spend a day shopping the designer boutiques of via Veneto, stopping to eat and snack on gelato, and toss a coin in Trevi Fountain. Visit the Vatican to marvel at St. Peter's Square and tour the Sistine Chapel to see Michelangelo's infamous masterpiece. Back at the hotel, end your day's activities with a nightcap and toast to Italy - and to Mecenate Palace Hotel.
Location of Mecenate Palace Hotel
Mecenate Palace Hotel
Via Carlo Alberto 3
00185
Rome, Italy
Nearest Airport: FCO
Amenities for Mecenate Palace Hotel
General Information
74 Guest Rooms
Dining
Restaurant
Wine Cellar
Cafe
On-Site Amenities
Valet Parking
Rooftop Garden
In-Room Amenities
Air Conditioning
Direct Dial Telephones
Hair Dryers
In-Room Safes
Mini Bar
Satellite Television
Coffee & Tea Facilities
Bathrobes & Slippers
WiFi
Business
Meeting Rooms
Catering Services
Nearby
Historic Sites
Shopping
Museums
Restaurants
Parks
Interests
City
Culture & Arts
Reviews for Mecenate Palace Hotel
---
My wife and I would like to extend a special thank you to the breakfast staff at Mecenate Palace. Marianna, Marlon and Alaina were especially courteous and helpful. Even on the busiest mornings they were quick to attend to our needs.
---
We selected this hotel for price and location for two days in Rome following a cruise. We couldn't have been happier. Room was very nice, location and price were excellent. I would highly recommend this hotel.
---
My Partner had not visited Rome, and so we had a 5 night City break in Rome staying at the Mecenate Palace to celebrate his 75th birthday in February. The hotel was excellent and the private transfer both to and from the hotel were on time and with very good cars! The hotel was fairly central to buses or a short walk (about 15 mins) to the sites, such as The Forum, Colosseum etc. We only ate breakfast, which was varied and served hot and cold food. Our room was quite spacious and the bed was comfortable. Maid service excellent. All the hotel staff were friendly and helpful. The view from the terrace outside the dining area was wonderful - weather permitting. We would return.
Anne H - Royal Tunbridge Wells, United Kingdom
---
we stayed in one of their apartments (602) rather than in main hotel with 2 adults and 2 kids. The apartment offers a good amount of space - sitting room and toilet downstairs and a bedroom and bathroom upstairs. The sitting room has sofa beds which were ok for the kids but wouldn't be suitable for adults. Bedroom was great- own tv and firm beds and a jacuzzi bathtub, which was heaven after a long day pounding the streets of Rome. Apartment was clean and comfortable but looking a little tired, and housekeeping was ok but lacked attention to detail (dirty cups never removed, toilet paper and toiletries not replaced). The apartments are up two flights of stairs and then have stairs in them, so definitely need to be mobile. It's tucked back from the street next to a courtyard so it was quiet. WiFi was slow and the hotel don't allow streaming, which I think is poor. There was never a problem with hot water and believe me I tested it! We arrived by taxi from the airport (it was a Sunday so figured roads wouldn't be too busy) it took just over half an hour and cost €50. Reception were excellent when we arrived and always polite and helpful. They speak excellent English. We used the hotel airport transfer service to get back to the airport. It is a flat rate of €55. It was there at the time we requested and was an easy journey - I had been a bit worried as we needed to be at the airport at 9am, but we left at 8 and were there just after 8.30. One surprise is that after getting through security there's passport control and the queue for non EU passports was vast and slow moving. I wasn't in that one, but I'd estimate it would have taken at least an hour. Hotel breakfast was very good - proper coffee and a good selection of fruit, cereal, (delicious) pastries, vegetables, meats, cheese etc. Also scrambled egg and frankfurters/bacon. Plenty to keep you going. Staff were helpful and got to know all the guests drinks orders and dietary requirements (gluten free seems well catered for). There is a beautiful view of Santa Maria Maggiore from the rooftop restaurant. We had lunch one day in the hotel bar ( €10 set menu) which was fine, but there's better food in Rome. We went because the rain was torrential and we didn't want to venture too far. We loved the pizzeria La Veccia Conca which is the opposite side of the road to the hotel, a few minutes' walk - highly recommended . Everything we had there was divine and the service excellent. We also went to the nearby Chinese Tasting Restaurant which was only ok. Trattoria Cecio seems to be one of the better ones in the area and you need reservations. We also ate at Il Briganto which is about a 5 minute walk and had interesting pizza options and good food. The cafe on the corner (Santa Maria something) has good stuff but is pricey. Lots of attractions within walking distance - colosseum is about 20 minutes, Trevi fountain, Spanish steps, pantheon, Piazza Novona etc are about half an hour walk. Termini is only a 5-10 minute walk if you want to make connections there or get the train to/from the airport. The metro is €1.50 for a single trip and tickets are available from newsagents. We did a private tour of the ancient Roman stuff (colosseum and forum with palatine hill) via Overome and the guide was excellent - it was pricey but worth it for the opportunity to make the most of the limited time we had. We underestimated the crowd at San Pietro so didn't end up going in as the queue went right round the square - get there early or book a "skip the line" tour. We also visited the Museo Nazionale Romano (just near Termini station) which was a bargain €10 per adult and had the most amazing exhibits. We virtually had the museum to ourselves which was extraordinary since it has world class exhibits. Also recommend the little known Largo Torre Argentina which is near the Pantheon and is the site of the first Roman senate house and the location of Julius Caesar's assassination. Most people seem to focus on the cat sanctuary that is also on that site.
sarahburton30260 - Leeds, United Kingdom
---
Stayed at this hotel after reading the Tripadvisor reviews and we were not disappointed. We stayed in Superior Rooms for four nights which we booked direct with the hotel. The rooms were clean and very comfortable. Breakfast was plentiful and tasty and the reception staff were polite and helpful. The selling point was the roof top bar with the most magnificent view. We finished each days sightseeing off here with a drink or two - perfect way to end the day.
Lyndsay S - Scotland, United Kingdom
---