There are no rooms available for this property, at this time.
---
Netis Gourmet & Spa in Ronciglione, Latium, Italy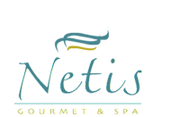 Nestled on the emerald shores of picturesque Lake Vico, less than an hour from Rome, in the heart of the beautiful Italian countryside, Netis Gourmet & Spa welcomes you to escape to a land of pure tranquility and relaxation. Surrounded by a stunning nature reserve and the majestic Cimini Mountains, discover serenity in the lap of luxury. Each fabulous room is a statement in modern style and luxury, with sleek geometric designs and a light and airy ambiance. Soothing cream tones are perfectly matched with light wood-and-glass furniture, while bold splashes of color add vibrant touches. Plush king-sized beds offer dreamy comfort each night, while elegant bathrooms are enticingly styled. With floor-to-ceiling windows allowing sunlight to stream through, and presenting a truly gorgeous lake view, relax and enjoy each and every day. Serenity, natural beauty, and delightful modern elegance greet you with your stay at Netis Gourmet & Spa.
On your first beautiful morning, as the crisp, refreshing lake breeze drifts across the shores, venture out on the glassy waters for a wonderful day of sailing. Catch the cool winds as you glide out to the middle of the picturesque cobalt lake, and drop a line when you find the perfect spot. With waters teeming year-round, Lake Vico is a fabulous spot for a relaxing day of fishing. For a scenic tour around the lake, take out a kayak or canoe and glide through the placid waters. In the afternoon, enjoy some hiking through the verdant nature reserve trails, and bike or ride horseback through amazing mountain trails. Make your way to the very top of Mt. Fogliano, and gaze out over the breathtaking view of the lake and rolling hills of the serene countryside far below. For a wonderful historic adventure stroll through the ancient streets of nearby Ronciglione, a delightful town built into the Cimini Mountains, and be amazed by beautiful cathedrals, churches, and masterful works of art, some dating as far back as the 11th century. Later that evening, return to the hotel for a well-deserved spa date, followed by a star-lit, romantic dinner at La Scilla, where gourmet cuisine is served as you gaze out over the sparkling lake. At Netis Gourmet & Spa, discover a hidden gem of Italy, and a place so beautiful you may never want to leave.
Location of Netis Gourmet & Spa
Netis Gourmet & Spa
Via dei Noccioleti, 16
Ronciglione, Latium, Italy
Nearest Airport: FCO
Amenities for Netis Gourmet & Spa
General Information
21 Rooms
Dining
Restaurant
24-Hour Room Service
On-Site Amenities
Concierge
Shuttle Service
Spa on Property
Complimentary Newspaper
Laundry Service
Wellness Center
Butler Service
Terrace
Steam Room
Indoor Jacuzzi
In-Room Amenities
Air Conditioning
Direct Dial Telephones
Mini Bar
iPod Docks
Flat-Screen Televisions
Luxury Linens
Luxury Bath Amenities
Complimentary WiFi
Activities
Bicycling
Hiking
Kayaking
Wine Tasting
Mountain Biking
Canoeing
Nature Walks
Sightseeing
Horseback Riding
Nature Hikes
Business
Meeting Rooms
Conference Facilities
Nearby
Historic Sites
Monuments
Nature Reserve
Reviews for Netis Gourmet & Spa