Please select your dates to see prices:
---
Treetops Lodge & Estate in Rotorua, New Zealand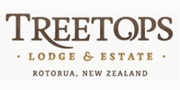 Created to reflect New Zealand's very best, Treetops Estate & Lodge is a magnificent retreat surrounded by 2,500 acres of restored and ancient native virgin forests. This member of Small Luxury Hotels of the World resides in the therapeutic thermal region of Rotorua on the north island. From suites and privately situated villas to inviting public spaces, your senses will be enticed by an elegant architectural style derived from the country's pioneering past, and details such as hand-carved beams depicting Maori folklore.
Over 100 kilometers of walking and hiking paths meander through the woods, where you can discover awe-inspiring waterfalls and enchanting glowworm caves. Excellent trout fishing expeditions, kayaking excursions, photo safaris and even a short helicopter flight over the landscape immortalized in Lord of the Rings are all ways you might explore this magnificent region. Because fine cuisine is integral to your experience, days are highlighted by fresh, local cuisine paired with fine New Zealand wines.
Location of Treetops Lodge & Estate
Treetops Lodge & Estate
351 Kearoa Road RD1 Horohoro
3077
Rotorua, New Zealand
Nearest Airport: ROT
Amenities for Treetops Lodge & Estate
General Information
12 Guest Rooms
On-Site Amenities
Spa Services
Activities
Fishing
Hiking
Reviews for Treetops Lodge & Estate
---
I was so impressed with this beautiful private lodge, just 16 minutes from Rotorua CBD. Lunch was Devine and service five star, now on my bucket list for a weekend away at this stunning place tucked into a magnificent ancient forest including walks to a waterfall and all kinds of cooking lesson to boot! A truly special getaway from all the stress of daily life. Book a three course lunch as an introduction and I bet you'll be back for an overnight stay ASAP 🌷
---
The setting is very pretty in the mountains near Rotorua. Definitely go for a hike to see the waterfalls. The staff was lovely. The rooms are nice but not 5 star. The food was sometimes great and other times not. There are four options for breakfast and no options for dinner - only the fixed price menu. Our package included breakfast and dinner and ran about $2,100 NZ dollars per night (there is not anywhere else to eat in the area). Pre-dinner cocktails from 6:45pm-7:30pm and complimentary but all cocktails before or after that and not included in the dinner. All of the activities are added to your bill: archery for two for one hour $200, clay pigeon shooting for one for one hour $100, mountain biking off site for a half day $700, etc. Hiking is free but if you want a sandwich, it will cost $10.
---
We were a bit apprehensive when we read good reviews on trip adviser but reviewer had noted there were very new managers coming.No need, warm welcome from the very attentive husband and wife team. They have a hard job with discerning customers but they are dedicated and have a personal and relaxed touch. Villas were lovely and food was delicious. A lovely place to recharge, our plan to explore Rotorua evaporated into the forest mist as we settled into Treetops. Don't miss library dinner for 2. We brought our own playlist and ate lovely food at a perfect pace with privacy but balanced with Tory looking after us so well and driving us back to our villa at the end of a unique dinning experience.
---
This is a very remote and private Estate where we felt like very welcome guests of the owner. We enjoyed our 4 days at TreeTops but wish we had done more research in advance of our stay which would have enhanced it further. Here are some suggestions to do at least one week in advance of your arrival: 1) Book a dinner for 2 in the Library. You will have your meal served to you in the privacy of this lovely room, in front of the fireplace. It's a great romantic setting! But the Library gets booked early so make sure to reserve in advance. 2) Educate yourself on the activities the Estate offers and book a reservation for those in advance also. This includes (but is not at all limited to) fly fishing (with a great teacher, if desired), an Estate Safari (tour of the magnificent Estate and the animals in a 4x4), Spa treatments, Trap/Skeet Shooting, Kayaking, Helicopter Tours of the surrounding area, Archery, Horseback Riding, etc. It would be best to have your activities identified well in advance of your arrival. 3) Research when the weather is likely to be best, as we did encounter rainy weather (not that it stopped our activities). 4) Let them know of any food allergies in advance as the meals are all served on site, with breakfast, cocktails/hors d'oeuvres, and dinner included in the pricing. Meals are lovely and well prepared. We stayed over Christmas and the property arranged for several special celebratory meals and Maori entertainment. It was great and the staff is so personable, especially Paul (manager) and one of their male servers/bartenders (with very short dark hair, sorry I cannot recall his name). They bend over backwards to make your stay noteworthy. I also add that the property has recently brought in new management and I am sure the reviews after mine will be even more glowing! This new management clearly has a goal to "up their game" in managing this lovely resort.
Sariah11 - La Quinta, California
---
What a spot! Surrounded by wildlife and nature...be prepared for a long bumpy driveway to the main lodge. The new innkeepers were charming and welcoming and the pheasant cottage was perfect for a family(though we couldn't figure out how to work either the TV or the phone to call to ask). The only reason we didn't give it a 5 star was that it was very pricey, so a fixed price dinner was included, but the venison was so over cooked and tough you couldn't cut it. When we asked in the morning after hiking up to the main lodge if breakfast was included, which it was in many of the other places we stayed during 2 weeks in NZ, we were told that it was not. For the price we paid, and to make up for the dinner mistake, it was the least they could have done to throw that in. If you have the money and love being pampered in nature, this is a great spot!
JWtraveler1 - West Hartford
---