Please select your dates to see prices:
---
Hotel Lone in Rovinj, Croatia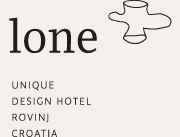 Just minutes from the town center of Rovinj, Hotel Lone is a stylish design hotel that brings a unique modernity to this coastal Croatia destination. Beauty and comfort come together in harmony in the functional spaces and contemporary accommodations, from striking architecture to carefully curated furnishings. Art installations throughout the hotel draw your attention, and the overall ambiance is both captivating and welcoming at once. The 248 rooms and suites all have private balconies, some with views of the Adriatic Sea and surrounding Zlanti Rt forest, and are well-equipped when it comes to amenities. Clean and simple design, including textural elements such as wood as stone, adorns your temporary living space, and a variety of layouts ensures your needs are adequately met. Wellness is also of high importance at Hotel Lone, and the wellness center and spa is a stress-free oasis of over 18,000 square feet. Detox in a sauna, unwind in the Relax Zone, treat yourself to a facial or massage, and enjoy a selection of refreshing beverages at the Vitality Bar. At Hotel Lone, the pleasure is all yours.
Step outside the hotel's doors and splash in the expansive outdoor seawater pool, which is brilliantly surrounded by lush lawns and pine trees. A walkway leads about 500 feet to the pebbled beach, or you can opt for an excursion to discover the region. From private walking tours of Rovinj, to wine tastings in the Istria countryside, to the antique monuments of Pula - a 3,000-year-old town 30 minutes away - there is plenty to see and do here. Among the most highly recommended day trips is a trek to Plitvice Lakes National Park, a site protected by UNESCO, and one of the country's most famed destinations. Return to Hotel Lone to refuel and recharge with delicious gourmet cuisine. Restaurant "L" is a fine dining venue with an impressive ŕ la carte menu and views of the surrounding forest, and Restaurant "On" is a true reflection of the art and design spirit of Hotel Lone. Sushi and seafood lovers will take aim at Sea Food Bar "E" where you can enjoy everything from a casual lunch to a grand ocean-inspired meal. Experience the best of Croatia, and the elegance of European panache at Hotel Lone.
Location of Hotel Lone
Hotel Lone
A. Smareglia bb, HR - 52210
Rovinj, Croatia
Nearest Airport: PUY
Amenities for Hotel Lone
General Information
248 Guest Rooms and Suites
Dining
Poolside Dining
Private Dining
3 Restaurants
3 Bars
Spa Cuisine
Sushi Bar
Bakery
On-Site Amenities
Spa on Property
Live Entertainment
Wellness Center
Activities
Bicycling
Excursions
Fishing
Tennis
Wine Tasting
Scuba Diving
Sunset Cruises
Boat Excursions
Wildlife Viewing
Cultural Tours
Bird Watching
Game Drives
Boating
Nearby
Historic Sites
Wineries
Museums
Restaurants
Nightlife
Beaches
Parks
Monuments
Vineyards
National Park
Market
Colleges/Universities
Interests
Culture & Arts
Spa & Wellness
Reviews for Hotel Lone
---
I love the hotel. Very relaxing. Rooms are spaceious, breakfast over the top....so many things to choose. The wellness part is also great, liked the water beds very much. And staff is very friendly and helpfull.
---
Nice hotel, great wellness area. Staff very friendly and accommodating. Breakfast varied, fresh and very good. Dinner in the buffet restaurant, something for everyone to find. Vegetables, fish, meat, salads and dessert very good. Unfortunately a bit cold.
---
Nice place. Hotel very good and not expensive out of summer season. City is very beautiful. Very recommendable. very good sauna and pools. Hotel is by the beach and by walking area which goes towards old town.
---
we love this hotel. it´s really unique, modern and well located. the indoor pool is big and there are enough loungers. the spa area is beautifull but there are not that much opportunities to have a lounger if the hotel is fully booked. unfortunately we didn´t have sea view this time, but every thing else was great.
---
The hotel was closed in early 2018 for renovations, but it hardly shows. The beds are better, that is true, but that is really the only difference I spotted. Water pressure in the bathroom is so low I had problems rinsing my hair, also the water is way too hot. 2 years ago I commented on the spa facilities, hoping for some change, but it is just getting worse and worse; I believe that after 4 years of coming to the hotel, this was our last stay. The spa is the reason – besides sun that we don't get much in Ljubljana in the winter – why we come to Rovinj and hotel Lone in late winter months, but it is too crowded, the showers are not working, people don't know the rules how to behave in a sauna and there is no one from the staff to tell them that they can not use bathing suits, no one to show them how to protect the surface inside a sauna with your towel, that they must shower before going into a sauna,… Most spas I know (mostly in Slovenia), have someone to discreetly remind people off proper usage of the sauna, at Lone it is a disaster. The level of cleanliness is therefore so poor that in the end you decide not to go. If you are without spa option, than your money is probably better spend somewhere else.
Teja331975 - Ljubljana, Slovenia
---