Please select your dates to see prices:
---
Hotel Lone in Rovinj, Croatia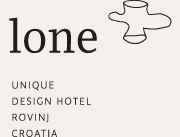 Just minutes from the town center of Rovinj, Hotel Lone is a stylish design hotel that brings a unique modernity to this coastal Croatia destination. Beauty and comfort come together in harmony in the functional spaces and contemporary accommodations, from striking architecture to carefully curated furnishings. Art installations throughout the hotel draw your attention, and the overall ambiance is both captivating and welcoming at once. The 248 rooms and suites all have private balconies, some with views of the Adriatic Sea and surrounding Zlanti Rt forest, and are well-equipped when it comes to amenities. Clean and simple design, including textural elements such as wood as stone, adorns your temporary living space, and a variety of layouts ensures your needs are adequately met. Wellness is also of high importance at Hotel Lone, and the wellness center and spa is a stress-free oasis of over 18,000 square feet. Detox in a sauna, unwind in the Relax Zone, treat yourself to a facial or massage, and enjoy a selection of refreshing beverages at the Vitality Bar. At Hotel Lone, the pleasure is all yours.
Step outside the hotel's doors and splash in the expansive outdoor seawater pool, which is brilliantly surrounded by lush lawns and pine trees. A walkway leads about 500 feet to the pebbled beach, or you can opt for an excursion to discover the region. From private walking tours of Rovinj, to wine tastings in the Istria countryside, to the antique monuments of Pula - a 3,000-year-old town 30 minutes away - there is plenty to see and do here. Among the most highly recommended day trips is a trek to Plitvice Lakes National Park, a site protected by UNESCO, and one of the country's most famed destinations. Return to Hotel Lone to refuel and recharge with delicious gourmet cuisine. Restaurant "L" is a fine dining venue with an impressive ŕ la carte menu and views of the surrounding forest, and Restaurant "On" is a true reflection of the art and design spirit of Hotel Lone. Sushi and seafood lovers will take aim at Sea Food Bar "E" where you can enjoy everything from a casual lunch to a grand ocean-inspired meal. Experience the best of Croatia, and the elegance of European panache at Hotel Lone.
Location of Hotel Lone
Hotel Lone
A. Smareglia bb, HR - 52210
Rovinj, Croatia
Nearest Airport: PUY
Amenities for Hotel Lone
General Information
248 Guest Rooms and Suites
Dining
Poolside Dining
Private Dining
3 Restaurants
3 Bars
Spa Cuisine
Sushi Bar
Bakery
On-Site Amenities
Spa on Property
Live Entertainment
Wellness Center
Activities
Bicycling
Excursions
Fishing
Tennis
Wine Tasting
Scuba Diving
Sunset Cruises
Boat Excursions
Wildlife Viewing
Cultural Tours
Bird Watching
Game Drives
Boating
Nearby
Historic Sites
Wineries
Museums
Restaurants
Nightlife
Beaches
Parks
Monuments
Vineyards
National Park
Market
Colleges/Universities
Interests
Culture & Arts
Spa & Wellness
Reviews for Hotel Lone
---
We had a wonderful relaxing break. We were welcomed by the concierge when we arrived and when he took us to our room we were impressed with everything. The room was large with a kingsize bed and good sized balcony. The grounds around the hotel were beautiful and the comfortable sun loungers were the perfect place to relax after an early morning swim in the indoor pool. The breakfast choice was unbelievable and we enjoyed every minute of our stay. The staff were friendly and helpful and we would most definitely recommend the Hotel Lone. We loved Rovinj and will definitely return. Thank you for making our holiday so special.
annette024 - Edinburgh, United Kingdom
---
Well I was at that hotel few months ago, in february. It is not impressive at all as they would like to advertise it. Rooms are way too small for five star hotel. Bathroom is oK size, clean, with walk in shower that leaks water, so you have swimming pool in the bathroom after showering. The whole atmosphere in the hotel is... I don't know.. somehow cold. Like robots are working there, and not people. They totally messed up breakfast, because I think there was three times more guests, then available places to sit down to eat your breakfast. So that was interesting as queue of guests was formed who were waiting for available seat to turn up. Not a nice thing. Especially for hotel that wants to advertise five stars. Did not like it there. I didn't feel welcome. I will not go there again for sure.
Daniela D - Zagreb, Croatia
---
We stayed the 3rd time in Lone Hotel. A very good design hotel with unique rooms and a brillant location. The bad thing is the service. Especially the guys. No one came to pick up our luggage. Breakfast chaotic service organisation.
---
Like the location and design of the hotel . We stayed 2 nights in the Jazz room . The cleaness inside room is not ideal, I can see clearly dirts on tables. And what worse is the balcony , which seemed to be not cleaned for a while. The nails on the floor can be clearly seen . The "private pool" concept is really cool , but it looked pretty warn out to me and the water was not really heated, which is kinda disappointing at night when the temperature is down outside. Breakfast okey, not impressive .
---
Very well designed, with nice wellness, the food should be special, but unfortunately in fact it is not so of high quality. The breakfast is great! A lot of different choices, also for special diets, allergies...
---