Please select your dates to see prices:
---
Hotel Lone in Rovinj, Croatia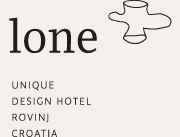 Just minutes from the town center of Rovinj, Hotel Lone is a stylish design hotel that brings a unique modernity to this coastal Croatia destination. Beauty and comfort come together in harmony in the functional spaces and contemporary accommodations, from striking architecture to carefully curated furnishings. Art installations throughout the hotel draw your attention, and the overall ambiance is both captivating and welcoming at once. The 248 rooms and suites all have private balconies, some with views of the Adriatic Sea and surrounding Zlanti Rt forest, and are well-equipped when it comes to amenities. Clean and simple design, including textural elements such as wood as stone, adorns your temporary living space, and a variety of layouts ensures your needs are adequately met. Wellness is also of high importance at Hotel Lone, and the wellness center and spa is a stress-free oasis of over 18,000 square feet. Detox in a sauna, unwind in the Relax Zone, treat yourself to a facial or massage, and enjoy a selection of refreshing beverages at the Vitality Bar. At Hotel Lone, the pleasure is all yours.
Step outside the hotel's doors and splash in the expansive outdoor seawater pool, which is brilliantly surrounded by lush lawns and pine trees. A walkway leads about 500 feet to the pebbled beach, or you can opt for an excursion to discover the region. From private walking tours of Rovinj, to wine tastings in the Istria countryside, to the antique monuments of Pula - a 3,000-year-old town 30 minutes away - there is plenty to see and do here. Among the most highly recommended day trips is a trek to Plitvice Lakes National Park, a site protected by UNESCO, and one of the country's most famed destinations. Return to Hotel Lone to refuel and recharge with delicious gourmet cuisine. Restaurant "L" is a fine dining venue with an impressive ŕ la carte menu and views of the surrounding forest, and Restaurant "On" is a true reflection of the art and design spirit of Hotel Lone. Sushi and seafood lovers will take aim at Sea Food Bar "E" where you can enjoy everything from a casual lunch to a grand ocean-inspired meal. Experience the best of Croatia, and the elegance of European panache at Hotel Lone.
Location of Hotel Lone
Hotel Lone
A. Smareglia bb, HR - 52210
Rovinj, Croatia
Nearest Airport: PUY
Amenities for Hotel Lone
General Information
248 Guest Rooms and Suites
Dining
Poolside Dining
Private Dining
3 Restaurants
3 Bars
Spa Cuisine
Sushi Bar
Bakery
On-Site Amenities
Spa on Property
Live Entertainment
Wellness Center
Activities
Bicycling
Excursions
Fishing
Tennis
Wine Tasting
Scuba Diving
Sunset Cruises
Boat Excursions
Wildlife Viewing
Cultural Tours
Bird Watching
Game Drives
Boating
Nearby
Historic Sites
Wineries
Museums
Restaurants
Nightlife
Beaches
Parks
Monuments
Vineyards
National Park
Market
Colleges/Universities
Interests
Culture & Arts
Spa & Wellness
Reviews for Hotel Lone
---
The hotel is very modern. The location is perfect. We stayed in a premium room. The room was very small and equipped with carpeting. I am allergic, and I would like prefer non carpetingt. I have not considered it at the time of booking. On the whole, it liked us except for a few things. For example, we don't have water-cooker or coffee maker in the room. Salt Shaker and pepper shaker at the table are missing at breakfast. We have to order separately and before using they served off. There were only a few of them for the whole guests. The noise level in the brakfast-room was quite large, because the hotel was fully booked. The staff is very friendly. Everywhere we went, they were friendly. I would book this hotel again in the preseason, and would be glad if the few little things would be improved on.
---
We decided to stay at this hotel based on very nice reviews on TA. During our check-in, receptionist offered us option for buffet dinner. We were hesitating since it was a day of our anniversary and wanted to go out in the evening to some restaurant in city center, but finally decided to give it a try. First thing we noticed at the restaurant is that it was almost empty, maybe 10 people (at 8.pm.). Second thing we observed were cold plates and one of them was still dirty from eggs (probably from breakfast). What bothered us really the most is the fact that practically all dishes form risotto to pasta were cold!! or lukewarm at best. Since we were paying quite a lot of money and we were sitting at 5star hotel restaurant I decided to make complaint. Firstly to the lady bringing the dishes, but she did not know how to respond, secondly to the waiter who apologized but that was it. And third time to receptionist as I really wanted to see what else do I need to do to get some proper response on customer complaint. Receptionist said he couldnt do anything but gave us a contact to the restaurant chef and to explain him next time when we will be in hotel what happened...I mean ..what next time?? Quality of the hotel reflects also handling matters like this, so since their respond was close to zero, we are rating it with 1star
---
I keep returning to this hotel, being my favorite, for many years. But now, it started to show its age, and not in a good way. Our bed had completely worn out and uncomfortable mattress, as well as pillows. After rising this issue with reception, pillows were replaced with ergonomic ones, but I was told that all the beds are the same, so it's just a matter of chance (luck?) how bad one you will get. Issues with sleep quality are completely unacceptable for 5* hotel. Wellness is another area where maintenance issues are visible. Some water (hopefully clean) is pouring from the ceiling into the swimming pool, and another
---
Great and comfortable overnight stay when traveling long distances by car - perfect SPA treat. Food specialities and Malvazia white wine from the region to enjoy with style in the design interior of this hotel
---
The hotel, the design, the staff, the location everything amazing and beautiful. We will come back 100% Rovinj is in walking distance and the natural reserve park just beside the hotel which invites for long and beautiful walks... also our dog was more than welcome...
---