Please select your dates to see prices:
---
St. George's Caye Resort in Saint George's Caye, Belize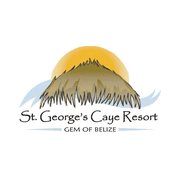 St. George's Caye Resort is situated on some of the country's most historic shores – the area was Belize's original capital, the site of clashes between shipwrecked British sailors-turned-pirates and Spanish conquistadors. There are rumors of a sarcophagus still buried on resort property. Guests get a taste of island flavor in cabanas adorned in rich, native hardwoods and coconut fronds, a design that conceals them in the surrounding thickets of palms. Attentive staff are especially helpful in arranging personalized dive itineraries.
Commandeer a kayak and paddle toward the mangrove forest to the left of the swimming beach. Explore the river-like inlets, rustling up herons, frigate birds and egrets from the bushes. Back in the open ocean, take a dip and swim among schools of reef fish. Nap in a sun-speckled hammock. Sip on rum punch as lime-marinated grouper sizzles on the grill.
Location of St. George's Caye Resort
St. George's Caye Resort
Saint George's Caye, Belize
Nearest Airport: BZE
Amenities for St. George's Caye Resort
General Information
20 Guest Rooms
Only 15+ Years Permitted
Dining
Bar & Lounge
Dining Room
On-Site Amenities
Spa Services
Laundry Service
WiFi
Outdoor Pool
In-Room Amenities
Turndown Service
Air Conditioning
Bathrobes
Ceiling Fans
Hair Dryers
Mini Bar
Hammocks
En-Suite Bathrooms
Private Porches
Activities
Fishing
Kayaking
Sailing
Windsurfing
Scuba Diving
Snorkeling
Nature Walks
Fly Fishing
Wildlife Viewing
Zip-Lining
Business
Meeting Room
Business Services
Nearby
Historic Sites
Zoo
Interests
Active & Adventure
Beach
Reviews for St. George's Caye Resort
---
I was looking for an escape - away from the masses and away from any kind of "scene" to just unwind and decompress, do a little SCUBA diving, take in the ocean, have some time to myself, but also time to meet and hang with other people and not feel like a lonely traveler. The resort here was just the ticket! It's secluded, quiet, peaceful, yet social with plenty of activities to keep you engaged. The staff here is top notch! Friendly, kind, accommodating and they take care of everything for you with a big smile. The food is very good, and served at specific times during the day. Lunch and dinner are fixed offerings, though they accommodate food allergies/preferences with ease (and with you having to remind them). Breakfast is off a menu make from a mix of American standards and Mayan/Mexican influences. You eat lunch and dinner family style at a big table outside with the other guests, which I loved! The people that go here all go for the same reason: to get away and relax, so there wasn't any big party folks while I was there. Just really nice, diverse, interesting and fun people. We became like a big family, and for me, it was difficult to say goodbye on my last day. They bring a tray of coffee and juice to your bungalow every morning before breakfast. I spent my mornings watching the sunrise from the hammock off the front porch of my ocean-front bungalow. I definitely recommend staying in the ocean front bungalows - they are on the east side of the resort on the island (resort is narrow). There are over-water bungalows on the west side of the resort, but they are really hot as there is no breeze on that side of the resort in the bay. Each bungalow has AC. I stayed in 2 different ocean front bungalows - the second (#10) had better and more quiet AC, but both pretty good for a thatched roof place to stay. Since I went in April, it wasn't super hot there, so I think my timing was perfect! Loved the breezes, sunrises, and sunsets (which I would watch from the docks on the west side). The diving was good, though a little choppy - but that's just the luck of the draw with weather. I was lucky enough where it was just myself and the dive master on dives, so I got full attention and felt very safe. He knew the reef well and tried to make the experience memorable by finding great sea life, coral formations, and swim-through canyons. If you're looking for a tranquil place to chill, have time to yourself, but also time meeting cool people, this is your place! There's not really anywhere to walk outside the resort, but kayaks, stand up paddle boards and hobbie cats are available whenever you want - no signing up, no time limits (except being courteous to others at the resort), just grab and go. I even got to hang out with a Manatee on a kayak trip around the surrounding groves. It was so difficult to leave. I would definitely go back and recommend to anyone looking for the same as I. THANK YOU St. George's Caye Resort!!!
DaveVino - Longmont, Colorado
---
Stayed there a week and loved every minute of it. Highly recommend. Beautiful scenery, the staff is amazing! The Friends you make, it's so peaceful. I go on and on. It was a great trip great! Looking forward to our next trip.
---
I can't say enough about this place.We arrived at 7:30 am, by private water shuttle. Many of the staff were on the dock to greet us. Next we were escorted to the community dining area for an amazing breakfast and it only got better from there! Every meal was a treat, and the chef went above and beyond for our vegan granddaughter. Our overwater bungalow was a quaint but very tasteful thatched roof bungalow. Not too big not to small. Perfect. We did kayaking, paddle boarding, sail boating to the sand bar, even a deep sea diving lesson, all included. We also took 2 amazing tours, one was an all day zip lining and tube caving adventure. The 2nd was a Mayan ruins expedition, which also included a river boat ride. We saw huge iguana and wish willies (which looked liked iguana but not as colorful.) We saw dolphins, man o war, barracuda, puffer fish, big angel fish, and so many birds! But the best part was the staff. They loved their jobs, and treated you like family. Cornell was what seemed like our personal chauffeur, tour guide, and became our friend.He was a wealth of knowledge about Belize, and took amazing care of us. Jahnene was the consierge, making sure we had plenty to do every day.or having a chill day relaxing in one of their many hammocks! We also were fortunate to meet Tim, one of the owners, had flown in for the week. And I can't forget to mention Juana, the ever smiling massage therapist and Wilber who taught us to sail. They were all like family as were the guests that came and went. If you want an amazing vacation be sure to to spend some time st Saint George's Caye!!
McBridess8172012 - Layton, Utah, United States
---
Imagine: Awakening to the sound of birds and the ocean breeze billowing your curtains. You open your eyes and marvel at the meticulous thatching of the roof in your ocean front bungalow. Step outside and see a few other early risers taking in the spectacular sunrise. Settle into a comfy chair under a palapa, where your coffee and juice is brought for you to enjoy your moment. Chat a bit and compare sunrise photos over the sea before heading to the lagoon for kayaking or paddle boarding around the caye in hopes of a dolphin or manatee sighting. Then onto breakfast, for the most stressful part of your day...should you order the Belizean breakfast, stuffed fry jack or the chiliqueras? All tough choices. Your day belongs to you. The staff is eager to do whatever will make your day perfect. Want to fish? They have bait. Want to learn to scuba dive? They have the best teacher. Want to explore? They have awesome excursions. Want to sail? Go ahead. Don't know how? They will take you out. Want to relax? The caye is silent, except for the birds and the breeze. The only music is at the bar. To complete your day, head over to the pool for an afternoon swim and catch the sunset. Amazing. You gather again with the guests in the other 11 bungalows to laugh, talk about your day and compare plans. You meet people from other countries, different ages and stages of life, and different lifestyles. You become friends.That is a typical day. The food here is delicious and plentiful. They will accommodate dietary preferences. The bar is moderately priced and filled with games, friendly staff and equipped with wifi. This is an authentic island experience. It is a down-to-earth, get comfortable kind of paradise. The attention to detail, from our airport pickup (with ice cold beverages), to all of my birthday pampering from the staff, the housekeeping and groundskeeping, and the care from the dive team was unmatched. What an experience. I cannot wait to return!
granolagrrl - Oyster Bay, New York
---
Unfortunately my husband and I were sick during our entire stay at St. George's. We had recently been to Caves Branch and became ill after eating lunch atTikal National Park on a guided tour. We had to cancel all of our excursions while on the island (snorkeling, fishing) and spent the entire time in our hut attempting to recover! The staff were all very understanding and helped as much as they could. The water was beautiful! On our last night we attempted to eat by enjoying the private dinner included in our package. Just our luck- the main lights were out and we had to use our cell phones as light so see our food and each other! We both ended up in the Emergency room when we got back to the US. I wish we could do it all over again and enjoy ourselves!
---