Please select your dates to see prices:
---
Mount Hartman Bay Estate in Saint George's, Grenada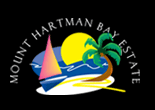 Crystalline waters sparkle beneath sunny skies, deep green hues animate lush tropical gardens, and the beauty of Grenada welcomes you to Mount Hartman Bay Estate. Built into the hillside overlooking stunning Mt. Hartman Bay, the breathtaking architecture of this hotel opens to the complete lap of luxury. Eight suites offer sweeping views of the bay and Mt. Hartman Nature Reserve from private balconies and a serene island feel abounds. Drift off to sleep in plush four-poster beds and relax on delightful antique furniture, taking advantage of the modern entertainment system that features Bose equipment. Enjoy elegant bathrooms, including the option of an outdoor shower, perfect for special evenings. With modern style blending with tropical beauty, Mount Hartman Bay Estate offers escape to paradise.
After a delightful breakfast, stretch out on the sun deck next to the infinity pool and relax away the morning. Make your way down to the private beach for fishing and snorkeling, or take out the estate's private boat and fly through the water on water-skis or wake board. In the afternoon enjoy an in-suite massage that will leave you refreshed and rejuvenated before visiting the sinfully fabulous Heath Robinson Chocolate Factory at the Belmont Estate. Hike through the vibrant sky forests near Grand Etang Lake, the crater of an extinct volcano, and come face-to-face with myriad local wildlife that will capture your heart and soul. Take a day on the ocean to dive at fascinating reefs and ship wrecks, or sail out for some exciting deep sea fishing. Sit down to dinner with new friends as the sun paints the sky with brilliant reds and deep purples, and observe a timeless moment that will live in you forever.
Location of Mount Hartman Bay Estate
Mount Hartman Bay Estate
Reef View Drive Lance-Aux-Epines
Saint George's, Grenada
Nearest Airport: GND
Amenities for Mount Hartman Bay Estate
General Information
12 Suites
On-Site Amenities
Heliport
Library
Fitness Center
Private Beach
WiFi
Outdoor Pool
Outdoor Whirlpool
In-Room Spa Services
In-Room Amenities
Air Conditioning
Bathrobes
CD Players
DVD Players
In-Room Safes
Flat-Screen Televisions
Luxury Linens
Coffee & Tea Facilities
Luxury Bath Amenities
Activities
Fishing
Water Skiing
Snorkeling
Nearby
Beaches
Nature Reserve
Reviews for Mount Hartman Bay Estate
---
My husband & I just returned from a fabulous stay at Mount Hartman. We honestly felt privileged to be there and are so thankful for the opportunity to stay in such a special place. We felt more like guests in a private home than guests at a hotel. The property is amazing and we loved how unique it was. The Reef View Suite was beautiful and we could not get enough of the stunning views. We spent a lot of time enjoying the deck and loved the indoor/outdoor feel when we folded back the doors. The room was beautiful and I absolutely loved waking up to the amazing view of the bay and doing yoga on the deck. We felt like rock stars sitting around the pool sipping on cool drinks served with a smile by the attentive staff. We loved the pool bar and yet another amazing view from the pool. The beach was also a great place to sit back and drink in the views and we enjoyed swimming and floating in the ocean. One day we paddled around the bay on a kayak and went for lunch at Secret Harbor which was a lot of fun. Charlie took us out for a very enjoyable afternoon on the boat. We did some fishing, snorkeled the Underwater Sculpture Park, took in the beautiful scenery and cooled off with a swim at BBC Beach. The highlight was Charlie reeling in a big Barracuda!! The food at Mount Hartman was exceptional. I loved the fruit platter for breakfast & was quite excited to try some of the tropical fruits that we do not have in Canada. The nutmeg jam is also a new favorite! We celebrated our wedding anniversary during our stay and were treated to a private candlelit dinner on the terrace overlooking the pool. The staff went above and beyond to make our anniversary special and the dinner was outstanding. It was quite difficult to leave the perfection of Mount Hartman Bay Estate but we did manage to see a bit of the island. There are several restaurants within walking distance or biking distance if you are up for the hills! We enjoyed the brisket pizza and beer at the West Indies Brewery, live music at Junction and tapas at Calabash. We also went to The Little Dipper in Woburn for delicious curry conch, Hog Island for the Sunday BBQ, The Lightship to see a local band and Prickly Bay for the Friday Party Night. St. Georges, Grand Anse Beach, BBC Beach and The Full Moon Party at Benji Bay were also highlights of our trip. We can't thank Nikki, Charlie and all of the MHBE staff for making our trip a memorable one. Hopefully we will be lucky enough to return one day soon!
KBondGirl009 - Calgary, Canada
---
My husband and I visited for our honeymoon and had an amazing time. We were the only people there as they were updating the entire place so they upgraded our room at no additional charge. We got picked up at the airport. Gary made us private breakfast and dinners on the beach and the food was amazing. Grenville checked in with us each day to see what he could help with in regard to cabs, restaurant suggestions, kayaks etc. The housekeeping staff left us a bottle of champagne on ice for our arrival and another in the fridge with chocolate to help us celebrate and wrote WELCOME on our bed in petals. The entire staff was there when we wanted but left us to our own to enjoy our honeymoon. Since it was a private boutique hotel we had the run of the place without a resort amount of people around. It would have been nice if the place was not under construction but since we got an updated room, VIP service and a private pool due to it I would say it was well worth the quite painting occurring in the main house. The only thing we did not have was a natural beach but we could get there within a $20/15 minute cab ride. Overall, we have never felt so well taken care of and so welcomed at a place, we felt like family visiting. So SO happy we booked for our honeymoon.
mbahner88 - Lebanon, Ohio
---
Sadly we've had a disappointing experience at this Hotel. The location is great and we were so looking forward to our stay there. In our opinion they should first finish all of the renovation and "clean ups" before taking guests again. Even people living on Grenada told us that they thought the hotel is closed at the moment. We left after two nights to stay somewhere else.
JayJ84 - Zurich, Switzerland
---
My partner and I had the most fantastic couple of weeks staying at this superlative little jewel, set away from the main tourist areas on the South Coast. We stayed in the Reef View Suite, waking up every morning to the most marvellous views over the bay, and feeling very private and exclusive at the top of the hotel. We arrived late in the evening, and were collected by Peter at the airport. As it was too late for the restaurant, a light cold supper had been thoughtfully left out for us in our room - just another of the lovely little touches which we were to discover. The staff were all amazing - beautifully attentive to every need, whilst being totally unobtrusive and with exactly the right level of friendliness and chat. As it was a quiet time of year, we were asked whether we were eating in the restaurant in the evening - and it was clear that we were welcome to do so or not, and whether there was anything special we would care for to get fresh ingredients if necessary. We did so on many evenings - and the food was superb - I will dream about the coconut prawns for years. It is worth hiring a car (arranged for us by the lovely ladies) as this hotel is quite out of the way - however it is very accessible. We would discover yet another untouched beach before breakfast each morning within a short drive, and then come back for a late breakfast (and chat with the garrulous parrots) and get ready for the day. As you are out of the main towns, but within easy reach of main roads, it is a perfect base from which to explore the island, which we did steadily over several days. There are also several other nice bars and restaurants within an easy drive for a bit of variety. If you are looking for a small bit of absolute luxury, this is the perfect place. If you want screaming kids, lager louts and loud nightlife, you are better elsewhere. Looking forwards to returning in the near future - the only place that we've been to that I could happily return again and again to.
---
I know other people have said it but this Hotel is amazing. Super luxury, super discreet, so welcoming and relaxing. They say 'welcome home', we wish! First impressions were brilliant and it carried on from there. The room was enormous and even the balcony was bigger than the hotel room in New York (where we stayed the night before our flight). The balcony had 2 sunbeds so you didnt have to move if you didnt want to but we love Grenada and we hauled ourselves out to visit our favorite places. The hotel has a shuttle 'bus' but it is really a fancy car with plush white leather interiors and DVD seat backs! We werent charged for any of our shuttle rides and they took us wherever we wanted to go. The room had a coffee maker and fresh coffee and fresh milk in the fridge and Bvlgari toiletries and the crisp white cotton sheets and the most comfy bed we have ever slept it. Enormous! You are on a hill so you have good breezes and we slept with the doors wide open to hear the waves whilst we were in bed. There are 2 pools but only a few rooms so we always had the pool to ourselves. We loved the hammock on the beach and the gardens and the water lillies. Thank you to the amazing staff for your service and making this our best ever vacation.
jennyjohnson63 - New Braunfels, Texas
---