Please select your dates to see prices:
---
The House by Elegant Hotels in Saint James, Barbados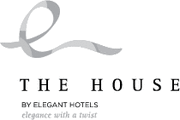 Find yourself in a tranquil Caribbean paradise at The House by Elegant Hotels, an adult-only enclave on the isle of Barbados, specializing in understated elegance. Situated on the western coast of the island, a destination famous for its brilliant beaches, this intimate hotel is an ideal place to truly unwind and decompress. All-suite accommodations, with just 34 suites in total, means you have ample space in which to stretch out and relax, admiring views of the Caribbean from your patio, surrounded by chic interior design that perfectly complements the tropical landscape around you. Modern necessities, including complimentary wireless Internet access, flat-panel televisions with satellite entertainment, and personal in-room coffee & tea makers elevate your experience with the utmost of comforts, while cool marble baths and plush pillowy beds envelope you in luxury. Start your vacation off the right way with a complimentary jet lag revival massage, enjoy afternoon tea and evening canapés each day, soak your toes in the sand, and settle in to the magnificent delight that is The House.
The hotel's signature Service Ambassadors will tend to your every need. Think of each staff member as your personal assistant, receptionist, bellman, concierge, waiter, and friend - all in one. As a guest at The House, you enjoy access to the property's myriad facilities, as well as those of sister property Tamarind located just next door. Choose from an array of incredible spa treatments for an afternoon of pampering, enjoy complimentary water sports, or maintain your fitness routine at the resort's fitness center, which also offers a variety of classes freely available to all guests. Utilize the complimentary water taxi, try out a variety of theme nights and culinary delights, or indulge in an array of local activities such as fishing, snorkeling, and catamaran sailing. It is all here for the taking. On land, championship golf, horseback riding excursions, shopping trips to Lime Grove Shopping Centre, or bicycling around the island are just a few of the ways to spend your day. Return to The House for a romantic evening dinner at Daphne's, one of the island's finest dining destinations. Daphne's infuses modern Italian classics with island seafood, all in an elegant waterfront surrounding with an authentic Bajan hospitality. From the personalized service to the spectacular surroundings, find your slice of Caribbean heaven at The House by Elegant Hotels.
Location of The House by Elegant Hotels
The House by Elegant Hotels
Paynes Bay
WIS 2FJ
Saint James, Barbados
Nearest Airport: BGI
Amenities for The House by Elegant Hotels
General Information
33 Suites
Non-Smoking Property
Adults Only
Dining
Outdoor Dining
Restaurant
Room Service
Afternoon Tea
Oceanfront Dining
On-Site Amenities
Concierge
Spa on Property
Laundry Service
Beach Butler
Library
Fitness Center
Theme Nights
Bicycle Rental
Butler Service
Outdoor Pool
Gardens
Personal Trainers
Beach Access
Outdoor Whirlpool
Car Rental
Beach Amenities
Boat Shuttle Service
Outdoor Spa Treatments
24-Hour Concierge
24-Hour Fitness Center
Complimentary WiFi
Wedding Planning Services
In-Room Amenities
Private Patios or Balconies
Turndown Service
Air Conditioning
Cable Television
Direct Dial Telephones
Hair Dryers
In-Room Safes
Mini Bar
Satellite Television
iPod Docks
Iron/Ironing Boards
Marble Bathrooms
Flat-Screen Televisions
Luxury Linens
Coffee & Tea Facilities
Luxury Bath Amenities
Bottled Water
WiFi
Activities
Bicycling
Deep Sea Fishing
Excursions
Fishing
Hiking
Kayaking
Sailing
Water Skiing
Windsurfing
Cooking Demonstrations
Scuba Diving
Snorkeling
Sunset Cruises
Nature Walks
Yoga
Boogie Boarding
Bike Tours
Boat Excursions
Helicopter Tours
Fitness Classes
Cultural Tours
Volleyball
Boating
Paddleboarding
Horseback Riding
Golf
Nature Hikes
Water Sports Programs
Business
Meeting Rooms
Business Center
Nearby
Historic Sites
Shopping
Golf
Beaches
Marina
Interests
Beach
Honeymoons & Romance
Summer Getaways
Reviews for The House by Elegant Hotels
---
"The House - Elegant with a twist" ..That's their advertising strapline which if you take 'twist' as meaning variation, surprising or change then it is pretty accurate. The basic offer is bed and breakfast in a small hotel of about thirty rooms. But this is embedded in an atmosphere of informality and personal service (almost one to one) that sets out to answer most of your personal requirements at any time of the day. As an example, the beach bar is open 24 hours a day so insomniacs looking for a small hours cup of tea at three o'clock in the morning can sit on the beach in 24degrees, perhaps watching a turtle come by looking to lay her 300 eggs are well catered for. The personal service is managed by The Ambassadors, who form the support team that make things happen for the guests; a great bunch of individuals who delivered on every count for us. They really are the glue that holds The House together. If you are still trying to get your mind around the concept then join the club. It is a genuine one-off. It is not for those who want an ordered set holiday. Breakfast and afternoon tea are the only scheduled daily events but you don't have to go for either. The rest of the day and evening is yours. Stay on the beach and you will have your sun glasses cleaned, be offered bottles of water, given fruit and ice cream. In the evening there are plenty of restaurants to choose from for an evening meal. You don't have pay sill prices at the Cliff or Tides,( unless you want to watch the branded accessory fashion show walk by your table), take advice from the Ambassadors and go to the smaller genuinely local restaurants. If you want to have a special eating experience then go to Cin Cin first class and little bull. Or walk through to the Tamarind (go early) and enjoy good food, reasonable prices, quiet, excellent position on the beach (better than Tides) and very good service. The House is far from perfect and probably overpriced but the imperfections you can live with especially if the end result is a truly relaxing holiday which ours most definitely was. A couple of disappointments viz., the outstanding help we experienced didn't carry over once we left. I mislaid two key addresses and asked the hotel for help in retrieving them but that request has seemingly fallen on deaf ears. Perhaps we were just a room number after all. The other disappointment was Barbados itself. The ten years since we were last there has seen no improvement to their infrastructure. Pavements and roads are a disgrace. And I think they are pricing themselves out of the market. When shopping or eating out your bill takes an extra 17.5% hit comprising VAT and Gratuity(!). One suspects the latter rarely goes to the staff. In fact Tides actually leaves a space for a "tip" despite showing a fixed 10% gratuity charged on top of the 7.5% VAT. So
a great relaxing holiday in a wholly different hotel environment – no reception and the Ambassadors act as mini managers -somehow or other this formula actually works. Judge that comment by the clients ; three couples aged 75 plus, one lady was 76 and her visit was her third in a year. The age range of the rest was a spread between 35 to 65 and many were returners. Finally, our thanks in particular to Andrew and his fellow Ambassadorial team for making it happen. Well done guys.
---
This was our 10th year of returning to The House and as per usual it didn't disappoint...I just wanted to acknowledge and thank all the staff, from the Ambassadors right through to the maintenance, security, maid services and caterers who help to make our holiday so enjoyable every year. All the staff are only too happy to help and go way and beyond to cater to your needs and are always cheerful with a ready smile. Unfortunately sometimes the beach isn't the easiest to walk on or to get into the sea but that is beyond the hotels control as are the kites that fly above the hotel, sensible option is to perhaps invest in some beach shoes which make it so much easier to get in and out of the water. I would also like to make a special mention about Connie in housekeeping who made sure our room was always clean and spotless and went out of her way to make my bed exactly how I like it (she knows what I mean) special thanks also have to go to Christopher, Kerrie, Anthony, Damon, Alana, Shane, Wade, Ricardo and Agnes to name but a few, sorry if I left any names off but ALL OF THE STAFF are exceptional...It isn't the hotel that brings people back again and again, its THE STAFF these people MAKE this hotel and long may it continue, can't wait to come back !!
emurphy777 - Island of Malta, Malta
---
Everything is just lovely about this hotel. Wonderful surroundings, great food and excellent service. From the moment we arrived we were looked after to the highest of standards. Perfect beach location, so relaxing. I'll definitely be back!
HillyD878 - Dublin, Ireland
---
The House is a place where most of the guests return, year after year Some more than once a year, which says all you need to know about this special place. We stayed for two weeks It was our first time, but it won't be our last. The concept is simple you are welcomed as if you were coming home, and the staff truly go out of their way to ensure you have a great time. The staff are called Ambassadors, and nothing is too much trouble From sorting out Dinner reservations, transport, and general guidance and advice The majority of the guests are lovely people, who also make you feel welcome. You can be as active as you want, or chilled out and relaxed in the sun My wife and I played golf, had a private tour of the island and a most enjoyable day on a Catamaran: five hour trip, snorkelling with turtles, over a ship wreck and seeing colourful fish on the reef, tip book a cruise with a maximum number of people around the 12, or 16 Mark. That way you feel you are on an exclusive trip. The staff at the house were all very helpful and too many to name individually, that said I have to mention Agnes, Ricardo, Andrew, Richard, Kerrie all were excellent Michelle who ran the egg station was also very pleasant and I must mention Paul on Security who was so enthusiastic about Cooking in Barbados, I am sure there is another job waiting for him! We stayed for two weeks, and we wished it was longer!
---
My wife and I really enjoyed staying at the House Barbados. This is a hotel where you really can relax. The staff were very friendly and attentive. We were made to feel very welcome from the 1st day to the last. The champagne breakfasts were really nice as were the afternoon teas. We booked half board, our dinner each night was at Daphne's restaurant. My wife and I really enjoyed the food, what a great restaurant and a great chef Michale Blasi, each night he came out to talk with the clientele. Michale talked about food with a passion he also cooked with a passion, a wonderful chef!! Rinaldo and Trish Marcella
_rsmarcella - Cheshire, United Kingdom
---