Please select your dates to see prices:
---
Cocos Hotel in Saint John's, Antigua and Barbuda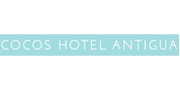 Owned by native Antiguans, the 30 cottages at Cocos Hotel roost on a cliff and overlook iridescently clear waters, where deep blues and minty greens shimmer in streaks on the horizon. The best way to enjoy the view is swinging in a hammock suspended from the roof of each cottage's rustic terrace, or drifting to sleep on the netting-enveloped princess bed. Chef Pam Clay's West Indian take on Tuscan cuisine attracts a local following.
Journey by boat to Cade's Reef to snorkel among manta rays, spiny lobsters and neon-colored tropical fish. Return to a lounge chair on a secluded beach and let the tide roll over your feet. Sip on a rum and Coke from your cottage's stocked minibar. At an oceanfront table lit by candles, dine on grilled strawberry red snapper in a tomato Creole sauce.
Location of Cocos Hotel
Cocos Hotel
Valley Church PO Box 2024
Saint John's, Antigua and Barbuda
Nearest Airport: ANU
Amenities for Cocos Hotel
General Information
30 Cottages
Adults Only
Dining
Private Dining
Restaurant
Bar
On-Site Amenities
Concierge
Spa on Property
Private Beach
In-Room Amenities
Turndown Service
Ceiling Fans
In-Room Safes
Iron/Ironing Boards
Coffee & Tea Facilities
Outdoor Showers
Mini Refrigerators
Hammocks
Activities
Excursions
Snorkeling
Business
Business Services
Nearby
Shopping
Museums
Golf
Nature Reserve
Interests
Beach
Honeymoons & Romance
Hotels
Reviews for Cocos Hotel
---
My wife and I have just returned from 10 days at COCOS in Antigua. What a lovely hotel!! We stayed in a Sunset Cottage with pool which was idyllic. Views from the room were amazing - white sand and beautiful turquoise sea. It really is an amazing location. Staff were friendly, welcoming and they provided a very high level of service. The food was superb and I particularly enjoyed the chef's interpretation on seafood tartare, including giant squid, smoked marlin, tuna, mahi mahi, octopus and others. No all inclusive buffets here but an a la carte service with menu variations and "specials" every day. The two beaches each had a hotel bar with excellent and friendly waiter service. One of the chefs would visit the beach each morning with dainty snacks to tempt the palate.
---
We have just returned from the most wonderful week at Coco's. This hotel really is very special, from the incredible views and the traditional Caribbean bungalows to the fabulous staff. Reading through the reviews before we went we were aware that the hotel would have rustic charm, a great location and outstanding staff but nothing can convey the feel of this place. It isn't luxurious but it kind of is. The rooms are traditional dark polished wood, the doors don't fit properly and it's not perfect at all.....but it kind of is. You find yourself forgiving the odd thing that would usually bother you because the whole place is so wonderful that it doesn't matter. The location couldn't be better between 2 beautiful beaches, both of which have a bar and the luxurious sun beds (and plenty of them - no getting up early to reserve here!). The hotel is on a very steep hill, we thought we were fairly fit - apparently not so much!! The food is fabulous, every meal is a la carte, perfect if you don't enjoy buffet style dining and ingredients are fresh and local. Plenty of choice and a selection of specials to choose from at breakfast and lunch. The staff could not be more welcoming, a happy, smiley team who are there to ensure that everyone has a great time. It's a little gem and we can not recommend highly enough, in fact we are already planning our next visit. We stayed in bungalow 5 which was wonderful with a magnificent view of the sunset every evening and its own private pool.....and lots of lovely birds who visited every day for some sugar and biscuits!
LYD12_12 - Aylesbury, United Kingdom
---
This is such a lovely hotel in the most beautiful location, every day we comment on the colour of the ocean as it really takes your breath away. Fantastic cottage set high on the hill overlooking the bay, fabulous food & wonderful, friendly staff with an easy smile & good humour. We can't recommend Coco's more highly!!
Peter A - Clent, Worcs, United Kingdom
---
My husband and I had the wonderful experience of staying with the good people at Cocos Hotel. So many highlights but want to focus on what makes a holiday great. Firstly, the staff are amazing. They bend over backwards to ensure your every moment is special. Secondly, the surroundings are so beautiful, you constantly feel immersed in paradise. While "all-inclusive" conjures ups visions of buffets and bland, you can leave those preconceptions at the door. All meals are freshly prepared with daily specials for each meal. While I was very happy with every meal and the generous choices in wines and spirits, a couple vegetarian guests wanted a little more variety. That being said, they still felt they had a nice experience. It should be noted that the rooms are situated on the side of a hill and the steep climb to the rooms was a good workout for us but might be limiting for people with disabilities. Another frustration we had was around tipping. There is no cash machine on the property and getting larger bills (EC and US) changed for appropriate tip amounts was very difficult. Most staff were unable to change and it was uncomfortable to ask. I wanted to understand if the tips went to all staff or the individual you give the tip to. It is a difficult one but it would be helpful if it was clear through the introduction letter. Cocos deserves the top review but want to ensure folks understand some of the nuances we experienced.
Ed_Johnson_London - London, United Kingdom
---
My BF and I really enjoyed our stay. The staff is lovely, the views are mind-blowing, the accommodations are great, and so was the food! The last part was most surprising to me, since it is an all inclusive. Things to note: there is a substantial hill - it makes your view better, but not for the faint of heart. The hotel arranged for a can to take us downtown, which I would not do again - no fault of the hotel's though - it was just too much time and the downtown is limited.
---