Please select your dates to see prices:
---
Cocos Hotel in Saint John's, Antigua and Barbuda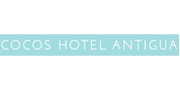 Owned by native Antiguans, the 30 cottages at Cocos Hotel roost on a cliff and overlook iridescently clear waters, where deep blues and minty greens shimmer in streaks on the horizon. The best way to enjoy the view is swinging in a hammock suspended from the roof of each cottage's rustic terrace, or drifting to sleep on the netting-enveloped princess bed. Chef Pam Clay's West Indian take on Tuscan cuisine attracts a local following.
Journey by boat to Cade's Reef to snorkel among manta rays, spiny lobsters and neon-colored tropical fish. Return to a lounge chair on a secluded beach and let the tide roll over your feet. Sip on a rum and Coke from your cottage's stocked minibar. At an oceanfront table lit by candles, dine on grilled strawberry red snapper in a tomato Creole sauce.
Location of Cocos Hotel
Cocos Hotel
Valley Church PO Box 2024
Saint John's, Antigua and Barbuda
Nearest Airport: ANU
Amenities for Cocos Hotel
General Information
30 Cottages
Adults Only
Dining
Private Dining
Restaurant
Bar
On-Site Amenities
Concierge
Spa on Property
Private Beach
In-Room Amenities
Turndown Service
Ceiling Fans
In-Room Safes
Iron/Ironing Boards
Coffee & Tea Facilities
Outdoor Showers
Mini Refrigerators
Hammocks
Activities
Excursions
Snorkeling
Business
Business Services
Nearby
Shopping
Museums
Golf
Nature Reserve
Interests
Beach
Honeymoons & Romance
Hotels
Reviews for Cocos Hotel
---
Wonderful hotel in an amazing location overlooking the bluest stretch of water I've ever seen. We went to celebrate our 25th anniversary and had a great time. The resort is very quiet and the setting beautiful. One of the highlights though is the food. My compliments to the chef and staff running the kitchen. Every meal was a delight. I do have one recommendation for the hotel. The liquor selection could stand an improvement, especially when it comes to rum. The selection of alcohol is definitely bottom-shelf and, while I appreciate English Harbor 5 year as a great cocktail mixer, it wouldn't hurt to at least have some EH 10 year on hand for those of us who prefer our liquor neat. Having said that, my wife was delighted with the wine selection, and kudos for having some Old Number 7 on hand. Thanks to the staff for your kindness and for making us feel at home.
Marcos R - Miami, Florida
---
What an amazing hotel. Great attentive staff, perfect location, stunning views. Good food and even better drinks! We will definitely be returning. If you want a relaxing, stress free holiday, this is your place!
Georgina M - London, United Kingdom
---
Resort is exactly as advertised. Peaceful quiet retreat. It IS quiet, so if your on the younger side and want more upbeat, party type atmosphere, you might want to look elsewhere. Staff is top notch, extremely helpful and never intrusive. Some were definitely more friendly than others but easy to overlook. Food was better than I had expected. Lots of variety. Place seems like it is always under construction, but noise and distractions kept to a minimum. They seemed to know when guests are not moving through resort and do their work during those times. Beaches couldn't be beat in my opinion, as they are both dead end beaches and don't get much traffic. Would recommend to anyone wanting to relax in a beautiful place
---
Cocos relies so heavily on what nature has provided free of charge and then charge ridiculous prices for very basic wooden shacks precariously perched on a cliff top. I'm sure some reviews are made by customers blinkered by the price they have paid for so called Rustic charm and deluded into convincing themselves they have not been conned out of thousands of pounds!! I have several issues regarding this hotel and have photo evidence to follow but first I can only be honest and advise any potential holidaymakers to look elsewhere in my opinion.
jcowdrey - Cambridge, United Kingdom
---
Where do I begin? COCOS is a FANTASTIC place to stay. To start off, my partner and I were expecting to stay in the standard cottage, but somehow got upgraded to the Sunset View cottage, #17. When i say, that cottage blew our minds, I mean it! We had a gorgeous view of the ocean with a hammock on the balcony (included in every cottage). As every other review mentions, if you have a knee/leg problems, let them know ahead of time so you can get a cottage that does not require too much of a climb. The cottages are built on a hill so the better the view, the more the climb. Now, my partner and I are vegetarians (not pescatarians) so when we advised the staff that, they went out of their way to make sure we had options for food. They asked us if we had any ideas in mind and they ensured us that they will try their best to accommodate. One morning I had asked for a papaya and they told me they will try to get me one the next morning...sure enough they did and it was so good! They serve a-la-carte for breakfast, lunch and dinner and remind you of the specific times each are open. The only downside is that they don't have a snack bar so if you get hungry in between the meals, you have to wait it out. The pool is underutilized, but honestly, it is understandable because the beach itself is spectacular. My partner and I spent our entire time visiting the beach rather than the pool. There are two sides to the beach. One is the entrance by the pool, which frankly I feel is a BIT crowded, and the other is the entrance by the cottages. It is a lot more quiet and relaxing and the water is calm and serene. That's where we spent our time. Where do I begin with the staff? They are hands down some of the best people around! They are kind, caring, sweet and will definitely become your second family while on the island. They make sure you are comfortable and will try their best to accommodate any of your needs. The rooms are so BEAUTIFUL. The outdoor shower is the perfect way to wake up. The weather is always nice and warm so don't worry about feeling cold while outside :). If you don't like rustic wooden cabins, then don't book here. All the cabins here are wooden and yes do require some upgrading, but not enough to ruin your vacation. the beds in each cottage have a mosquito net covering so don't worry about bug bites during your sleep. The beds are extremely comfortable and my partner and I both have a wonderful sleep each night. Overall, my experience was fantastic. I cannot recommend this hotel enough. Yes, it is a boutique and yes it is secluded, but this is a great getaway from your busy life. Also, they are definitely improving areas of the hotel so yes there is construction happening, but it is not so bad that you disregard this hotel from your choices. ps. The western side of Antigua has the best view and calmer seas. The sea is also a lot more turquoise on the West, so keep that in mind!
Nshx3 - New York City, New York
---