Please select your dates to see prices:
---
Cocos Hotel in Saint John's, Antigua and Barbuda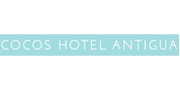 Owned by native Antiguans, the 30 cottages at Cocos Hotel roost on a cliff and overlook iridescently clear waters, where deep blues and minty greens shimmer in streaks on the horizon. The best way to enjoy the view is swinging in a hammock suspended from the roof of each cottage's rustic terrace, or drifting to sleep on the netting-enveloped princess bed. Chef Pam Clay's West Indian take on Tuscan cuisine attracts a local following.
Journey by boat to Cade's Reef to snorkel among manta rays, spiny lobsters and neon-colored tropical fish. Return to a lounge chair on a secluded beach and let the tide roll over your feet. Sip on a rum and Coke from your cottage's stocked minibar. At an oceanfront table lit by candles, dine on grilled strawberry red snapper in a tomato Creole sauce.
Location of Cocos Hotel
Cocos Hotel
Valley Church PO Box 2024
Saint John's, Antigua and Barbuda
Nearest Airport: ANU
Amenities for Cocos Hotel
General Information
30 Cottages
Adults Only
Dining
Private Dining
Restaurant
Bar
On-Site Amenities
Concierge
Spa on Property
Private Beach
In-Room Amenities
Turndown Service
Ceiling Fans
In-Room Safes
Iron/Ironing Boards
Coffee & Tea Facilities
Outdoor Showers
Mini Refrigerators
Hammocks
Activities
Excursions
Snorkeling
Business
Business Services
Nearby
Shopping
Museums
Golf
Nature Reserve
Interests
Beach
Honeymoons & Romance
Hotels
Reviews for Cocos Hotel
---
We stayed at Cocos May 5th-12th for our Honeymoon. We don't think we could have picked a better place in Antigua, or any island. The hotel: Tucked into a literal cliff, this hotel is romantic, secluded, safe, and just an absolute dream. Lush vegetation and beautiful flowers are everywhere, tons of beautiful birds, and even mongooses( they stay out of the way), and little lizards are abundant. It is a fairly steep climb to most of the rooms, if you have mobility issues, mention it and ask for lower rooms. There are only 39 cottages (they are expanding, but its still crazy small), and its adults only. It was big enough that we often felt like we were the only ones there, and small enough that you could be familiar with the staff and other guests, if you want to. The service at reception was great, Richelle and Jennifer were fantastic, and the staff that cleaned the rooms did a fantastic job. The rooms: We splurged on the pool cottage, and it was worth it! The infinity pool overlooking the Caribbean sea looks like its straight from a magazine. The cottages are tastefully decorated, very simple and blend into the scenery. This is not a "marble floors, jacuzzi tub" luxury room. Instead, its laidback, romantic, and a little whimsical. The high ceiling are beautiful, and the outdoor shower is just amazing! The bed was firm, so if you see mixed reviews on bed comfort level, that's why. We like our bed a little softer, so it was difficult the first night, but as we grew used to it, it was fine. The beds have mosquito netting, definitely use that. We didn't get a whole lot of bites, but we did get some. they provide bug spray in the rooms, but we also brought our own. The closet has a decent amount of hangers, and there are shelves near the closet and in the bathroom and well as a desk and dresser, and two nightstands. Plenty of space to really unpack and feel at home. There was also an in room safe. Also, the door deadbolts from the inside by putting the key in the lock, that was new to us, but worked just fine. The mini fridge was stocked with beer, water, and soda. there were also some snacks provided. We brought little minis with us, thinking we would need them, but the bars were open til 11 by the restaurant, so we didn't use too many. There is also ice available by the restaurant, just bring your ice bucket down and ask! Also the outlets are US style, no converter needed. And the rooms are air conditioned! the deck was great, we had a large deck with two loungers, two chairs, a small sofa, and a hammock, plus our private pool. It was perfect in sun or shade. The food: All inclusive, great menu options and variety, and they were always happy to bring you a little extra. The portions were smaller, but you would get three courses every meal if you wanted, so we were never hungry! The soups were fresh made and we tried every one they had for lunch and dinner during our entire stay, they did not disappoint! Fresh fish daily, fresh fruit at breakfast (the pineapple here will make you never want store bought pineapple again!), daily fresh local juices (again we tried every one!), and wonderful desserts! They also had "afternoon tea" which was more like pre-dinner barbecue on the beach, with Caribbean jerk chicken one day, kabobs another day, hot dogs the next, etc. Yes there was tea, but try the food off the grill! We were worried a little before we got there because there was not a whole lot of info menus on these reviews, but we worried for no reason. The servers were great, the style is little more direct than US servers, but they are all so friendly! Loreen was great, as well as Karima, Charisse, Antonio, Tiffany, really EVERYONE. Antonio was our server for the private beach dinner (it was great, it was a treat for my wife's birthday), and the table was beautifully set and included champagne. It was so nice to sit right next to the water and dig our toes into the sand. Another note about the restaurants, and hotel in general: there are adorable cats that love to wait for your table scraps. They are cute and polite. If you don't like cats, just ignore them and they will move on to someone who does! But the cats are there for a reason, i did not see a single spider, roach, beetle, mouse, or rat and I'm sure we have them to thank for that! We gave them a few morsels and by the end of the week we had named them all! Dress code is relaxed during breakfast and lunch, men wore shorts and button downs at dinner mostly, but other wore polos. Women wore everything from dresses, to shorts and nice shirts. Drinks: Unlimited, good liquors, fresh fruit drinks, and the Wadadli beer was great. Akil and Robert are fantastic bartenders, really everyone was, but they were who we interacted with the most. There is beachside drink service, they come around and take your orders, and it truly is top notch service. Make sure to try the local rum, English Harbour (and they have it in the airport to take home as well!) Massages: We got two couples massages, Glenis was great! the atmosphere is so relaxing, and they are thoughtful about pressure, or sensitive areas that may need work, or may need to be avoided. We highly recommend booking extra services to relax a little more! Entertainment: Nightly singers or bands by the restaurant area, all local, all great. We especially enjoyed the Two Strokes! There was also a beach party and DJ on thursday night, it was a great chance to have a little bit of louder nightlife, with the comfort of your own private beach and guests. It did not go too late into the night, which was great because the atmosphere is really more about island quietness overall, but it was a nice change of pace! Beaches: Two beaches, we liked the beach by the hotel pool (never used the pool but it looked great!). We liked this beach because the water seemed a little calmer, and we just liked the "feel" of it better. Another couple we made friends with liked the beach on the other side(shorter walk from the pool cottages) and we did go there one afternoon, but ultimately just preferred the other beach more, but both were fantastic. The sand was great, lots of shells to collect for those who like doing that, and you could snorkel right off the beach, tons of little fish to see so bring your snorkel and mask! The water: It really is that blue. And warm. And clear in most areas. It changes around the island, so if you want the turquoise water and ability to snorkel, this is the beach for you. Excursions: We booked everything through the hotel when we got there. Jennifer in reception was great, we would just say, "we'd like to do snorkeling" and within an hour she had a tour booked for us the next day to Cades Reef, and they picked us up right on the beach. The snorkeling was interesting. It was clear, lots of fish, but Cades reef really is right in the middle of the ocean. Its only about 15 feet deep there, but still nerve-wracking for newbies like us. We are glad we did it, and the boat ride to the reef was awesome, but we equally enjoyed snorkeling right off the beach by the cliff-side. We snorkeled with Mikey's group, he owns the Marilyn often seen "parked" right off shore, and we recommend them if you do want to go out to Cades Reef. We also went to Stingray City and the Antiguan Rain-forest to zip-line on a combined tour, which was also booked by reception. We were picked up that morning by Almond with Pelican Safari, shared the jeep with one other couple, and had a fantastic drive to our destinations, highly recommend Pelican Safari and Almond as the driver. The ziplining was a new experience for us, and really fun! You could tell the employees there enjoyed their jobs. After ziplining, we were driven to lunch at a local eatery, fantastic local food, and Almond even did a little side tour of the old sugar mill at Betty's Hope since we had time. They have a great historical exhibit there. We then went to stingray city. They had boats to take you out to where the stingrays are, and they showed us how to hold the stingray! It was really neat, and we both really enjoyed the experience, just remember to "stingray shuffle!" Shopping: Cocos is a short walk to Jolly Harbor, any staff can give you easy directions. The harbor itself was neat, lots of boats to admire. There were so souvenir shops, restaurants, and a neat shop with local paintings, mostly by Jarvis. He was happy to show us all of his artwork. Worth a walk down if you want something nice for your home to remember the island! A few things to note: They are adding new cottages and expanding the restaurant. That means there is some construction. We hardly noticed, and it was neat to see the progress daily when we did notice. Did not interrupt or harm our trip at all! We had cold water only upon arrival, but day two we figured that probably wasn't right and mentioned it to Vern (the manager, who is fantastic by the way!), and he had Carlington up to our room while we were still at the beach, and had it fixed within an hour! We were impressed, and it made the showers even better after that! There are people who come to offer you tours and jetskis etc., right on the beach. they are nice, not too pushy, but will ask every day. We were just always polite, joked with them a bit, and they moved on. Several guests did book jetskis with them and had no issues! Also, people come to sell things, so as wraps, jewelry, etc. Its up to you, again we were just polite and then they'd move on. Tipping! So, we tipped our drivers (airport transfer we booked through the hotel, driver met us with a sign with our name, cars were very nice!), tipped the massage therapists, excursion driver, zipline and stingray staff had tip boxes for collective tips, and we tipped Linroy, who had the task of hauling our luggage up and down the resort. We also tipped our favorite bartenders at the end of our stay, and gave the reception a large tip to divide among staff. Minimum wage in Antigua is about 3 USD, 8 East Caribbean, so we'd tip at least two hours min wage in XCD money. I think we were good tippers, not entirely sure! We gave our drivers more, and especially for the excursion driver (that was a 6 hour trip all together that he was shuttling us around!). Use your judgement, tip when you want to, but definitely if you use private drivers, or get a massage, same as in US. They deserve it, but no one asked or expected. We just worked it into our budget.
mdcrabs19 - Annapolis, Maryland
---
Wonderful hotel in an amazing location overlooking the bluest stretch of water I've ever seen. We went to celebrate our 25th anniversary and had a great time. The resort is very quiet and the setting beautiful. One of the highlights though is the food. My compliments to the chef and staff running the kitchen. Every meal was a delight. I do have one recommendation for the hotel. The liquor selection could stand an improvement, especially when it comes to rum. The selection of alcohol is definitely bottom-shelf and, while I appreciate English Harbor 5 year as a great cocktail mixer, it wouldn't hurt to at least have some EH 10 year on hand for those of us who prefer our liquor neat. Having said that, my wife was delighted with the wine selection, and kudos for having some Old Number 7 on hand. Thanks to the staff for your kindness and for making us feel at home.
Marcos R - Miami, Florida
---
What an amazing hotel. Great attentive staff, perfect location, stunning views. Good food and even better drinks! We will definitely be returning. If you want a relaxing, stress free holiday, this is your place!
Georgina M - London, United Kingdom
---
Resort is exactly as advertised. Peaceful quiet retreat. It IS quiet, so if your on the younger side and want more upbeat, party type atmosphere, you might want to look elsewhere. Staff is top notch, extremely helpful and never intrusive. Some were definitely more friendly than others but easy to overlook. Food was better than I had expected. Lots of variety. Place seems like it is always under construction, but noise and distractions kept to a minimum. They seemed to know when guests are not moving through resort and do their work during those times. Beaches couldn't be beat in my opinion, as they are both dead end beaches and don't get much traffic. Would recommend to anyone wanting to relax in a beautiful place
---
Cocos relies so heavily on what nature has provided free of charge and then charge ridiculous prices for very basic wooden shacks precariously perched on a cliff top. I'm sure some reviews are made by customers blinkered by the price they have paid for so called Rustic charm and deluded into convincing themselves they have not been conned out of thousands of pounds!! I have several issues regarding this hotel and have photo evidence to follow but first I can only be honest and advise any potential holidaymakers to look elsewhere in my opinion.
jcowdrey - Cambridge, United Kingdom
---