Please select your dates to see prices:
---
Cocos Hotel in Saint John's, Antigua and Barbuda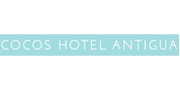 Owned by native Antiguans, the 30 cottages at Cocos Hotel roost on a cliff and overlook iridescently clear waters, where deep blues and minty greens shimmer in streaks on the horizon. The best way to enjoy the view is swinging in a hammock suspended from the roof of each cottage's rustic terrace, or drifting to sleep on the netting-enveloped princess bed. Chef Pam Clay's West Indian take on Tuscan cuisine attracts a local following.
Journey by boat to Cade's Reef to snorkel among manta rays, spiny lobsters and neon-colored tropical fish. Return to a lounge chair on a secluded beach and let the tide roll over your feet. Sip on a rum and Coke from your cottage's stocked minibar. At an oceanfront table lit by candles, dine on grilled strawberry red snapper in a tomato Creole sauce.
Location of Cocos Hotel
Cocos Hotel
Valley Church PO Box 2024
Saint John's, Antigua and Barbuda
Nearest Airport: ANU
Amenities for Cocos Hotel
General Information
30 Cottages
Adults Only
Dining
Private Dining
Restaurant
Bar
On-Site Amenities
Concierge
Spa on Property
Private Beach
In-Room Amenities
Turndown Service
Ceiling Fans
In-Room Safes
Iron/Ironing Boards
Coffee & Tea Facilities
Outdoor Showers
Mini Refrigerators
Hammocks
Activities
Excursions
Snorkeling
Business
Business Services
Nearby
Shopping
Museums
Golf
Nature Reserve
Interests
Beach
Honeymoons & Romance
Hotels
Reviews for Cocos Hotel
---
We left our home in the snow to emerge dazzled by beauty and sunshine in paradise aka Coco's hotel ! The location is lovely- 36 individual cottages scattered over a hillside overlooking the Caribbean Sea with soft golden beaches to either side. The restaurant views never failed to take our breath away. I would have been delighted to have one meal there - never mind 3 a day - all a la Carte and outstandingly good ( no all inclusive buffets here!!) . I kept resolving to eat less at the next meal - but was always tempted by the chef's fish specials ( strangely no weight gained so must have been quite healthy too!) . The Caribbean cerviche was amazing ! The staff were lovely , very friendly , helpful and great fun! We did not book a premier room , but still had lovely view of the beach. ( cottage 10) But next time I think I'd splash out on sunset view cottage. The room itself had rustic charm , big comfy bed with mosquito nets , big wide verandah with hammock and lovely outside shower. I couldn't recommend anywhere more strongly! Thanks to all the staff for making it such a lovely week.
Sally B - Birmingham, United Kingdom
---
I can not find words to describe how beautiful this resort is. We stayed in a plunge pool cottage for the week gorgeous views. The staff is amazing, very attentive. Best resort food I have ever had. The resort is very quite and relaxing, so if you are looking for a hotel with a "night life" this would not be the one. I can't stop talking about my vacation at the cocos hotel!!
---
Almost reluctant to review this place.Dont want it overrun. The hotel is based on a point above a beach. Lovely views and great location. Accommodation in separate chalets with features like outside showers,balconies ,hammocks,large windows,air con etc. Great food served on balconies next to the sea,varied menus, thoughtful wine list. Staff outstanding in their cheerfulness and care. Manager always around,attention to detail and presence with guests. Two beaches,very comfortable sun beds ,beach side bars. All inclusive,including terrific cocktails. Came home more relaxed and healthier.
PaulMoss186338 - London, United Kingdom
---
My husband and I recently spent 4 nights at Cocos and really enjoyed it! I had originally wanted to book a Sunset View room and was very disappointed when there were not any available. Fortunately, we were given a complimentary upgrade from the Premium View room to the Sunset View room on the second night. This gave us the unique experience of staying in 2 different cottages. We found the Premium View cottage to be a much more convenient walk however the mosquitoes were terrible. The Sunset View room was a hike but the view from the balcony was fantastic and we didn't have any mosquito issues. The rooms themselves were comparable. The rooms are nothing super fancy but the beds were comfortable, the AC works well and everything was clean. The staff were all very friendly and helpful. They ensured that we always had transportation lined up to get us to our excursions and to the airport at the end of our trip. They were always able to answer our questions and give us suggestions. They also provided us with a complimentary 30 minute massage which was wonderful! The food was excellent. My husband loves seafood but I am not a huge fan. I was nervous that I was going to have a hard time finding things to eat but there were multiple options with each meal and I had several choices every day. The breakfast and lunch menus are the same every day however there is always a special of the day for both meals. The dinner menu changes each night but there is always a pasta option, at least 1 fish option and a couple of other things as well. The butternut squash soup was incredible. We went zip lining and had an amazing time! The hotel set it all up for us and it was easy and laid back just like everything else. The only real negative was the fact that on one day a water line had broken and we were without water for an entire morning. The toilet would not flush, the shower water went out half way through a shower and the sinks eventually stopped working as well. The staff were very apologetic and had it fixed asap but it did make for a rather difficult morning. We spent most of our time laying around at the beach just relaxing and enjoying the views. Overall we had an amazing vacation and would stay at Cocos again!
KendallJo - Houston, Texas
---
Any review of Cocos must start with the staff. They were like one large family that invited us into their family. This is a very quiet resort. No piped in music on the beach! As you start up the path to your room there is a sign that says ssssh. The food was wonderful. There is a very nice open lounge looking over the Caribbean, and multi layered dining areas with same view. Each night different musical groups play nice, quiet dinner music. All the room rooms are on a cliff side with views over the Caribbean. It is a fairly steep walk to your room, so be sure you can handle it. There are two wonderful beaches, one on each side of the cliff. There are bars at each beach, and staff that makes rounds if you need drinks. They also bring around snacks that have been cooked. The guests we had drinks with before dinner, and later spoke with on the beach were a delightful group. This vacation was perfect for us. Definitely will go back.
Joseph T - Beaufort, South Carolina
---