Please select your dates to see prices:
---
Cocos Hotel in Saint John's, Antigua and Barbuda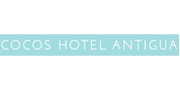 Owned by native Antiguans, the 30 cottages at Cocos Hotel roost on a cliff and overlook iridescently clear waters, where deep blues and minty greens shimmer in streaks on the horizon. The best way to enjoy the view is swinging in a hammock suspended from the roof of each cottage's rustic terrace, or drifting to sleep on the netting-enveloped princess bed. Chef Pam Clay's West Indian take on Tuscan cuisine attracts a local following.
Journey by boat to Cade's Reef to snorkel among manta rays, spiny lobsters and neon-colored tropical fish. Return to a lounge chair on a secluded beach and let the tide roll over your feet. Sip on a rum and Coke from your cottage's stocked minibar. At an oceanfront table lit by candles, dine on grilled strawberry red snapper in a tomato Creole sauce.
Location of Cocos Hotel
Cocos Hotel
Valley Church PO Box 2024
Saint John's, Antigua and Barbuda
Nearest Airport: ANU
Amenities for Cocos Hotel
General Information
30 Cottages
Adults Only
Dining
Private Dining
Restaurant
Bar
On-Site Amenities
Concierge
Spa on Property
Private Beach
In-Room Amenities
Turndown Service
Ceiling Fans
In-Room Safes
Iron/Ironing Boards
Coffee & Tea Facilities
Outdoor Showers
Mini Refrigerators
Hammocks
Activities
Excursions
Snorkeling
Business
Business Services
Nearby
Shopping
Museums
Golf
Nature Reserve
Interests
Beach
Honeymoons & Romance
Hotels
Reviews for Cocos Hotel
---
We didn't know what to expect from an all inclusive, but were pleasantly surprised on every point. Cottage was very clean, spacious with wonderful view. Lovely and professional staff. Great healthy food. Great clean sea. It is quiet, not overwhelming loud music, relaxed normal people (no crazy party people). Thanks to Cocos and their lovely team, we had such a relaxing, amazing time, a weekend we will remember. We highly recommend the hotel.
---
There is no doubt that this hotel is set in stunning location, flanked by 2 beautiful beaches, with gorgeous sunset views. The staff are fabulous, friendly and very accommodating. The food, particularly for an all inclusive is very good, very healthy, not massive portions but that is a bonus to my way of thinking, far too much waste going on in the world. I suspect you could always ask for more. The flora and fauna around the hotel is wonderful, loved the bananaquits and the humming birds. We had a good rest (albeit somewhat ruined by the constant hum of jet skis ) and really appreciated the unpretentiousness of the hotel. However I am completely baffled why so few reviews fail to mention the state of the property itself. I know we are not the only guests that noticed it as it was quite a talking point amongst the people we meet at the hotel. I can only think that most people are loathed to give a negative reviews in general, as am I usually but the feed back I have given the hotel to date has been ignored, hence writing this review 3 weeks after we have returned. Or that actually that there as so many good things about this hotel they turn a blind eye. My partner likened it to the 1970s adventure playgrounds in London kids built out of bits of old timber they found lying around, before health and safety regulations kicked in. I called it the House That Jack Built. The cottages themselves look very precarious, there is rubble all over the place, cracked pathways, cable running across the pathways, dirty paintwork, the outside lights consist of bare light bulbs. There are also quite a few half build cottages. The rooms themselves from a distance look fine, well at least our room did, However on closer inspection, they too are in need of attention, for example, our loo was crooked, the light fitting in the bathroom had missing bits, there was no art work, the mini bar was virtually non existent in general just not luxurious enough for the price. The beds were comfortable enough. Loved the outside shower but that could have been much better, the plants were not looked after but with a little bit of care could ie bigger pots, with compost could have been lush. The hotel felt full and I understand they get a lot of repeat business and I that's brilliant it is lovely in every other way. Our room was a ÂŁ544 per night, I felt throughly ripped off but good luck to the owner if he getting away with it but Why why why does he not take more pride? He could close it down for a week and blitz it. They call it rustic I'd call it unkempt, shabby, disheveled ungroomed. Charming yes but luxurious no.
---
We left our home in the snow to emerge dazzled by beauty and sunshine in paradise aka Coco's hotel ! The location is lovely- 36 individual cottages scattered over a hillside overlooking the Caribbean Sea with soft golden beaches to either side. The restaurant views never failed to take our breath away. I would have been delighted to have one meal there - never mind 3 a day - all a la Carte and outstandingly good ( no all inclusive buffets here!!) . I kept resolving to eat less at the next meal - but was always tempted by the chef's fish specials ( strangely no weight gained so must have been quite healthy too!) . The Caribbean cerviche was amazing ! The staff were lovely , very friendly , helpful and great fun! We did not book a premier room , but still had lovely view of the beach. ( cottage 10) But next time I think I'd splash out on sunset view cottage. The room itself had rustic charm , big comfy bed with mosquito nets , big wide verandah with hammock and lovely outside shower. I couldn't recommend anywhere more strongly! Thanks to all the staff for making it such a lovely week.
Sally B - Birmingham, United Kingdom
---
I can not find words to describe how beautiful this resort is. We stayed in a plunge pool cottage for the week gorgeous views. The staff is amazing, very attentive. Best resort food I have ever had. The resort is very quite and relaxing, so if you are looking for a hotel with a "night life" this would not be the one. I can't stop talking about my vacation at the cocos hotel!!
---
Almost reluctant to review this place.Dont want it overrun. The hotel is based on a point above a beach. Lovely views and great location. Accommodation in separate chalets with features like outside showers,balconies ,hammocks,large windows,air con etc. Great food served on balconies next to the sea,varied menus, thoughtful wine list. Staff outstanding in their cheerfulness and care. Manager always around,attention to detail and presence with guests. Two beaches,very comfortable sun beds ,beach side bars. All inclusive,including terrific cocktails. Came home more relaxed and healthier.
PaulMoss186338 - London, United Kingdom
---