Please select your dates to see prices:
---
Moonrise Hotel in Saint Louis, Missouri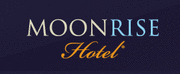 As the soulful sounds of blues and jazz drift through the air, the bright lights of the city offer a warm welcome as they introduce you to the fabulous Moonrise Hotel. In the vibrant heart of St. Louis, nestled amidst six blocks of live music, great food, and luxury shopping called The Loop, this stylish hotel is your very own oasis. With a sleekly modern, yet playful style, this boutique hotel offers all the contemporary comforts and complete relaxation, while enjoying a delightfully exuberant ambiance. Each spacious room is bright and charming, with bold tones, large picture windows, and inviting pillow-top beds. Elegant glass and tile bathrooms offer deep soaking tubs and stylish rain-showers, while all the modern entertainment options and amenities ensure your every desire. With the bright city beckoning just outside your door, enjoy your time in St. Louis with the complete luxury and style of the Moonrise Hotel.
Venture out for a day of sightseeing in this beautiful city, and visit the towering Gateway Arch, taking the tram to the very top, before touring the Anheuser-Busch Brewery and enjoying an afternoon stroll through the Missouri Botanical Gardens. That afternoon, sit down to the casual fine-dining of Eclipse Restaurant, then tee off a friendly round of golf at nearby Forest Park Golf Course or spend a leisurely time in beautiful Forest Park. Spanning almost 1400 acres, bike down picturesque paths, picnic under shady trees, and even fish on Jefferson Lake or visit the St. Louis Art Museum. As evening sets in, set out on the town once again and explore St. Louis's exciting nightlife. Enjoy a fabulous dinner cruise along the Mississippi River, or get into the excitement of one of the city's beloved sports teams. Spend a fabulous night dining and dancing in The Loop, lose yourself in the legendary blues of the Soulard neighborhood or the exciting jazz of nearby St. Charles. In the heart of St. Louis, under the stars and bright city lights, the boutique Moonrise Hotel is your fabulous destination.
Location of Moonrise Hotel
Moonrise Hotel
6177 Delmar in The Loop
63112
Saint Louis, Missouri
Nearest Airport: STL
Amenities for Moonrise Hotel
General Information
125 Guest Rooms
Pet Amenities
Non-Smoking Property
Pet Friendly
Connecting/Adjoining Rooms
Ecologically Sustainable Practices
Dining
Private Dining
24-Hour Room Service
Rooftop Bar
Organic Cuisine
Picnics
Bar & Restaurant
On-Site Amenities
Complimentary Newspaper
Laundry Service
Bicycle Rental
Complimentary Self-Parking
Valet Parking
Art Collection
24-Hour Front Desk
Rooftop Terrace
ATM
24-Hour Fitness Center
Complimentary WiFi
In-Room Amenities
Bathrobes
Cable Television
iPod Docks
Iron/Ironing Boards
Flat-Screen Televisions
Luxury Linens
Coffee & Tea Facilities
Luxury Bath Amenities
Individually Designed Rooms
Rain Showers
Work Desks
Complimentary WiFi
Activities
Bicycling
Nature Walks
Sightseeing
Nearby
Historic Sites
Shopping
Train Station
Zoo
Art Galleries
Museums
Restaurants
Golf
Nightlife
Parks
Shopping Mall
Marina
Theatres
Public Transportation
Monuments
Market
Convention Center
Colleges/Universities
Interests
Culture & Arts
Family
Reviews for Moonrise Hotel
---
Attended a wedding recently and this was the couple's choice for their family and friends. It's literally next door to the Pageant Theater, venue for many touring musicians and popular acts. On the east end of Delmar, a St. Louis center for clubs and dining. We attended a rehearsal dinner at the roof top restaurant, and I must say it was one of the better dinners I've had at this type of event. There is a small restaurant off the lobby with a great breakfast menu but might be pricy for some.
Dennis R - Springfield, Illinois
---
We are usually downtown and aside from the Four Seasons have not been awed by the hotels. Wanting to be near the Fine Arts Museum, I found this hotel with very favorable reviews and gave it a try. It was a pleasant experience. The staff is welcoming and helpful. The room was clean and nicely stocked with bath/shower items. Powerful overhead rain shower. Free WIFI and cable selection. Comfortable bed and pillow (4); coffee/tea service. The only thing I didn't like is the single sliding door that covers either the closet or slides to close the bathroom. It emits too much light that can disturb others sleeping as well as noise from the shower, etc. But that's minor in a hotel that is a decent 4-star. The neighborhood does have interesting food, coffee purveyors. Parking is free behind the hotel (valet is available).
---
The hotel is in a great location close to interesting shops and restaurants. I felt safe, staff was helpful and friendly. Check out the rooftop bar. Fantastic! The workout room is open 24 hours which was great.
---
I stayed here for 1 night , The Moonrise is a great boutique hotel located in a cool neighborhood which has lots of restaurants, bars, entertainment and stores. the lobby is so cool with light-up stairs , the check-in was smooth and the front desk staff (Jasmine) was very friendly. the room was great and large, the bed was extremely comfortable. The bathroom was upscale and the shower was very nice, The hotel have rooftop bar and its a great place to be after 5:00 PM with great music and lots of people. I would highly recommend a stay at this hotel !!!!!!.
Oren L - Orlando, Florida
---
Hello. I have not even stayed here yet, but I am going to this summer for a wedding. Having worked in the hospitality industry, I understand the difference between Excellent, Good, Average, Poor, and Abysmal service. This place may be gorgeous and glorious and all that it is advertised, but you would never know from the way the front desk employees handle phone calls. I spent 10 minutes on the phone with corporate reservations (who was very nice and helpful) until we realized that she was not able to book me in the wedding block and had to call the front desk and attempt to transfer me. The transfer didn't work (no big deal) and so I called the front desk. I spoke to a male worker and explained and he was half way through the booking process, when he said "Hang on" and abruptly put me on hold. He didn't ask "May I put you on hold?" We were having a pleasant exchange and he apparently didn't understand that if you have a customer on the phone, they are just as valuable as whomever is approaching the front desk. I understand that I will be put on hold multiple times when I call a hotel front desk. As during my youth, I was a front desk manager at a hotel. However, the policy is that you ask the person, and explain that you have someone in front of you. So then, 5 minutes later, a female picked up the phone. I explained that the male worker and I were at least halfway through the reservation. She said "Well...oh...he is busy, I can't find it." So I explained that I was confused, since we were already halfway through the reservation process, but I was fine to book with her. It took her a while and another abrupt hold (without asking) until she was able to figure out how to book a wedding block. Also, from the moment she answered the phone, her tone was not one of a customer service employee that was wanting to help me book a room at the hotel. She seemed annoyed--I am not sure at who, but it may have been the other person who abruptly put me on a hold. She also twice said "be right back" and "hold on" and put me on hold without asking. She was quite unprofessional--this was all in the course of a NORMAL booking process. I didn't ask for any special accommodations or anything, I was merely attempting to book a room for my friend's wedding. I am a business traveler--I book hotels all of the time and never have this type of trouble on the phone. At the end of the call, she said "Ok I have your room, you'll get an email" . It was not the customary discussion of "Any other questions, anything I can do?" It was negative and almost abrasive, as if I had "wasted time" by booking a wedding block. I do understand that corporate lines normally book the rooms and the front desk may not be accustomed to booking, since it was a wedding block. However, the rudeness and tone and the way I was put on hold (3 times), make me apprehensive about staying at this hotel. Please train your people. They are a representation of the property and, not to mention, upper management. Your front desk people set the tone. So far the tone is off.
Weaselbeam82 - Scottsdale, Arizona
---