Please select your dates to see prices:
---
Taleon Imperial Hotel in Saint Petersburg, Russia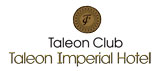 Radiating with the glory of its regal past, Saint Petersburg provides an idyllic setting for Taleon Imperial Hotel. This exquisite member of The Leading Small Hotels of the World is the city's only lodging in a czarist-era palace. Restored by some of Russia's finest artists, it boasts opulent guest rooms and suites adorned with hand-painted reproductions of artwork from major museums such as The Hermitage. Adding to this feast for the senses is a selection of fine dining, including Taleon Restaurant, where superb renditions of European and Russian classics are served amid Louis XVI and French Empire decor.
A superb location at the nexus of the Moika River and Nevsky Prospect puts you right in the historical district. From here you can walk to Palace Square, The Hermitage and the magnificent Winter Palace. Simply cross a bridge along the Neva River, and you will find yourselves at Peter & Paul Fortress, with its beautiful cathedral and sandy beach that entices locals on hot summer days. After a trip to explore the area's lush forests and sumptuous holiday estates, return to the exclusive Taleon Club for an evening of lively casino entertainment.
Location of Taleon Imperial Hotel
Taleon Imperial Hotel
Nevsky Prospect, 15
Saint Petersburg, Russia
Nearest Airport: LED
Amenities for Taleon Imperial Hotel
General Information
29 Guest Rooms
On-Site Amenities
Beauty Salon
Concierge
Spa on Property
Fitness Center
High-Speed Internet Access
Wellness Center
Butler Service
Indoor Pool
Art Collection
In-Room Amenities
Air Conditioning
In-Room Safes
Satellite Television
Individually Designed Rooms
Interests
City
Culture & Arts
Food & Wine
Spa & Wellness
Reviews for Taleon Imperial Hotel
---
Booked into here as part of a cox and kings holiday from London. First hotel in Moscow was simply incredible - really 5 star. The lotte - visited plenty of other hotels in st p, all of which looked better. Can recommend four seasons, Sofitel and intercontinental. In comparison this was an absolute shambles. I'd say this is a three star hotel with some photogenic decor. The breakfast is horrible, sweaty cheese, boiled canned vegetables, frankfurters etc. Eggs are anaemic, we ended up eating out. The restaurants were not open when we were there and the security is questionable. There are security scanners but nobody manning them, and the door man comes and goes as he pleases. No coffee/tea making facilities in the room of any five star expected extras. Don't expect more than 1 bar of soap... lights go on and off at will, heating can't be controlled from your room, all showers have a disabled seat in them. Expect to pay £7 for a bottle of water. The gym is well appointed etc, pool quite good. Expect to turn on the lights yourself as is deserted. Do not stay here unless you get a below £60 a night rate or do it for a night as a joke.
---
We loved staying here for 4 days! Our executive suite had two beautifully decorated rooms. Bathroom was huge with heated floors and very nice amenities. The pool was amazing!! It has a sky roof over the pool so you can see your own reflection while swimming late in the evening. Saunas were very nice as well. Breakfasts were tasty, big choice, we loved the omelet station. Pancakes with red caviar, vegetables, fruit, desserts. Palace Square is in 5 minutes walk so are the other main sites and restaurants of St. Petersburg. The building of the hotel is a historical building, started by Elizabeth of Russia (we read the history, very interesting!). Staff were very friendly and helpful. Great stay. Great memory about St.Petersburg!
Olantro - Los Angeles, California
---
The best part of the hotel was the prearrival, and the grandness of the room itself.... and that's when it started fo fall apart.... On the plus side, the concierge was top notch - very fast in responding, good suggestions, willing to do what ever it took. And the service at the Taleon restaurant was among the best we had (probably better than our diner at the Four Seasons Percorso) On the negative sides: We had several requests of the reception which were never fulfilled. We were not sure if the person we asked did not execute, or if the person they delegated to did not: example 1) disengage the security light I had erroneously turned on 2) bring a toothbrush to the room 3) Send housecleaning to the room (one day the room did not get cleaned..... ) While the room was gorgeous, the bathroom, perhaps from the tub, had a distinct sewer smell. I am used to this from time to time in this part of the world, but this was very pronounced, more than other public toilets I had used in palaces. Also another peculiarity I found is that it was never clear to me who was the manager on site. Usually with 4+ star hotels, it is clear, even if the manager does not personally introduce themselves. Instead, it seemed liked there were often very young employees and I left wondering if perhaps they were not experienced or assertive enough to get things done. Good location and all, (and good gym!) this would not be enough to bring me back.
Service_Sommelier - Zurich, Switzerland
---
Friendly staff helped to make for a memorable stay in this grand hotel. Situated on the corner of Nevsky Prospekt, close to the Hermitage Museum, its central location makes it convenient for enjoying the sights, tastes and sounds of St Petersburg. Its elegant interior includes an opulent dining room (with talented singer when we dined there), a breakfast room at the base of an impressive atrium, well appointed bedrooms, and on the top floor a generously sized swimming pool and well equipped gym.
John R - York, United Kingdom
---
My one week trip to me to this hotel to visit a friend that logged in the place. I passed a night with my friend there, it was absolutely beautiful and the staff speak perfect English . Their food was fantastic and the drinks was affordable
princeiseoluwa - Newcastle, United Kingdom
---