Please select your dates to see prices:
---
The Lodge at Sea Island in Saint Simons Island, Georgia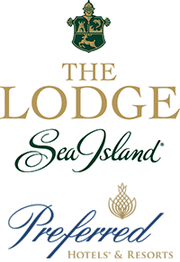 As the afternoon sun sinks below the glistening horizon and the gentle waves lap against your toes, with the expansive resort complex looming in the distance, you may wonder how you made it to the Caribbean without your passport. Look again; this playful scene brought to you a little closer to home: welcome to The Lodge at Sea Island, a luxury hotel within Sea Island, an affluent resort island located in the barrier islands just off the Atlantic coast of Southern Georgia. An annual recipient of the prestigious Forbes Five-Star and AAA Five-Diamond award since 2001, The Lodge and its 40 guestrooms offer classic elegance and contemporary comfort with a hint of Southern hospitality on majestic St. Simons Island. Surrounded by three championship fairways of the Sea Island resort, The Lodge is a golfer's paradise and so much more. Thoughtfully appointed rooms and suites feature large high-definition televisions, spacious marble bathrooms with deep soaking tubs, deluxe toiletries and plush, handcrafted Oriental rugs. Delight in all the luxuries that will make your stay memorable at The Lodge at Sea Island&mash;a Preferred Hotels & Resorts property, part of the Preferred Hotel Group.
The intimacy and isolation of an island paradise provides the privacy so many travelers seek for weddings, romantic getaways, and long overdue family reunions. No matter what your pleasure, find it at The Lodge: foodies will delight in the array of eateries serving international and local favorites, both at The Lodge, and Sea Island's other luxury hotel, The Cloister. Seven exceptional venues range from formal and award-winning to down-home casual and delicious. Those who want to stay active and fit during vacation will enjoy Sea Island's immense sports complex. As one of the only resorts in the US to offer world-class squash and tennis facilities, as well as a program of instruction, everyone can try their hand at something new. Or, take advantage of the Georgian coastline with an array of water and beach activities before heading to Sea Island's state-of-the-art spa at the Cloister Spa & Fitness Center. A paradise within a paradise, The Lodge at Sea Island has everything you never knew you wanted from a luxury vacation.
Location of The Lodge at Sea Island
The Lodge at Sea Island
100 Retreat Ave Saint Simons Island
31561
Saint Simons Island, Georgia
Nearest Airport: BQK
Amenities for The Lodge at Sea Island
General Information
40 Rooms and Suites
Handicap Accessible Rooms
Pets Not Permitted
Dining
Poolside Dining
Outdoor Dining
Private Dining
2 Bars
24-Hour Room Service
Coffee Shop
Snack Bar
7 Restaurants
Ice Cream Bar
On-Site Amenities
Beauty Salon
Spa on Property
Gift Shop
Private Beach
WiFi
Game Room
24-Hour Butler Service
Bicycle Rental
Live Entertainment
Pool & Beach Cabanas
Terrace
Gazebo
Indoor Pool
Tennis Courts
3 Pools
Pier
Gardens
Personal Trainers
Beach Club
Beach Access
3 Golf Courses
Theater
Beach Amenities
Chapel
Nutrition Programs
18-Hole Golf Course
In-Room Amenities
Mini Bar
Marble Bathrooms
Flat-Screen Televisions
Luxury Linens
Coffee & Tea Facilities
Luxury Bath Amenities
Rain Showers
Activities
Bicycling
Cooking Classes
Cultural Classes
Educational Programs
Excursions
Fishing
Hiking
Kayaking
Sailing
Tennis
Pilates
Mountain Biking
Cooking Demonstrations
Ecological Excursions
Nature Walks
Yoga
Clay Bird Shooting
Bike Tours
Golf Lessons
Whale Watching
Yachting
Fitness Classes
Wildlife Viewing
Cultural Tours
Hunting
Archery
Bird Watching
Squash
Volleyball
Shuffleboard
Wellness Programs
Boating
Sightseeing
Paddleboarding
Horseback Riding
Golf
Dance Lessons
Sporting Clay Shooting
Aqua Fitness
Nature Hikes
Water Sports Programs
Business
Meeting Rooms
Conference Facilities
Family
Kids Club
Children's Amenities
Playground
Children's Menus
Teen Spa Treatments
Teen Activities
Arts & Crafts
Children's Programs
Nearby
Historic Sites
Shopping
Restaurants
Beaches
Marina
Market
Interests
Active & Adventure
Beach
Family
Golf
Summer Getaways
Reviews for The Lodge at Sea Island
---
Just got back from three nights/four days at The Lodge. 4 guys (46-50) came down to celebrate a 50th bday and we had an amazing experience at Sea Island. We've done golf trips all over the country (Pebble Beach, Streamsong, Myrtle Beach, Casa De Campo, Doral, Phoenix, etc) and this was amongst the best for a golf buddy trip. We loved staying at the Lodge for it's location to everything golf related. Walk out of your room, down a couple of staircases and you're in the Men's locker room and then steps away from the range. The golf facilities were very impressive. Seaside is the real deal. Amazing conditions, fast greens and a very very challenging layout. We really enjoyed both Plantation and Retreat as well. By no means are they "throw-away" courses. Both were in pretty decent shape (one notch below Seaside) but the greens were just as good. Rolled pure and true. Retreat is the easiest of the three but very enjoyable to play even for the low handicapper. Plantation has tons of bunkers all over the place so it's a little less forgiving than Retreat. We had two scratches and two 15 handicaps and both groups equally enjoyed all three courses. The service at the Lodge is excellent and that goes for every aspect of the place. The doorman, the concierge, the golf staff, and then men's locker room attendants will accommodate any reasonable request with a smile. I really felt like everyone wanted to make my experience awesome from the moment I arrived to the moment I left. They're doing some renovations so there's some construction going on but other than affecting the length of the 10th hole on Plantation, there's very little impact to the overall enjoyment of the resort. I would definitely recommend this place to a group of guys looking for a relaxing golf vacation. The courses are very enjoyable, challenging and most importantly (at least to us) had really good greens that tested all of your putting abilities. The Lodge is a very very convenient place to stay with all of the modern amenities you're looking for. And by the way, the showers in the Lodge Rooms and in the men's locker rooms are AMAZING!!!! Best water pressure you will find anywhere...
Steve F - Waltham, Massachusetts
---
The Lodge is the most private hotel option in Sea Island. The Cloister is the largest property and if you are looking for quiet and reserved, The Lodge is the place. It is a 5 star hotel and has under 50 rooms (43 to be exact). The lobby is gorgeous with dark wooden fixtures, carpets and comfortable couches. We were there in December and the Christmas trees were decorated beautifully. As soon as you arrive at The Lodge, you are welcomed by name and escorted to your room by a butler. I loved the European feel of the Lodge and each room was made to look like a room in a European castle. The artwork reminded me of Belgium and so did thed heavy wood.I think the intent was to look like an English manor, even though it was actually built early in the 20th century. As you enter your room, your have a walk in area with wet bar, Nespresso machine, ironing board that pulls down from the closet and closet area. The bathroom is then also off of the main entryway and has dual sinks, classic metal handles and a pedestol tub. The shower was a huge walk-in shower made of marble and the handles reminded me of something from London in the early 1900's. The toiletries are by Milton Brown. As you then step into your bedoom, the Lodge will cleverly put on the Golf channel during turn-down service at night. Cookies are also part of the nightly service. The bed was very comfortable and I really enjoyed the patio with chairs that overlooked the water. It was all very peaceful and serene. The sitting area in the room was also nice and there was a big desk to work. The ceilings are made of wooden beams and add elevation to the room. I did feel like I was staying in another country and truly loved my stay. Each night around 5pm, a bagpiper marches up the field in front of the patio of the Lodge. You can sit on an Adirondack chair and listen and have an evening cocktail as the sun sets. Dining: There is the Oak Room which serves breakfast, lunch and dinner. The Colt and Alison is the high end steakhouse serving dinner with a view of the golf greens. We had a fantastic meal here and Chef Danny is very talented. We also enjoyed breakfast and lunch in the Oak Room. Another interesting tidbit I learned is that you can take one of the BMW 750 series that is parked in the front of the Lodge and drive it over to the Cloister and other part of the hotel. The goal is to get you to test drive and this has turned out to be very profitable for this BMW dealer. I did not get a chance to make it to the Cloister and would like to go next time. The staff was amazing and the service everywhere was excellent. There is also a little gift pro shop with golf wear, souvenirs and high end sunglasses and apparel for sale. I highly recommend this resort for a quiet getaway and Southern hospitality.
---
My husband and I stayed at the Lodge for 4 days in December 2017 and had a wonderful time. I just had a baby and we decided to do a golf trip for just the 2 of us. We had some issues with golf club shipments and ended up postponing the trip by a week but the reservation was kind enough to work with us to accommodate our schedule. I am also nursing so i made specific requirements to have a fridge and microwave in our room. Upon arrival, the butler let us check in a very efficient manner and also offered to get our lunch set up in the room so we can make our tee time. The most impressive part of my trip is that the butlers worked hard to accommodate my lactation needs and i was able to freeze my milk every 6 hours in the chef's fridge. The facility and hotel is very conveniently located by the golf courses and we had fun playing all 3 courses. We ventured out for dinner on all 3 nights and were impressed by what sea island had to offer. The lodge also had complimentary BWM 7 series cars for use around the island and we took advantage of the offering and enjoyed the massage feature on the chairs. We took a Pilates class at the fitness center and the instruction was very professional. We definitely plan to bring our family back next time and i would rate the property above the Pinehurst and the Sanctuary in Kiawah Island.
---
We arrived a bit early for check-in, (11:00 am) but our room was ready in half an hour. The room was beautiful, a very comfortable bed, and was nicely appointed with plenty of chairs and a desk. The LG smart TV was a plus. We also had a small balcony. The heating and air conditioning system was quiet. The bathroom is amazing, the most comfortable tub, and the Amazon shower head had great water pressure! The lodge was beautifully decorated for Christmas. The front desk, and our butler took great care of us! All personnel was very friendly and attentive to our wishes. I met the sommelier, and even got a quick tour of the wine cellar. He helped us select a grand bottle of champagne. The restaurant/ bar was crowded, but when we asked for a quiet place in the dining room next to it, we got a nice table next to the Christmas tree the next day. The food is very good, and the service impeccable. We loved the breakfast buffet, fresh fruit, delicious yogurt, eggs and more. When going to the Georgian room at the Cloisters for Christmas, we asked for a ride in the new BMW 7 series. A chauffeur brought us over. It was such a treat! The golf courses are excellent, and the lady in the ladies locker room, is a gem! Unfortunately, my husband did not get the service I got. That was his only complaint. It was perfection, and I cannot wait to get back!
Appeltje2015 - Round Hill, Virginia
---
We have been coming to The Lodge for many years and cherish it for its intimate setting and charm compared to its more family oriented sister property, The Cloister. We were alarmed on this visit to find that an extension is being put on The Lodge to include several 2 bedroom units as well as a swimming pool. Also it appears this new addition will significantly alter the beautiful sunsets that everyone gathers for on the back porch along with listening to the nightly bagpiper. We are very concerned that these alternations will drastically change the atmosphere of what we have enjoyed for so many years, that of a more romantic, adult experience. It seems almost inevitable that 2 bedroom suites will encourage families as will the pool which has already been designated not to be for adults only. A few other dismaying changes have occurred since our last visit which include charging for valet parking ($25/day) and even $20/day for self parking. Ridiculously there is also a $25 fee if you don't cancel an on site restaurant reservation 6 hours in advance. The nightly cookies are no longer brought to order (they are a turn down service now) and if you want milk you have to ask for it. Also the rose petal bath was not offered. Perhaps little niggles but once you have become used to such special nicities you miss them when they are gone. We were also taken aback when toast with our egg order at breakfast was considered an extra charge. Silly perhaps, but since when does a restaurant not offer toast with eggs? We just fear the nickel and diming aspect we encountered may scare some people off. The added resort and service fees have always been there but are also a source of irritation. How nice it would be to have resorts just offer an all inclusive price for the room so you know where you stand from day one! One thing that is NOT lacking here is the ongoing EXCELLENT service. The staff is remarkable. Always friendly, helpful, willing to make any and all things perfect. We hope that is the only thing that will never change! Meanwhile, if you stay here any time before next December while renovations are ongoing be sure to inquire as to how your room assignment may affect your stay otherwise you may be overlooking a big dirt hole and hear trucks outside your window starting at 8AM!
A36traveler - Houston, Texas
---