Please select your dates to see prices:
---
Hotel Valencia Riverwalk in San Antonio, Texas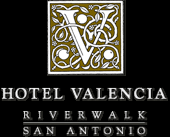 In the heart of Texas, located on San Antonio's famed Riverwalk, is the luxurious and elegant Hotel Valencia Riverwalk. This ultra-modern hotel offers guests a tranquil atmosphere, just steps away from the excitement of one of Texas' most renowned destinations. The 213 gorgeously appointed rooms provide a wonderful stay, with light and dark contrasts creating a sleek contemporary design. Imagine waking in a custom-designed bed, cradled in seven layers of Egyptian linens before a beautiful morning in San Antonio. Or picture yourself relaxing on your balcony, cocktail in hand, gazing out over the strip before heading out for a night of adventure. At the Hotel Valencia Riverwalk, luxury and elegance are matched only by the amazing experience you will have in the city.
Make time to stop in at the Dasa Spa before heading out into the bright lights of the Riverwalk. Here you can luxuriate with a deep tissue massage and let the stress melt away before taking to the city with an invigorated step. Stroll down the Riverwalk under the afternoon sun to delight in fantastic shops, restaurants, and bars, and take in the essence of San Antonio. Stop in at the historic Aztec Theatre for a night of truly enchanting music, and take in the best of country, western, and gospel. For history enthusiasts, take the short trip to The Alamo and indulge in a little patriotism. After a great day of adventure, return to the Hotel Valencia for dinner at Citrus Restaurant. Lounge on the terrace, overlooking the Riverwalk, and delight your palate with a fusion of continental and French cuisines, with remarkable touches of Asian and Tex-Mex. Or perhaps try an authentic bowl of chili at one of the many restaurants in the city in which it was invented. With your stay at the Hotel Valencia Riverwalk, you will be close to the fun and excitement of San Antonio's best, while never being far from true luxury and comfort.
Location of Hotel Valencia Riverwalk
Hotel Valencia Riverwalk
150 East Houston Street
78205
San Antonio, Texas
Nearest Airport: SAT
Amenities for Hotel Valencia Riverwalk
General Information
213 Guest Rooms
On-Site Amenities
Spa Services
Housekeeping Service
Valet Parking
In-Room Amenities
Bathrobes
Hair Dryers
Mini Bar
Iron/Ironing Boards
Marble Bathrooms
Flat-Screen Televisions
Luxury Linens
Coffee & Tea Facilities
Business
Meeting Rooms
Conference Facilities
Nearby
Historic Sites
Shopping
Zoo
Art Galleries
Museums
Restaurants
Golf
Nightlife
Shopping Mall
Theatres
Market
Interests
City
Culture & Arts
Holiday
Reviews for Hotel Valencia Riverwalk
---
Visited lovely San Antonio for the weekend and had the pleasure of staying in this fine hotel. Located on a less busy side of the Riverwalk, it's still quite close to all the city has to offer. Quick check-in, and our requests (high floor, away from elevator) were granted with room #824. From the staff to the hotel grounds and amenities, we were absolutely impressed. Would not hesitate to return and stay again.
---
This was the best hotel so far in my lifetime!! Beautiful surrounding and amazing service. I wish I could visit this place monthly! A factor that made a huge difference was an associate in Gardening by the name of Hilda Siller. I'm hoping that she is still there on my next trip for she is the true picture of hospitality. Several could take notes from that associate.
Valued_Assets - Arlington, Texas
---
Heading home from a week in Big Bend we made this our last night in our vacation before heading home. Tons of people in town, the riverwalk was crazy and the six hour drive had been long. We found Richard behind the hotel bar who made me his amazing Paloma and introduced us to some local brews and then found a quaint spot on the outside balcony for the evening. With live music playing in the distance it was the perfect way to decompress. The hotel was quiet and a relaxing spot for the night. Highly recommend. Go see Richard!
---
We enjoyed staying at Hotel Valencia - it was right by the River Walk, it was clean and comfortable, and the staff was very nice. I didn't give it five stars because, as i said the staff was nice, but not proactive and the food in the hotel restaurant was mediocre. (That said, the restaurant next door, Acenar, was fantastic!) My favorite part of Hotel Valencia is a beautiful little courtyard off the third floor - I sat out there and read my book while my husband and boys were hanging out in the room for a bit. The courtyard is lush and has a number of chairs spread around so you could have some privacy even if there were a lot of people there (tho both times I went out there I was the only one there) and has a lovely waterfall that gives it a fantastic sound - perfect for the setting. The only thing my boys didn't like about Hotel Valencia is that there is no pool - so if you have kids, just know - no pool!! :)
---
Wanting to stay directly on the Riverwalk in San Antonio, we chose Hotel Valencia. The rooms were fabulous, staff was extremely helpful and nice, their breakfast in the morning was outstanding. Definite must stay.
2Swansons - Jensen Beach, Florida
---