Please select your dates to see prices:
---
Hotel Zeppelin San Francisco in San Francisco, California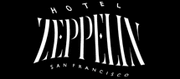 Chic has a new address in San Francisco: on the very edge of fashionable Union Square discerning guests will discover that great taste has taken up residence at Hotel Zeppelin San Francisco. Featuring beautifully appointed guestrooms, suites and the unsurpassed luxury of the exclusive Executive Club Level, the hotel's enviable location on Post Street is shared with the very best names in retail, entertainment, business and fine dining. Just next door Wolfgang Puck's renowned restaurant Postrio is ready to tempt your palate with savory treats, while the premier designer boutiques of Union Square beckon to the shopper within us all. For those who seek impeccable service and luxurious accommodations, the Prescott is ready with a stylish San Franciscan spin.
An elegant hotel featuring luxurious accommodations, the Prescott's spacious rooms and suites were created by noted California designer Sandy Blake. The soothing comfort of a home away from home is perfectly matched by the sophistication of the amenities. These elements combine with crisp Italian linens and custom-made cherry wood furniture to surround guests in elegant style. For those who come from afar, relax after your travels with a rejuvenating massage, facial or foot treatment in the comfort of your very own room. If movement is more your speed, each room is equipped with yoga necessities, and a 24 hour yoga channel so you can turn on and tune out. Downstairs, dinner is a gourmands dream, with inspired Italian creations at Postrio. At the Prescott everything you need to call San Francisco home, is delivered in effortless style.
Location of Hotel Zeppelin San Francisco
Hotel Zeppelin San Francisco
545 Post Street
94102
San Francisco, California
Nearest Airport: SFO
Reviews for Hotel Zeppelin San Francisco
---
Stayed there from 17th-20th of February. Terrible service, hotel looks ok but I wouldn't recommend staying here. Much nicer places in the same area. They also took a prepayment which should been returned when we checked out as the full amount (including the prepayment sum) was deducted on a different card the day we left. I have followed up Viceroy Hotel Group as well as Hotel Zeppelin on multiple occasions over the past 30 days and haven't received the money back or an acknowledgement that they're even looking into it.
Matthew A - Manly, Australia
---
Hotel Zeppelin is a great hotel in a great location. This hotel is as clean as they come, the beds are comfortable, and the people are great. Our only complaint is that, when we arrived, we were told that there is a $30 per night Resort Fee in addition to the price of our room. It's a great hotel but be prepared to pay an extra $30 per night.
blpmargate - Jersey Shore
---
Great location, great communal areas, good staff, awful room!! I idid not complain, management should know what their hotel rooms are like!!! Life is too short and we were only there for two nights. This could be a good hotel but it's always in the detail.
---
Great central location close to Union Square, breakfast cafes and transport options. Air con wasn't working well, somebody came straight away to fix it, but no change so we just put up with it. Room was quite small but nice - unfortunately the overhead light was enormous and the cupboard was enormous, making the room appear even smaller! The bedside lamp was also ridiculously out of proportion, nothing would fit on the bedside table due to the size of the lamp. Didn't help in creating any illusion of space. But hey, if this is the worst I can say, it's not too bad! We'd stay again.
AngMaree - Brisbane, Australia
---
Made a fast decision to stay next union square with my family that I hadn't scene in years. Our first impression of this amazing hotel was that everyone knew how to take care of there guests. From the amazing greeting I had from Sam at the front desk.. to the next to royalty treatment I received just trying to find the bathroom. We felt at home immediately. And furthermore, we were reminded we were on vacation and had the right to get comfortable . I didn't want to leave. That's how you know you have had a good time, there is only one place we would come back to in the bay. And the that's the hotel zeppelin all day. Thank you again for a wonderful stay! I'll be back!
---