Please select your dates to see prices:
---
Hotel Zeppelin San Francisco in San Francisco, California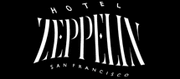 Chic has a new address in San Francisco: on the very edge of fashionable Union Square discerning guests will discover that great taste has taken up residence at Hotel Zeppelin San Francisco. Featuring beautifully appointed guestrooms, suites and the unsurpassed luxury of the exclusive Executive Club Level, the hotel's enviable location on Post Street is shared with the very best names in retail, entertainment, business and fine dining. Just next door Wolfgang Puck's renowned restaurant Postrio is ready to tempt your palate with savory treats, while the premier designer boutiques of Union Square beckon to the shopper within us all. For those who seek impeccable service and luxurious accommodations, the Prescott is ready with a stylish San Franciscan spin.
An elegant hotel featuring luxurious accommodations, the Prescott's spacious rooms and suites were created by noted California designer Sandy Blake. The soothing comfort of a home away from home is perfectly matched by the sophistication of the amenities. These elements combine with crisp Italian linens and custom-made cherry wood furniture to surround guests in elegant style. For those who come from afar, relax after your travels with a rejuvenating massage, facial or foot treatment in the comfort of your very own room. If movement is more your speed, each room is equipped with yoga necessities, and a 24 hour yoga channel so you can turn on and tune out. Downstairs, dinner is a gourmands dream, with inspired Italian creations at Postrio. At the Prescott everything you need to call San Francisco home, is delivered in effortless style.
Location of Hotel Zeppelin San Francisco
Hotel Zeppelin San Francisco
545 Post Street
94102
San Francisco, California
Nearest Airport: SFO
Reviews for Hotel Zeppelin San Francisco
---
Had never heard of Hotel Zeppelin prior to this visit to SF, but found it through Groupon and it looked like a funky boutique hotel. We weren't disappointed... the lobby/lounge area was cool, funky art and definitely a retro vibe... $58 a night for valet seemed steep, so parking garage around the corner was only $35, so that was convenient. Check-in was smooth, and all the staff, front desk, housekeeping, bartender in the front bar, was extremely helpful and friendly. Explored the downstairs game room, shot some hoops, played some shuffleboard, and loved the decor/artwork downstairs. Was a little odd getting to our room on the fifth floor...
Qballlll - San Jose, California
---
Excellent Location near Union square. Clean room and very comfortable bed. Complicated acces to our room, sited on the attached building where we had to change elevators and get lost at the corridors betwen buildings.
efabregat - Barcelona, Spain
---
Great location and very nicely presented hotel. Rooms were comfy and clean. The staff seemed disinterested and weren't friendly. Taxes and additional charges were not explained to us before we were charged.
---
I stayed at Hotel Zeppelin for 2 nights at the beginning of April. The overall vibe of the hotel is vibrant and very hip. Check in was smooth and they had a welcome drink for us upon arrival. When we got up to our floor we noticed that it really smelt like cat litter. When we got into our room the smell was overwhelming. We called down to the front desk and they changed our room immediately. We were moved to room 304, the smell was slightly less than 404 but the hallway and our room smelt. SF did receive an abnormal amount of rain a few days prior so we assumed that maybe this had something to do with the smell. We had to leave the fan on the entire time we were there which was very noisy. We had a deluxe double bed room and it was really tight, barely more than foot of space between the beds and the walls. The bathroom sink wasn't any bigger than a dinner plate. It was obnoxiously small. I read reviews before we booked this hotel and I was really looking forward to staying here. I must say that I was very disappointed especially for the price we paid and on top of that they charge an amenity fee upon check out. We stayed at the Hotel Zelos earlier in our trip to SF, owned by the same company, and I was much happier there, less frills but a very large room with a quiet fan, and most of all nothing smelt like a cat box!
Chloeebi - Toronto, Canada
---
Nancy made our stay so amazing! Thank you Nancy !!!! This hotel is awesome . It has a great Resturant and fun game room. The location is great! I will definitely stay here again. The is extremely hip and up to date room. Hotel has awesome service. This is the place to stay .
sahar011891 - Los Angeles, California
---