Please select your dates to see prices:
---
The Scarlet Huntington in San Francisco, California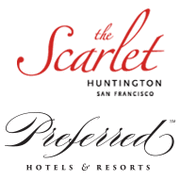 The warm and elegant ambiance of The Scarlet Huntington reflects the welcoming and vibrant spirit of San Francisco. Discover this eclectic city from the top of Nob Hill, surrounded by astounding 360 degree views of the Pacific ocean, San Francisco Bay, Golden Gate Bridge, and Alcatraz Island. Whether for business or pleasure, this family owned establishment understands the varying needs of savvy travelers. Artfully bridging glamor and comfort. Plush decor and warm hues invoke the elegant home space of your vacation quarters, due to their original construction as luxury apartments. At the center of a marvelous city, enjoy easy access to popular destinations and local attractions.
The Scarlet Huntington invites you to a myriad of splendid opportunities to experience San Francisco as a native. A short walk puts you at the crossroads of luxury stores,funky boutiques, and unique eateries. Leisurely walks through Golden Gate Park show off the natural beauty of San Francisco, discovering the Japanese Tea Gardens on your way to the de Young Museum. On a beautiful day, explore the beaches of Chrissy Field, and grab a cup of coffee as you overlook the Golden Gate Bridge and Marina Headlands. In a city where award winning cuisine is the norm, delight on the tantalizing plates served by Big 4 Restaurant in your hotel, recognized as one of the top 20 locations to eat in the city. Following an unforgettable day, a well rounded meal is the perfect night cap.
Location of The Scarlet Huntington
The Scarlet Huntington
1075 California Street
94108
San Francisco, California
Nearest Airport: SFO
Amenities for The Scarlet Huntington
On-Site Amenities
Beauty Salon
On-Site Car Rental
Concierge
Boutique
In-Room Amenities
Turndown Service
Bathrobes
Hair Dryers
In-Room Safes
Luxury Linens
Luxury Bath Amenities
Activities
Bicycling
Cooking Classes
Croquet
Cultural Classes
Deep Sea Fishing
Educational Programs
Business
Business Center/Services
Family
Children's Programs
Cribs
Highchairs
Nearby
Historic Sites
Shopping
Train Station
Wineries
National Parks
Zoo
Art Galleries
Museums
Restaurants
Golf
Beaches
Polo
Antique Shopping
Parks
Shopping Mall
Marina
Theatres
Public Transportation
Monuments
Nature Reserve
Market
Convention Center
Interests
City
Culture & Arts
Family
Reviews for The Scarlet Huntington
---
My boyfriend and I stayed at this hotel for our 7 year anniversary and I can't say how much the employees went above and beyond to make us feel welcomed and how special the day was for us. Before the arrival date I called the hotel and spoke to one of the concierge agents Juan who helped me arrange a surprise champagne bottle in the room with a bowl of strawberries and a card. During the phone call Juan made sure to verify everything back to me so he could make this a special and surprise night, which I appreciate very much. Also, I spoke to Luis who is the assistant front office manager who checked us in, helped me arrange an upgrade to our room, and who also checked us out. He made sure to congratulate us for being together for 7 years and made us feel very special the entire night and made sure the check-in process was quick so we could enjoy the rest of our night. We ordered room service from the Big 4 restaurant and after ordering our food right when we checked in the food came to our room within 20 minutes. That's pretty fast service and the gentleman who delivered it arranged our table and had everything set up for us very beautiful. The room we had was the one bedroom suite and we were completely jaw dropped when we saw the view we had. It faced the park and the grace cathedral. The room was very clean, bed was super comfortable, living room was a comfortable lounge spot for a movie night. The bathroom was the part of the suite that I thought was quite interesting how we had a his and her sink along with a shower and tub right next to each other. I have no complaints about this hotel and I would most definitely recommend it to anyone who wants to stay in San Francisco and be close to Union Square of walking distance if you don't mind walking on hills.
---
We stayed 3 nights at the Scarlet Huntington, and wished we had spent more time - just loved the hotel & the area that the hotel was in; on the top of Nob Hill. On checking in, we asked if there were any complimentary upgrades, and were delighted with room 610 - a huge spacious suite with amazing views of the city. Our check in itself was great as were all the staff at the hotel, always a smile on their faces & willing to help you with directions, etc. The hotel is on the main trolley car line, so easy to get around if you are using public transit. Valet parking was a bit pricey @ $59.00/night, but I guess that's the price you pay for being in a big city. Can't wait to come back to San Francisco & stay at the Scarlet, an amazing property!
Peachlanders - Peachland, Canada
---
I stayed here during the RSA Conference. Rooms are attractive, in a neo-Asian modern style. Good wireless. Excellent room service and front desk. Convenient to downtown. About a 15 minute walk to the Moscone Center. Directly on the California Street cable car line. I got a government room rate by calling the hotel directly.
Jake S - Alexandria, Virginia
---
We stayed for two nights in an Executive Room which had a fabulous view over Huntington Park and Grace Cathedral. It was so relaxing watching the dogs running around the park with their walkers each day and gave a little window into life in this character-filled city. When you get that little window into a city, you always feel more at home and relaxed in the environment that you are staying in. The Cathedral is also beautiful, especially the view we had at night. I love this area of San Francisco (we have only stayed just off the Union Street/Gough St shopping area before). The Nob Hill area has a lot of character and is very safe. The staff at the hotel are very professional yet so friendly. They go about their job without any touch of attitude that often exists in top line hotels. San Francisco is a great walking city and we chose to walk everywhere but we did decide to get the cable car up from our dinner at the Waterbar on our last night just for fun and because we couldn't face the walk up California Street! (and by the way the cable car rides cost more for 2 people than an Uber - $7 each but we knew that - it was about the experience). I should also mention that the bed is extremely comfortable and that we had a fantastic peaceful nights sleep here. This is where we would return to when we come back to San Francisco because the position is great, the staff and nice and the quality is excellent.
---
It was my first time visiting San Francisco and the Scarlet Huntington was the perfect place to stay whilst there. The location is perfect. Ideally located next to Grace Cathedral in the plush Nob Hill district the Scarlet Huntington is close to a number of quirky bars and restaurants. The hotel is absolutely sumptuous. The rooms are extremely plush with great views of the cathedral. The hotel restaurant and bar are dimly lit and atmospheric with a wonderful pianist playing nightly. Staff were extremely helpful and went above and beyond throughout our stay. No request was too big. Everyone was extremely attentive and courteous, helping us with our bags and recommending place to go and things to see. The hotel offers parking in their garage although it is quite expensive. There are slightly more affordable garages nearby and if you're lucky you may find a place nearby, don't hold your breath though.
Holly M - Glasgow, United Kingdom
---