Please select your dates to see prices:
---
Cabo Azul Resort in San Jose del Cabo, Mexico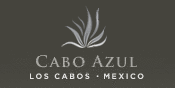 Situated on the stunning coastal region of Baja California Sur where silky white sand mixes with sapphire surf, Cabo Azul Resort reigns as the crown jewel on a strip of land known as the 'paraiso entre dos mares' (paradise between two seas). From the playful waterscapes to the dramatic fire sculptures dotting the property, the atmosphere created by Cabo Azul lends itself to harmony and elegance. With 143 spacious rooms, this all-villa resort complex will comfortably house you and yours, whether you come as a family of two or a family of six! Lavish amenities such as king-sized beds, a separate living area with sleeper sofa, in-room spa tub, and "his-and-hers" sinks bring resort living to new levels of comfort and style.
Planning a destination wedding? Look no further than this romantic retreat: tie the knot in El Corazon, the resort's resplendent open-air five-story wedding chapel. Complete with dramatic lighting effects and candlelit waterfalls, El Corazon is the ideal setting for your special day. Delight in every detail of Cabo Azul, from internationally-renowned eateries to the soothing spa treatments. In the mood for some sumptuous regional fare? Dine poolside in one of the most breathtakingly beautiful eateries in the Baja region. Flor de Noche boasts a delicious palapa-style space, including a thatched roof and remarkable nautical rope rooftop centerpiece, as well as a tantalizing menu. Or, indulge in the home-style menu of Javier's restaurant, with its regionally-inspired cuisine and gorgeous view overlooking the Sea of Cortez. "Me time" gets a glamorous new look at PAZ, the resort's full-service spa. With your choice of indoor or outdoor treatments, put your mind at ease and let the skillful hands of the spa staff help you rediscover your inner peace. Whether a wedding, honeymoon, or much-needed getaway brings you to Cabo Azul Resort, rest assured, you are exactly where you need to be.
Location of Cabo Azul Resort
Cabo Azul Resort
Paseo Malecon S/N Lote 11 Fonatur
CP 23400
San Jose del Cabo, Mexico
Nearest Airport: SJD
Amenities for Cabo Azul Resort
General Information
143 Villas
Dining
Private Dining
2 Restaurants
2 Bars
Private Chef
Swim-Up Bar
Cafe
Room Service
Coffee Shop
Deli
Pool Wait Service
On-Site Amenities
Beauty Salon
Concierge
Spa on Property
Laundry Service
Fitness Center
Currency Exchange Service
Live Entertainment
High-Speed Internet Access
Internet Cafe
Pool & Beach Cabanas
Multilingual Staff
Outdoor Pool
Beach Club
Car Rental
In-Room Spa Services
Chapel
Outdoor Spa Treatments
Infinity Pool
In-Room Amenities
Private Patios or Balconies
Air Conditioning
Bathrobes
Ceiling Fans
Direct Dial Telephones
DVD Players
Hair Dryers
In-Room Safes
Flat-Screen Televisions
Whirlpool Bathtubs
Luxury Linens
Coffee & Tea Facilities
Fully-Equipped Kitchens
Activities
Deep Sea Fishing
Excursions
Pilates
Snorkeling
Yoga
Jet Skiing
Business
Meeting Rooms
Business Services
Nearby
Historic Sites
Shopping
Restaurants
Golf
Nightlife
Interests
Beach
Cool Pools
Family
Reviews for Cabo Azul Resort
---
I had a very bad experience upgrading my 2br villa to an ocean view one on top of poor house keeping. I was there for a wedding. The 2br villa i got originally was good but had no view so i PAID to get an ocean view upgrade. i was told the villa will be ready at 4pm. I understand that regular check in for your guest is at 3pm; ok so one hour behind thats ok. I told the front desk people when i was upgrading that i am here for a wedding and have to be out to catch a shuttle at 5:30pm so the room needs to be ready by 4 or i cant upgrade. they assured me i will have the keys and everything. by the time 4pm rolls around, they said someone will come get my luggage and take me to the new ocean view villa with the keys. no one came. i called and called and still nothing. i had to go to the front desk at 5pm to get the keys myself and the guy was not understanding at all and very rude. all he could say is that we are busy sorry. this room change in which I PAID for caused me to be late to the wedding which is totally unacceptable. i didnt get they keys and into my villa until 5:15! There is no sense of urgency shown. also during the entire stay in both the villas the house keeping was very poor. each day i had to call for house keeping because by the time i got back to my room around 4pm it still had not been cleaned. i expected for a premium resort like this and will probably never stay here again because of the poor service.
---
We have visited this hotel before but never stayed here. My sister had her wedding here. It is a fantastic hotel - truly a great property. Junior suite had plenty of room for our family of 4. Pools are great. Food is terrific at both restaurants. My wife went to the spa and said that was great as well. Only two things that were less than perfect were the customer service - it's not that they didn't try very hard on this aspect, just that things weren't always spot on. And lastly, when booking, it is important to realize that the price listed doesn't include the "resort fee". So after booking you discover that the cost is more expensive. I didn't like that because it seems to me to be a tactic to pretend like their price is lower than it actually is. Despite those two things I still give it 5 stars because it is a great hotel and a great location.
---
What a fabulous hotel! Room was impeccable. The entire property was extremely clean and has a great design. The team was very friendly. Anything I asked for, it was expedited immediately. My safe's battery died, 5 min later someone was knocking on my door. The pool area was fabulous. Plenty of beds & sitting by the pools & by the ocean. Javier's was also great. Great food, great view and great drinks. Pros: light up make up mirrors, coffee, USB ports
---
The staff is incredible, the response for every request is amazing, they really go out of their way to serve. The hotel is beautiful the pool at night is something out of this world. The rooms, the areas everything is superb.
---
For my birthday April 7, 2017, my boyfriend and I decided that we would travel to Mexico for a intimate celebration. After that visit I ask if we could come every year and we both agreed it would be a great idea. Fast forward, April 7, 2018 we were back and I can say that this place can only get better than the best that they are. This place is so amazing and intimate, that I would recommend them hands down. And then there is Jazmine, she was a part of the hospitality staff at Javier's , who bless her soul, was living a part from her son who is in Mexico City. She has the soul of an angel, she was so nice and welcoming, you constantly here of horror stories of tourist in Mexico, and it is very disappointing to hear. But if you decide to take the plunge and head done, I recommend Cabo San Jose, Baja California hidden treasure Cabo Azul Resort.
pcherry2018 - Palo Alto, California
---