Please select your dates to see prices:
---
Cabo Azul Resort in San Jose del Cabo, Mexico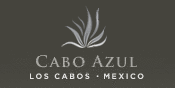 Situated on the stunning coastal region of Baja California Sur where silky white sand mixes with sapphire surf, Cabo Azul Resort reigns as the crown jewel on a strip of land known as the 'paraiso entre dos mares' (paradise between two seas). From the playful waterscapes to the dramatic fire sculptures dotting the property, the atmosphere created by Cabo Azul lends itself to harmony and elegance. With 143 spacious rooms, this all-villa resort complex will comfortably house you and yours, whether you come as a family of two or a family of six! Lavish amenities such as king-sized beds, a separate living area with sleeper sofa, in-room spa tub, and "his-and-hers" sinks bring resort living to new levels of comfort and style.
Planning a destination wedding? Look no further than this romantic retreat: tie the knot in El Corazon, the resort's resplendent open-air five-story wedding chapel. Complete with dramatic lighting effects and candlelit waterfalls, El Corazon is the ideal setting for your special day. Delight in every detail of Cabo Azul, from internationally-renowned eateries to the soothing spa treatments. In the mood for some sumptuous regional fare? Dine poolside in one of the most breathtakingly beautiful eateries in the Baja region. Flor de Noche boasts a delicious palapa-style space, including a thatched roof and remarkable nautical rope rooftop centerpiece, as well as a tantalizing menu. Or, indulge in the home-style menu of Javier's restaurant, with its regionally-inspired cuisine and gorgeous view overlooking the Sea of Cortez. "Me time" gets a glamorous new look at PAZ, the resort's full-service spa. With your choice of indoor or outdoor treatments, put your mind at ease and let the skillful hands of the spa staff help you rediscover your inner peace. Whether a wedding, honeymoon, or much-needed getaway brings you to Cabo Azul Resort, rest assured, you are exactly where you need to be.
Location of Cabo Azul Resort
Cabo Azul Resort
Paseo Malecon S/N Lote 11 Fonatur
CP 23400
San Jose del Cabo, Mexico
Nearest Airport: SJD
Amenities for Cabo Azul Resort
General Information
143 Villas
Dining
Private Dining
2 Restaurants
2 Bars
Private Chef
Swim-Up Bar
Cafe
Room Service
Coffee Shop
Deli
Pool Wait Service
On-Site Amenities
Beauty Salon
Concierge
Spa on Property
Laundry Service
Fitness Center
Currency Exchange Service
Live Entertainment
High-Speed Internet Access
Internet Cafe
Pool & Beach Cabanas
Multilingual Staff
Outdoor Pool
Beach Club
Car Rental
In-Room Spa Services
Chapel
Outdoor Spa Treatments
Infinity Pool
In-Room Amenities
Private Patios or Balconies
Air Conditioning
Bathrobes
Ceiling Fans
Direct Dial Telephones
DVD Players
Hair Dryers
In-Room Safes
Flat-Screen Televisions
Whirlpool Bathtubs
Luxury Linens
Coffee & Tea Facilities
Fully-Equipped Kitchens
Activities
Deep Sea Fishing
Excursions
Pilates
Snorkeling
Yoga
Jet Skiing
Business
Meeting Rooms
Business Services
Nearby
Historic Sites
Shopping
Restaurants
Golf
Nightlife
Interests
Beach
Cool Pools
Family
Reviews for Cabo Azul Resort
---
After many trips to Cabo San Lucas decided to give San Jose Del Cabo a try and glad we did! Hotel was amazing, excellent food at all the restaurants, gorgeous pools and very nice beach with super comfy chairs and great food/drink service. Can't say enough good things about this property!
Nicolle J - San Francisco, California
---
We just returned from a 7 night stay at Cabo Azul. The property is absolutely beautiful. I have never stayed at a resort so beautifully decorated inside and out. It's clean and the workers take a lot of pride in their work and it shows. The customer service was top notch! We had a junior suite which only had a mini fridge. We asked for a microwave and it was delivered right away. Food at Javier's was excellent, especially the breakfast buffet. It's close to other restaurants if you don't want to dine at the resort. It's a bus or cab ride to Cabo or downtown San Jose. It was nice and quiet so the spring breakers were most likely in Cabo. I wasn't even bothered by the timeshare presentation. They offered good incentives for your time and in the end weren't pushy at all. I would go back in a heartbeat!
---
I stayed there in Nov.16 and visited to look at the place Nov. 17. I enjoyed the stay if it were not for the time share vultures. After having been coerced for 9 hours and lied to for the same amount of time until I gave up and made the mistake and signed the darn papers. Having been sold very expensive points which I did not want, I did not need or have use for and as Senior on a fixed income cannot afford. They charged my credit card and created a huge loan in a big RUSH and did not point out the cancellation period. They have ruined my credit and after much hassle they dropped the loan once they realized that thousands of people read the time share hell review, that TV stations are getting involved and much more. However, they are how pretending that I was given something and reported it to the IRS. The people working at this company have no scruples. Be aware!
Ilona F - Redwood City, California
---
The facility is beautiful with 5 swimming pools and 2 hot tubs--all outdoors. There is also plenty of beach but there is no swimming because of rocks, waves, and a rip tide. The staff is truly accommodating. The concierge we much when we checked in continued to greet us by name whenever she saw us. Repeatedly I saw staff members stop what they were doing to assist a guest with directions (even walking with the guest to get them going in the correct direction), to adjust a sun shade, or simply to saw "good morning."
CTtraveler31 - Simsbury, Connecticut
---
I was extremely put off by the forced hand off from the front desk check in upon arrival to the concierge, my husband and i had never been to Mexico, ever. The 40 minute pitch of hoping to get us to sit in on a timeshare pitch to get all the free things was annoying. I understand your team is incentivized, but we had been traveling all day, were extremely tired, your concierge Jonathan could not catch a hint that we just wanted to get to our room already, change, shower etc. see the resort! And it caused us to miss the sunset that night. We were only there for 3 nights. we hadn't even experienced Mexico yet and he was already pitching us on timeshares, let us EXPERIENCE IT FIRST before pitching us. I liked your hotel, but it made me not want to talk to another to another employee of yours the whole duration of our stay. We said no politely many times the first 20 minutes then felt we had to beg for our bags and be led to our rooms by the end of his 45 min pitch. If I were to recommend your resort, I will warn them of the intense sales pitch upon arrival I'm assuming all your guests have to experience. We tried to ask him about other restaurants or getting around to other beaches in the area, and it all came back to, "I'll give this or that for free...if you come to this meeting..." it was so transparent and off putting. I couldn't have a conversation with him without it all coming back to a timeshare meeting. Would've appreciated them doing their job, answering our questions, and a subtle invite to a timeshare meeting, I get. But that's all we heard the 40 min we stood there. I even called earlier that week before our stay to get a shuttle and the girl on the phone was so intense about getting us to a timeshare meeting as well, all I wanted was a shuttle! It's unerving enough going to another country, your team needs to take it down a notch when they come in contact with your guests. Everything else about your resort was lovely, but that's my hesitation now staying with you guys in the future.
tifbaker - Salt Lake City, Utah
---