Please select your dates to see prices:
---
Cabo Azul Resort in San Jose del Cabo, Mexico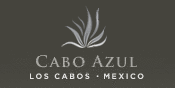 Situated on the stunning coastal region of Baja California Sur where silky white sand mixes with sapphire surf, Cabo Azul Resort reigns as the crown jewel on a strip of land known as the 'paraiso entre dos mares' (paradise between two seas). From the playful waterscapes to the dramatic fire sculptures dotting the property, the atmosphere created by Cabo Azul lends itself to harmony and elegance. With 143 spacious rooms, this all-villa resort complex will comfortably house you and yours, whether you come as a family of two or a family of six! Lavish amenities such as king-sized beds, a separate living area with sleeper sofa, in-room spa tub, and "his-and-hers" sinks bring resort living to new levels of comfort and style.
Planning a destination wedding? Look no further than this romantic retreat: tie the knot in El Corazon, the resort's resplendent open-air five-story wedding chapel. Complete with dramatic lighting effects and candlelit waterfalls, El Corazon is the ideal setting for your special day. Delight in every detail of Cabo Azul, from internationally-renowned eateries to the soothing spa treatments. In the mood for some sumptuous regional fare? Dine poolside in one of the most breathtakingly beautiful eateries in the Baja region. Flor de Noche boasts a delicious palapa-style space, including a thatched roof and remarkable nautical rope rooftop centerpiece, as well as a tantalizing menu. Or, indulge in the home-style menu of Javier's restaurant, with its regionally-inspired cuisine and gorgeous view overlooking the Sea of Cortez. "Me time" gets a glamorous new look at PAZ, the resort's full-service spa. With your choice of indoor or outdoor treatments, put your mind at ease and let the skillful hands of the spa staff help you rediscover your inner peace. Whether a wedding, honeymoon, or much-needed getaway brings you to Cabo Azul Resort, rest assured, you are exactly where you need to be.
Location of Cabo Azul Resort
Cabo Azul Resort
Paseo Malecon S/N Lote 11 Fonatur
CP 23400
San Jose del Cabo, Mexico
Nearest Airport: SJD
Amenities for Cabo Azul Resort
General Information
143 Villas
Dining
Private Dining
2 Restaurants
2 Bars
Private Chef
Swim-Up Bar
Cafe
Room Service
Coffee Shop
Deli
Pool Wait Service
On-Site Amenities
Beauty Salon
Concierge
Spa on Property
Laundry Service
Fitness Center
Currency Exchange Service
Live Entertainment
High-Speed Internet Access
Internet Cafe
Pool & Beach Cabanas
Multilingual Staff
Outdoor Pool
Beach Club
Car Rental
In-Room Spa Services
Chapel
Outdoor Spa Treatments
Infinity Pool
In-Room Amenities
Private Patios or Balconies
Air Conditioning
Bathrobes
Ceiling Fans
Direct Dial Telephones
DVD Players
Hair Dryers
In-Room Safes
Flat-Screen Televisions
Whirlpool Bathtubs
Luxury Linens
Coffee & Tea Facilities
Fully-Equipped Kitchens
Activities
Deep Sea Fishing
Excursions
Pilates
Snorkeling
Yoga
Jet Skiing
Business
Meeting Rooms
Business Services
Nearby
Historic Sites
Shopping
Restaurants
Golf
Nightlife
Interests
Beach
Cool Pools
Family
Reviews for Cabo Azul Resort
---
I was extremely put off by the forced hand off from the front desk check in upon arrival to the concierge, my husband and i had never been to Mexico, ever. The 40 minute pitch of hoping to get us to sit in on a timeshare pitch to get all the free things was annoying. I understand your team is incentivized, but we had been traveling all day, were extremely tired, your concierge Jonathan could not catch a hint that we just wanted to get to our room already, change, shower etc. see the resort! And it caused us to miss the sunset that night. We were only there for 3 nights. we hadn't even experienced Mexico yet and he was already pitching us on timeshares, let us EXPERIENCE IT FIRST before pitching us. I liked your hotel, but it made me not want to talk to another to another employee of yours the whole duration of our stay. We said no politely many times the first 20 minutes then felt we had to beg for our bags and be led to our rooms by the end of his 45 min pitch. If I were to recommend your resort, I will warn them of the intense sales pitch upon arrival I'm assuming all your guests have to experience. We tried to ask him about other restaurants or getting around to other beaches in the area, and it all came back to, "I'll give this or that for free...if you come to this meeting..." it was so transparent and off putting. I couldn't have a conversation with him without it all coming back to a timeshare meeting. Would've appreciated them doing their job, answering our questions, and a subtle invite to a timeshare meeting, I get. But that's all we heard the 40 min we stood there. I even called earlier that week before our stay to get a shuttle and the girl on the phone was so intense about getting us to a timeshare meeting as well, all I wanted was a shuttle! It's unerving enough going to another country, your team needs to take it down a notch when they come in contact with your guests. Everything else about your resort was lovely, but that's my hesitation now staying with you guys in the future.
tifbaker - Salt Lake City, Utah
---
Had a great stay at his beautiful resort. It is a huge property but the pool is also huge and right next to the beach. The rooms are nicely furnished with a good size refrigerator. The staff was friendly and tried to be helpful. The only negative experience was when I stopped by the front desk to get a bag for ice so I could stop at the ice machine on the way to the room. They front desk person said that she would have it delivered to my room. I assumed she meant the ice would be delivered to my room, but no she just had the bag for ice delivered.
camcvey - Kansas City, Missouri
---
First off, the rooms are really beautiful. The staff here is also great, and very helpful. The resort is close to shopping, restaurants, and right on the beach. Overall a great place to vacation in Cabo.
rlshire - Tijeras, New Mexico
---
We had a great vacation at Cabo Azul. The hotel staff were so friendly, helpful, and professional. The pool was beautiful and our kids (3, 5, and 7) loved the kids pool and slide--a hidden gem within the resort. The location was great and food was excellent. Most notable for me was the spa and for several reasons. It was beautifully appointed with several relaxation rooms and areas to spend time before and after services. It offered a vichy shower, which is such a great spa service. The nicest part was after my treatment though. Later that day I brought my two girls to get manicures (they were flowers girls at a wedding that day). My oldest had a huge knot in her hair, and three of the women there helped her witth her hair--adding a spa masque at no charge to make it nice for her. THANK YOU! Can't wait to go back to the spa there. Also breakfast at Javiers with ocean view was great! We also did take out one night and ate by fire pit which was really fun.
Chihulers - New York City, New York
---
We stayed at the Cabo Azul resort for 2 weeks for our honeymoon and could not complain at all. The resort itself is kept very clean and tidy, all members of staff were very helpful and would always do anything possible to improve your stay. The waiters around the pool are very attentive and the food was great. Couldn't have asked for anything more!
---