Please select your dates to see prices:
---
JW Marriott Los Cabos Beach Resort & Spa in San Jose del Cabo, Mexico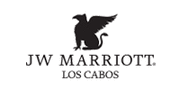 JW Marriott is within the exclusive residential master planned development called ¨Puerto Los Cabos¨. Travelers will have full-access to the one of the most sought after golf courses in the world today designed by Greg Norman and Jack Nicklaus in a joint effort. Lastly, our guests will absolutely enjoy one of the most impeccable marinas worldwide offering yachts, fishing, dolphin swimming and much more. Jim Olson, a world-renowed architect, designed the new JW Marriott Los Cabos with though provoking ambition in order to capture the rich colored blue found in the Sea of Cortez from every perspective. Located just 20 minutes from Los Cabos International Airport and only 15 minutes from the traditional downtown San Jose del Cabo.
Immerse yourself in a pre-Hispanic Mexican atmosphere inspired by healing herbs and organic ingredients, amid harmonious relaxation lounge. The Jasha Spa with 21,528 sq. ft. has indoor pools, saunas, jacuzzis, a beauty salon, double treatment suites and the ancient Temazcal ritual that connects you with your inner self.
Location of JW Marriott Los Cabos Beach Resort & Spa
JW Marriott Los Cabos Beach Resort & Spa
Fraccion Hotelera FH5-C1 Subdelegacion de la Playita, Puerto
23403
San Jose del Cabo, Mexico
Amenities for JW Marriott Los Cabos Beach Resort & Spa
Dining
24-Hour Room Service
Cafe
Bar
Coffee Shop
On-Site Amenities
Pool
Spa on Property
Fitness Center
WiFi
Infinity Pools
Saltwater Pool
In-Room Amenities
In-Room Safes
Flat-Screen Televisions
WiFi
Business
Meeting Rooms
Business Center
Interests
Active & Adventure
Golf
Reviews for JW Marriott Los Cabos Beach Resort & Spa
---
This is my very first hotel review ever. My friend and our daughters spent Easter weekend '18 at the JW Los Cabos. What an excellent choice!! First, the entire property was stunning. Gorgeous, modern architecture, views, unique public spaces and overall layout. Sophisticated - not all kitchy South-of-the-Border decor. Rooms were also lovely in the same style; large verandah, comfy beds, soaking tub, rain shower and top knotch ammenties. Me and my 2 adult daughters were perfectly comfortable even w/all our stuff!! Several great restaurants on property so lots of choices and no fighting for reservations! Brunch is incredible (and I'm not a buffet person)!! Multiple pools; adult-only, enfant, teen, swim up bar, ocean view... allowed everyone to find just the right space and without having to get up for that dreaded dawn-reserve-your-spot-dash at most resorts. Plenty of room for everyone. Health club was fantastic-took a wonderful yoga class. The spa was worldclass and I will be spending more time there on my next trip when I have more time. The staff was professional, personal and took such pride in the property. We got to know so many superb folks wish I could remember everyone's name! Everyone was so gracious and friendly in a most genuine way. I could have stayed on the property all weekend but they suggested an excursion to nearby Flora Farms. Great rec! Lovely afternoon, great food & shopping, easy to get to/from. Perfect weekend at a perfect property - I'll be back! (note: my daughter fell ill at 4 am on our last night. Not wanting to wait for the hotel doctor to arrive at 7 (btw they have their own on-site doctor!!), the front desk helped me call their covering med service who arrived at our room shortly after to diagnose her ear infection and even bring antibiotics to treat it!)
---
The 3 year old hotel is an excellent example of modern architectural design that maximizes a sense of place from every vantage point, in an area of just sand and sea. The view is framed at every spot on the property. It was so easy to relax and enjoy the comfort of this large hotel. So many infinity pools and right angles made you feel part of the landscape. The staff is excellent, the live music each night was lovely, and the rooms were elegant, modern and with every extravagance imaginable. The spa was great and the massage was one of the best ever, although pricey. The only miss was a good Mexican restaurant. We felt the pool menu was the best of the several restaurants on the property. It was a great stay.
bashakooler - Pleasant Hill, California
---
As a frequent visitor to Cabo San Lucas, we decided to mix-it-up and try San Jose Del Cabo, as Platinum Elite Marriott members the JW was our destination. We really loved how quiet the San Jose area is, the resort is peaceful and serene. If you have done your research you will know that you can not swim at the beach and the the hotel isn't close to much. We knew that going in so nothing negative to the resort about that. The service was above and beyond my expectations, at other JW's I have found the service level similar to a regular Marriott, not here, the staff in all areas of the resort were extremely attentive. All the meals and cocktails were excellent. The rooms were nice and quiet. Plenty of pools to choose from (most days we could find a pool to have to ourselves). The staff was able to get us the taxi to Flora Farms and arranged a driver to take us into Cabo San Lucas for a few hours. We even had the pool server change our dinner reservation for one evening, all the staff was very accommodating! My children (6 & 8) were begging to go to the kids club after touring it the first day, they had a great day doing crafts and using the facilities (they opted not to swim but that was an option). My husband and I had massages, spa facilities and staff there were great as well, excellent massage. I do not have a bad thing to say about the experience! We will definitely be back when we want to relax and not be in the chaos of San Lucas!
kimberlyeswanson - San Diego, California
---
We have never felt the need to write a review of a hotel and its services until now! We just returned from a week's vacation at your resort. From the moment we arrived and were greeted by the friendly valet staff, to the check-in staff who kindly offered a welcome drink, to our informative bellhop who showed us to our upgraded ocean view room, to the concierge who scheduled our adventures, the JW Marriott Los Cabos Beach Resort certainly made a fabulous first impression. This excellent service continued throughout our stay. We must mention the special efforts by ALL of your staff from the restaurants, bars, coffee shop, spa, pool, and housekeeping. Each and everyone made our stay wonderful. However, there were two of your associates from the pool bar and restaurant who stood out. Jesus and David went above and beyond to make sure our every need was met with a smile. We will we back. We have already started planning our next visit. Thank you a wonderful experience.
---
First, I only write review if a hotel is horrible or exceptional. The JW Marriott Los Cabos is one of the finest hotels that my family and I have enjoyed during our travels. The common areas, the pools, and the rooms are outstanding, but it is the genuine sincerity and friendliness of the staff that make this place special. From the moment we were greeted by Julio upon check-in, we knew that we would be coming back to this hotel. The concierge Stephanie helped me organize a surprise vow renewal by helping to find a photographer and even going to pick up the flowers. Even the valet, Jose Jose, made us at home laughing and joking with me and my daughters. The Easter Brunch ($50 all you can eat/drink with kids free) was good deal and the food was very good. The pools are small but this allowed for a more relaxed, not-crowded atmosphere. The kids club was highlight for my older daughter - she made friends and spent two days playing, swimming, and doing art. My wife, my daughters (ages 5 and 9), and I were truly sad when it was time to say 'hasta luego." We promised that we would return within two years.
---