Please select your dates to see prices:
---
Pelican Eyes Resort & Spa in San Juan del Sur, Nicaragua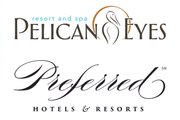 In one of the most underestimated and yet-to-be-discovered beach vacation destinations, Pelican Eyes Resort & Spa – a Preferred Boutique property, part of the Preferred Hotel Group – exhibits everything that makes coastal Nicaragua so special. Overlooking a spectacular crescent-shaped bay in San Juan del Sur, this highly awarded Central America resort showcases gracious hospitality, luxurious accommodations, flavorful cuisines, and world-class amenities. A wide range of room options includes studios, suites, townhouses, and full homes, all of which feature air conditioning, satellite televisions, purified water systems, private terraces, and either kitchenettes or full gourmet kitchens. Soaring cane ceilings, elegant arched windows and doorways, exposed natural woods, and handcrafted furniture make every guest space bright and inviting in atmosphere, welcoming you to relax and unwind, letting your every worry melt away. Casa Tranquila Spa offers a full range of blissful massage and wellness treatments, and you can also take advantage of on- site vinyasa yoga, featuring sessions on the resort's scenic wooden deck overlooking the ocean.
The resort and surrounding area are brimming with options for adventure and exploration, and the concierge can assist in arranging a day full of your favorite activities. On the ocean, sailing and surfing are two of the most popular sports, due much in part to the region's excellent surf breaks, un-crowded beaches, and opportunities for enthusiasts of all skill and experience levels. Sailing becomes extra special as you navigate through secluded bays, watching the local sea life and enjoying views of the horizon and shore. The resort is home to two distinctive restaurants offering options for dining day and night. The open-air La Cascada Bar & Restaurant allows you to enjoy a meal al fresco or by candlelight, both of which afford ocean views, with a menu featuring local ingredients and signature Nicaraguan dishes. Bistro La Canoa is surrounded by winding brick walkways and lagoons of lush bougainvillea, offering a relaxing breakfast or lunch, in additional to poolside beverages throughout the day. Find your very own place of peace and relaxation, at Pelican Eyes Resort & Spa.
Location of Pelican Eyes Resort & Spa
Pelican Eyes Resort & Spa
De la Parroquia 1 1/2 cuadras al este
San Juan del Sur, Nicaragua
Nearest Airport: MGA
Amenities for Pelican Eyes Resort & Spa
General Information
Connecting/Adjoining Rooms
Dining
Poolside Dining
Outdoor Dining
2 Restaurants
Pool Bar
Bar
On-Site Amenities
Concierge
Shuttle Service
Spa on Property
Gift Shop
Car Rental
3 Outdoor Pools
In-Room Amenities
Private Patios or Balconies
Air Conditioning
Ceiling Fans
DVD Players
Satellite Television
Coffee & Tea Facilities
Kitchenettes
Activities
Cultural Classes
Hiking
Sailing
Yoga
Surfing
Nearby
Historic Sites
Market
Interests
Active & Adventure
Beach
Pack For A Purpose
Reviews for Pelican Eyes Resort & Spa
---
The pool area, food and service were excellent! Very friendly and nice staff! My complain is really with the room. Regular price was $245 + tax but they were nice enough to give us a discount down to $175 a night for a 2 bed suite as SJDS is empty due to the political tension in happening in Nicaragua at the moment. Even at this discounted this was the most expensive hotel right in the town. The A/C is old, loud, and it doesn't cool well enough. Wen I called from desk they sent a guy and he said "these are old AC units." They never offered to change us to another room. I could see the dust in the wooden beams that ran across the room. In the bathroom there were a few roaches, and the garbage bin lid was pretty dirty with stains from previous guests throwing used toilet paper in. In the shower a ball of hair got stuck in my toes.
---
Considering the $220/night price tag, this hotel could use some updates. The rooms are spacious and clean, with good A/C units, but the bathrooms are sadly outdated (toilet seat stuck, garbage bin ancient). You also need to climb hundreds of steps every day, because the property is on a steep hill, so it's not for the elderly or handicapped. The plus is that the views are unparalleled, especially sunset from the upper pools. The infinity pools are wonderful, but could be cleaned more frequently of leaves, flowers and bugs. And yes, cats often bother you at dinner. Food is okay, neither bad nor excellent. Just average. Plus: you can walk everywhere. Downside: City noises abound, even at 6 am.
Ingelisse - Golden, Colorado
---
wonderful view, not so happy with cats abundant (1 of 2 of us were). Great gem of a property but needs some work to make it a great stay. Disappointed with no bar service at pool - check in service told us bar service would be available and then it wasnt. stairs were abundant and not such in great condition - good to know ahead of time. issues with language barrier for breakfast - really heard with being vegan - had contacted via email prior but with no response.
GlamGram9989 - Philadelphia, Pennsylvania
---
We stayed 3 nights at the Pelican Eyes Resort with our two kids ages 6 and 7. A 5 star hotel ... not so sure of that. Unfortunately, our experience has not lived up to our expectations. First of all, we did not receive any information when we arrived regarding the activities offered by the hotel, nor information about the wifi or the hours of opening / closing of the pools. Also, fumigation campaigns do not serve much purpose. At the price we paid, we did not think we needed to use mosquito nets to sleep. None were provided in the room and no installation allowed us to install ours. We then thought we could lower our guard and sleep peacefully. Unfortunately, in the morning, my spouse walked on a scorpion on the floor of the room. He was extremely lucky and did not got stung. There were two scorpions in the room. We had the jitters since one of our girls could have been the one to step on the scorpion. In addition, there were spiders and an ant nest near the bathroom. We had one night left to do. We notified reception and the staff was not happy to see our photos. We asked for a discount for the last night, but they did not want to give us a credit. They offered us a massage instead ... or to change rooms. We did not want to have to redo and unpack our luggage for the remaining night and there coild be scorpions in the other room as well... Nothing else was offered to us, apart from a can of insecticide type Raid. In addition, we were offered free travel to Granada. We even asked twice that this transport was free. When they told us that no compensation would be offered for our stay, they mentioned at the same time that the shuttle is not offered for free and we should pay $ 80. Yet in town this same service is offered at $ 50 !!! Finally, the cleanliness of the room leaves something to be desired. We expect a lot more from such an expensive place. There was a pair of dirty socks from a previous guest in the room upon arrival and the balcony was not clean. The prices for the various services offered are inflated by two and sometimes even three compared to the city. We recommend avoiding this hotel at all costs.
bouffardmc - Montreal, Canada
---
My only complaint about Pelican Eyes is that there aren't enough lounge chairs by the pool (s). Especially on Sundays when they allow non-guests to pay to use the facilities, only having 3 lounge chairs is ridiculous.
Es_bo123 - West Bloomfield, Michigan
---