Please select your dates to see prices:
---
Condado Vanderbilt Hotel in San Juan, Puerto Rico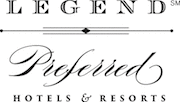 When railroad tycoon Frederick William Vanderbilt built the Condado Vanderbilt Hotel, part of the Legend collection of Preferred Hotels & Resorts in 1919, it was Puerto Rico's only luxury hotel – President and Eleanor Roosevelt stayed here, part of a long list of notable guests. If the architecture looks familiar, it might be because the design firm also drew up the plans for New York's Grand Central Terminal. Graceful archways and sweeping staircases remain intact in this fully restored landmark, which presides over the Atlantic Ocean with two guestroom towers that are sumptuously modern.
Liven up the senses with a morning walk on the beach. Take a taxi to Old San Juan, a 400-year-old enclave still buzzing with life. Explore the old forts of the northern "walled city" and duck into boutiques all the way to the piers. Savor a four-course prix fixe meal of local, organic cuisine at 1919, pairing an Oregon pinot gris and wild salmon confit with spring vegetable pistou.
Location of Condado Vanderbilt Hotel
Condado Vanderbilt Hotel
1055 Ashford Avenue
00907
San Juan, Puerto Rico
Nearest Airport: SJU
Amenities for Condado Vanderbilt Hotel
General Information
632 Rooms and Suites
Non-Smoking Property
Pet Friendly
Dining
Poolside Dining
Bar
Bar & Lounge
Lounge
Oceanfront Dining
Restaurants
On-Site Amenities
Beauty Salon
Concierge
Spa on Property
Beach Butler
Walking Trails
Boutiques
Hamam
Pool Butler
Beach Beds
Beach Access
Beach Amenities
Sun Deck
Steam Room
Beach Cabanas
24-Hour Fitness Center
Infinity Pools
In-Room Amenities
Turndown Service
Hair Dryers
In-Room Safes
Flat-Screen Televisions
Luxury Linens
Luxury Bath Amenities
Bottled Water
Complimentary WiFi
Nearby
Historic Sites
Shopping
Museums
Restaurants
Casinos
Interests
Beach
Food & Wine
Hotels
Reviews for Condado Vanderbilt Hotel
---
The property itself is attractive and well maintained. Breakfast was average cost for this level of property but the service was amazingly slow. The room was nice but not what I was expecting from The Vanderbilt. Biggest fail was that the sheets were actually stained and the marks looked fresh, not like a stain that has been washed and won't come out. So far this stay has not been consistent with what we were expecting.
opsboss2017 - San Juan, Puerto Rico
---
I get the sense that this hotel doesn't really know who it or it's brand really is. We checked in for a weekend only to find all of the public rooms overrun with folks attending a Blockchain meeting. As we needed to wait nearly two hours for our room, there was no place to sit, it was loud and generally a really unpleasant experience. When our room was finally ready, it was a further wait as the check in staff ( there were only two ) spent more than 10minutes checking in the single customer that was ahead of me. The one redeeming point was a really lovely lunch in their restaurant 1919. The staff were wonderful, the food superb, and the views breath taking. If the professionalism of the restaurant staff could be matched by the front desk staff, things would be nearly worthwhile (even with hundreds of block chain groupies pounding away on their PC's).
---
We were in Puerto Rico for a family wedding taking place in Old San Juan. Rather than stay at the El Convento, the reception location, we opted to stay all four nights at the Condado Vanderbilt, and we were very pleased with our choice. The hotel was luxurious and the staff was warm and gracious. In part because we could use the Winter White Sand package (20% off accommodations), we reserved a Commodore Oceanfront One Bedroom Suite. We checked in around 4:00 pm, with no wait, and were greeted with a glass of sparkling wine. Located in the East Tower, our room was one of the best laid out, functional, and comfortable one-bedroom suites we have stayed in. The photographs on the Vanderbilt's website are very representative of the suite itself. One item not mentioned on the website is that the sofa in the living room is a queen sleeper sofa. The room had two balconies, one directly facing the ocean and the second with a view of the ocean, the sweeping beach, and a lovely little park, La Ventana al Mar. The room was very quiet; we never heard any other guests, but we could enjoy the muffled sound of the waves on the rocks below the hotel. The bed, linens, and pillows were all extremely comfortable. Loved the room. The exterior around the East Tower houses the hotel's adult-only small pool and large hot tub. It also has several lounge chairs and is near the path to hotel's small beach area. This part of the hotel has a quieter vibe than the main pool and the sun decks near the West Tower. On our first night at the Vanderbilt, we dined at its fabulous 1919 Restaurant and enjoyed an exquisite three-course wine tasting dinner. We enjoyed two lunches at the hotel's Taco & Tequila restaurant. The grilled shrimp tacos were particularly good. We were far less impressed with our breakfasts at Ola Oceanfront. The service (kitchen, I think, not wait staff) was painfully slow and the food, just wasn't worth its price. There are, however, many other meal options in the hotel's immediate neighborhood. In all, the Condado Vanderbilt is fabulous.
---
Talk about a luxurious experience!! You feel special as soon as you arrive, welcome drink included! Staff is polite, professional, and caring! Everyone at this hotel is willing to go out of their way to make your vacation special! Hotel grounds were immaculate!! The hotel is situated on the water, beach is small, however perfect!!! Views were absolutely stunning!!Our room was impeccable as well! House keeping was perfect and on point! Turn down service was also wonderful. Food was excellent. No complaints from this girl, not even the slightest. With 13 different states/countries traveled in 4 years this was my absolute favorite place I've stayed!! Condado Vanderbilt keep up whatever it is you're doing because it is perfection!!! Thank you for making our stay in Puerto Rico nothing short of phenomenal!!
---
We've been to Puerto Rico many times - even lived there for a year in the early '70s - but we had never stayed on the Condado strip before. Well, when we did, we did it right! Our week at the Condado Vanderbilt was everything we'd hoped it would be. It is expensive (but there are deals to be had), for sure, but we felt our money was well spent. We had a Commodore Suite, with views of the ocean and the city. The restaurants were pricey but the food was very good. The service everywhere was just short of too attentive, but it wasn't too attentive. It was just right. We'll be back.
wcorkern - Lusby, Maryland
---