Tell us how much you want to pay per night for your stay at this hotel. Only you will see your offer and you'll find out instantly if it is accepted.
Number of nights left at auction prices:

27

Room: Heritage Queen
Included: 9% Government Tax and Complimetary Wi-Fi.
Not Included: Any additional applicable taxes, surcharges and fees are payable to the hotel directly.
How it works
You can make up to three offers for your stay date_in to date_out.
Valid Travel Dates: Apr 12, 2018 - Dec 29, 2018. Travel must be completed by

Dec 29, 2018

or will be forfeited. No extensions will be offered.
Minimum of 2 consecutive nights
Hotel stay is for single/double occupancy, subject to specific inventory availability for stated room category and valid for room-only accommodations (unless otherwise noted).
Reservations must be made through Preferred Hotels & Resorts Redemption Desk only. Please do not contact the hotel directly.
Reservations are not confirmed until a confirmation number has been issued by Preferred Hotels & Resorts.
Auction hotel stay is non-refundable and cannot be combined with any other offers.
Your offer was low but close!
Would you be willing to pay $ per night?
You already made an offer on this hotel which was accepted. If you want to make another offer for this hotel, you may do so after 48 hours. If you have questions, please visit our support area here.
Or book now on one of these sites:
Please select your dates to see prices:
---
Condado Vanderbilt Hotel in San Juan, Puerto Rico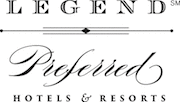 When railroad tycoon Frederick William Vanderbilt built the Condado Vanderbilt Hotel, part of the Legend collection of Preferred Hotels & Resorts in 1919, it was Puerto Rico's only luxury hotel – President and Eleanor Roosevelt stayed here, part of a long list of notable guests. If the architecture looks familiar, it might be because the design firm also drew up the plans for New York's Grand Central Terminal. Graceful archways and sweeping staircases remain intact in this fully restored landmark, which presides over the Atlantic Ocean with two guestroom towers that are sumptuously modern.
Liven up the senses with a morning walk on the beach. Take a taxi to Old San Juan, a 400-year-old enclave still buzzing with life. Explore the old forts of the northern "walled city" and duck into boutiques all the way to the piers. Savor a four-course prix fixe meal of local, organic cuisine at 1919, pairing an Oregon pinot gris and wild salmon confit with spring vegetable pistou.
Location of Condado Vanderbilt Hotel
Condado Vanderbilt Hotel
1055 Ashford Avenue
00907
San Juan, Puerto Rico
Nearest Airport: SJU
Amenities for Condado Vanderbilt Hotel
General Information
632 Rooms and Suites
Non-Smoking Property
Pet Friendly
Dining
Poolside Dining
Bar
Bar & Lounge
Lounge
Oceanfront Dining
Restaurants
On-Site Amenities
Beauty Salon
Concierge
Spa on Property
Beach Butler
Walking Trails
Boutiques
Hamam
Pool Butler
Beach Beds
Beach Access
Beach Amenities
Sun Deck
Steam Room
Beach Cabanas
24-Hour Fitness Center
Infinity Pools
In-Room Amenities
Turndown Service
Hair Dryers
In-Room Safes
Flat-Screen Televisions
Luxury Linens
Luxury Bath Amenities
Bottled Water
Complimentary WiFi
Nearby
Historic Sites
Shopping
Museums
Restaurants
Casinos
Interests
Beach
Food & Wine
Hotels
Reviews for Condado Vanderbilt Hotel
---
We came to the Condado Vanderbilt a few months after our original trip to Puerto Rico had to be rescheduled due to the hurricane and the aftermath. Every year I take my Mom on a trip, and last year we choose PR - we settled on the Ritz at Dorado, but unfortunately we were not able to complete that trip as that hotel is currently still undergoing restoration. We decided on the Condado Vanderbilt as from what I could tell, this was the best hotel on the island that is currently open and operating. I will summarize my review below: this is a good hotel, overall the staff are friendly and attentive, however the overall hotel and rooms are not true five star hotel quality. We arrived after an uneventful flight, there is no Uber pickup at the airport, but the taxi to the hotel was a very reasonable $20. We were helped with our luggage briefly, as in the bellhop removed our luggage from the car and then handed it back to us - not the usual at a five star hotel but nonetheless, this was not an issue. Upon entering the hotel, I waited about 15 minutes to check in - we were offered a variety of drinks, but declined to indulge. The time we had to wait in the grand scheme of things is not a long time, but I have never waited this long while standing in line to check into a five star hotel. Here is what usually happens at true five star hotels: you arrive, someone informs you there is a short wait to check in, and then you are offered a seat in the waiting area and a beverage. There were about 5-8 bell hops working, 2 individuals at the concierge desk, and 3 individuals checking people in. I am not sure why a new check in procedure has not yet been implemented. There is also a beautiful grand lobby, which would be ideal to ask guests to sit and wait, then someone could come get us when it's time to check in. We received our room, went upstairs and found there to be a terribly musty/mildew smell in the room. We turned around, went back downstairs and asked for another room. We were given a new room, but the smell was also present in this room. We decided to deal with it, as if this is present in two rooms on opposite sides of the floor on two different floors, we imagine it is ubiquitous to most of the rooms in the hotel. It was unpleasant upon entering the room, but our noses adjusted after a while. There are two towers to the hotel, one tower has two pools at its base, a large family pool and an infinity pool, and the other tower has an adult only pool and a hot tub. We spent most of our time in the adults only pool, because it was not very crowded during our stay. The pool attendant was lovely, and we had the same attendant each day of our stay. The staff at the restaurant Tacos & Tequila who service the pool were also fantastic, very attentive and kind and provided great service. The hotel has a large park on its side, and all the hotels in the area have devices that play a loud targeted beep - I am not sure their purpose, but I think the beep is played throughout the evening in an effort to keep homeless persons and drug users from spending the night in the vicinity of the hotel. I understand why the beeping is needed, and must admit it is an effective tool - but the beeping can be heard in the rooms, so maybe the beep is also used to keep guests at their wits end? Above that, they advertise their pools as being 24 hours - but why would anyone sit in the pool or hot tub when the beeping starts around 8pm? It would be nearly impossible without losing your mind. The servicing of the rooms was great - except the timing. They serviced my room around 4pm each day, and then came back for turndown service around 6pm. What is the point? Just do turndown service at 4pm then. Again, most true five star hotels service your room while you are at breakfast, or at the very least before noon so you actually get to enjoy a clean well made up room. Breakfast at the hotel was wonderful, as were the staff the restaurant which served it. There were plenty of options, everything was fresh and delicious, and I highly recommend enjoying your breakfast at the hotel and looking out over the ocean - it is breathtaking. The day before our last, I went to ask for a late checkout - and was informed by Hector (I could be remembering this incorrectly, but that is what I think was on the name tag, but again could be wrong on the individuals name) that the hotel is fully booked and I should try again tomorrow on the date of our departure. I had my doubts, and did not believe the hotel was fully booked. Lo and behold, I went online and was able to book the exact same room type that I was in for the day of our checkout for one night, which means that there were rooms available and this employee blatantly lied to me face. The issue here is not that the late checkout request was not accommodated, the issue is the lying. He should have said, we may have something but please check back tomorrow and I would have been on my way - but to say that the hotel is fully booked and as such as I should call and ask tomorrow was a lie. The gym is fantastic, I used it each day of our stay and there was never anyone else in there except me. There was even a small spin room, and you overlook the ocean from the treadmills it is a great place to spend a morning. Overall, it is a nice hotel - but in reality it is a four star hotel that needs some work in a few areas.
Oliver K - Bethesda, Maryland
---
The service is amazing, that's for sure. Nilda the bartender was our favorite. Everyone was veeerrrry courteous. The patios and outdoor areas are great. The pool is rather small though. The adult-area pool is also very small. Our room was pretty small but that's probably bc we picked one of the less expensive rooms. The food in the main restaurant was just okay and a bit overpriced, but their side restaurant Tacos and Tequila was awesome.
Brian F - New York City, New York
---
I've been at the Condado Vanderbilt for 2 nights and have one night to go. The people are beyond description. Everyone is so eager to make you feel at home, comfortable and happy that you feel like coming back. The hotel is beautiful. The food is really good. But I can't stress that as much as I've travelled I can't think of a place where they genuinely want to make sure you're pleased with everything. No matter what. Spa. Food. Drinks. I couldn't decide what wine to have and they brought me three samples of 3 different wines I was considering until I found what I liked. If you think it's not worth traveling here, think again. And stay at this hotel. You'll question every 5 star experience you ever have going forward.
cristina p - Miami, Florida
---
I stayed here for almost 4 weeks. I am now so spoiled! The staff, especially housekeeping and the valet parking guys are outstanding! they will go out of their way to help you and are super friendly. The rooms are beautiful. I had a regular room for about a week, which had the most beautiful bathroom EVER. Then I was upgraded to a suite and that was even better! My son came for a few days over Spring Break and enjoyed the pools (there are 5) and walking around El Condado. Lots of restaurants and places to see!
nccondra - New Albany, Indiana
---
Had a wonderful stay at this San Juan grand hotel. The facilities and service were awesome, and had plenty of time to enjoy the extensive culinary offerings in San Juan. Powe/water/transportation we're back to normal, so no related issues during our stay.
---