Please select your dates to see prices:
---
Hacienda AltaGracia, Auberge Resorts Collection in San Miguel, Costa Rica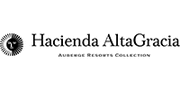 High in the mountains of Pérez Zeledón in the seldom explored southern region of Costa Rica, Alta Gracia is the country's only "Boutique Hacienda" – that means you'll get a warm welcome as soon as you land on the property's private runway. The family behind Alta Gracia has roots in the area dating more than two generations back, and the breathtaking natural surroundings are at the forefront of its design. One glimpse across The Hacienda as the morning fog turns the mountainside into a cloud forest and you'll understand what Costa Ricans mean by the phrase pura vida.
Inhale the aroma of your rich locally grown coffee as you watch the sun turn the rolling hills below into a blanket of lush green. Amble across trails beside the Calientillo River and arrive at the stable for a morning ride across the valley. Keep an eye out for the vibrant teal plumage of a Resplendent Quetzal in the trees overhead. Plunge into the natural spring water of one of the infinity pools and settle in for dinner made with fruits and vegetables grown in The Hacienda's own greenhouse.
Location of Hacienda AltaGracia, Auberge Resorts Collection
Hacienda AltaGracia, Auberge Resorts Collection
Costanera Road Pérez Zeledón
San Miguel, Costa Rica
Nearest Airport: SJO
Amenities for Hacienda AltaGracia, Auberge Resorts Collection
50 Estate-sized Casitas
Only 15+ Years Permitted
Non-smoking Property
Ecologically Sustainable Practices
Individually Designed Rooms
Fireplaces
Pillow Menu
Apple TV with Netflix
Wine Cellar
Indoor Pool
Movie Theater
Private Cooking Classes
Helicopter Service
Outdoor Spa Treatments
Mountain Biking
ATV Quad Adventures
Hiking Tours
Yoga
Equestrian Instructors
Ultra-light Flight Tours
Picnics
Bird Watching
Billiards
Whale Watching
Yachting
River Rafting
Cedral Coffee Tour
Canopy Tours
Complimentary WiFi
Reviews for Hacienda AltaGracia, Auberge Resorts Collection
---
Amazing Hotel. 5 star resort in my opinion. Possibly the best hotel I have ever stayed at. Thank you for the unforgettable experience for my family! This property has incredible valley views with limitless activities to enjoy for families including complimentary yoga, feeding the horses at the stables (great for the little ones!) and a nice 1 mile hiking trail within the property. JP and his whole staff were extremely nice and everyone spoke good english. The cart service was so convenient as the property is very large. Every room/casita overlooked the valley and provided spectacular sunset views. We will definitely recommend this place for anyone that is staying near the area as you will not be disappointed.
ocolladojr - Long Beach, California
---
My husband and I just came back from AltaGracia where we spent a glorious week. Words cannot do justice to our experiences there so I will do my best to give a taste. First, the location is breathtaking. The design of the Casitas that overlook rolling hills and mountains no matter which direction you face is genius. Waking up every morning to the beauty of the area inspired us to put our sneakers on and go on long walks. We spent several hours every day taking in the beauty of the gardens and the fauna, which is unlike anything I have ever seen before. If you enjoy birds, you heart will delight with some of the most beautiful birds in the region. The food was exquisite. The portions were huge, so we often shared dishes. The spa is the best spa I have ever been to, and I have travelled around the world. The huge indoor pool overlooking the rolling hills is gorgeous. The place is squeaky clean and the staff is superior. Most importantly, the whole time we were there we felt like we are part of a family. In spite of the large and sprawling space and the many casitas dotting it, we always felt like we are in our private place surrounded by loving people whose number one concern is to enrich our experience. Every staff person we encountered was kind, helpful and engaging. They truly cared about us and we cared about them. A special shout goes to Karla, Greivin and Melvin. Your hearts are still with us. In conclusion, If you want to have an experience of a lifetime, AltaGracia goes beyond your wildest dreams! Can't wait to come back.
647ronit - New York City, New York
---
This place is the most best designed holiday destination I have been to. No expense has been spared with the furnishings, artwork and ambience of this Hotel. Whoever hires and trains the staff deserves a medal. They check you in seamlessly, and then the whole of the rest fo the stay make you feel like a treasured family member. We could not possibly try everything in the short time we were there, but would have no qualms about returning or recommending this to anyone.
Dryrun3205 - Cincinnati, Ohio
---
The hotel is beautiful, but I would have expected more for the price. Specifically, the interior design is out of date. It's not that it's worn - everything is brand new and about 10-15 years out of date. This was especially true in the bar where we were served a terrible gauro sour. The food was just ok and menus are very limited, especially given it is the only place to eat within miles. And since there are no other options, it is very expensive for what they give you, even by American standards. The landscaping is very beautiful and the spa is amazing, but my treatment at the spa was not good - my therapist did not speak English and I tried to communicate my preferred pressure levels, but she over-corrected each time. We did a tour to the waterfalls, which I highly recommend. This is a good place for retired couples and families that want to relax and not be too culturally adventurous, but it is not a great atmosphere for younger people. I would not go back.
---
We spent a week here with a group and had a wonderful stay! Our casita was close to the spa and we had fabulous views of both sunrise and sunset. The casita was quite roomy and had every amenity you could possibly want. It was a little challenging to get to but well worth the effort. The food and the service were what you would expect from a five star resort. We loved every bite. The staff was very friendly and efficient. If you go plan on staying a while, at least a week. I did the ultralight flight and thoroughly enjoyed it.
khanks70471 - Mandeville, Louisiana
---