Please select your dates to see prices:
---
Royal Hotel Sanremo in Sanremo, Italy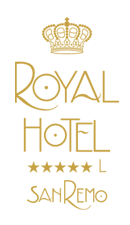 Vacation in ultimate style on the Mediterranean Riviera of Italy, at Royal Hotel Sanremo. True to its name, the facilities, service and experience at this spectacular hotel are worthy of a king. Starting with its premier location overlooking the sea, just steps from the excitement of casinos and luxury shopping, Royal Hotel Sanremo welcomes guests with a sophisticated blend of tradition and innovation, promising a refined yet opulent stay. Find harmony and elegance in the selection of exquisite guest rooms, each featuring masterfully decorated spaces and modern amenities such as wireless internet access and satellite television. Start your trip with a soothing swim in the hotel's aquamarine pool, or play a rousing game of tennis on-site. In summer moths, take advantage of the beach and sunbathing just opposite the hotel, while less than a mile and a half away you can visit a yacht club and two marinas for the best in water sports. From sailing year-round to walking along the shore to take in the classically European sights, your days are sure to be splendid.
When you are ready to unwind body and mind, Royal Wellness Spa is a haven of tranquility offering a deluxe menu of treatments and massage therapies. Those preferring to relax outdoors can take to the 18-hole Circolo Golf degli Ulivi golf club, just 3 miles away, or nearby horseback riding. Plan an excursion to the region's enchanting medieval villages, nearby Monte Carlo, or Côte D'Azur to further discover the area's legendary wonderment. Look no further than Royal Hotel Sanremo for gourmet dining and delightful culinary offerings, where a blend of local and international traditions are combined to bring you a fantastic meal. Fiori di Murano overlooks the sea and is furnished with fine Murano glass chandeliers for a truly scenic experience, and Corallina is a relaxed poolside venue for light snacks and mouth-watering cocktails. Make reservations for a private night affair in Gazebo dell'Amore, where you will delight in a romantic and intimate dinner in a lush park setting. With every detail attended to, from the moment you arrive, Royal Hotel Sanremo is a true taste of Italian luxury at its finest.
Location of Royal Hotel Sanremo
Royal Hotel Sanremo
Corso Imperatrice
801 - 18038
Sanremo, Italy
Nearest Airport: NCE
Amenities for Royal Hotel Sanremo
General Information
126 Guest Rooms and Suites
Dining
Poolside Dining
Pool Bar
24-Hour Room Service
Bar
4 Restaurants
Piano Bar
Spa Cuisine
Lounge
On-Site Amenities
Concierge
Pool
Shuttle Service
Spa Services
Laundry Service
Fitness Room
WiFi
Bicycle Rental
Live Entertainment
Garden
Wellness Center
Gazebo
Valet Parking
Hamam
Cigar Lounge
Beach Beds
Beach Access
Car Rental
Beach Amenities
Private Garage
Tennis Court
In-Room Amenities
Air Conditioning
Direct Dial Telephones
Hair Dryers
In-Room Safes
Mini Bar
Satellite Television
Televisions
Individually Designed Rooms
Bathrobes & Slippers
Activities
Excursions
Sailing
Tennis
Snorkeling
Surfing
Boating
Sightseeing
Business
Meeting Rooms
Conference Facilities
Family
Babysitting
Kids Club
Playground
Play Area
Nearby
Historic Sites
Shopping
Wineries
Art Galleries
Museums
Restaurants
Casinos
Golf
Antique Shopping
Parks
Marina
Market
Interests
Active & Adventure
Cool Pools
Golf
Spa & Wellness
Reviews for Royal Hotel Sanremo
---
I have stayed here several times in the last 4 months. The staff are wonderful and efficient. The rooms and beds are always comfortable and the food is superb. Bar staff are efficient and charming. It's a great place to stay in Sanremo because of the location being so near the centre. Parking is easy . All in all I highly recommend this hotel . It has great facilities
---
My husband and I stayed seven nights at this lovely hotel. We found the hotel staff to be incredibly attentive and polite. They were very helpful in recommending day trips and local restaurants. Our room was well appointed and exceptionally clean. We had a beautiful view of the Mediterranean. The food and service at the hotel was superb! We enjoyed Sanremo and would return to stay at this hotel in a heartbeat!
---
Stayed three night in June having driven from lake Garda on our seventeen night tour of France, Switzerland, and Italy. This is seriously grand hotel, the staff are superb, and food excellent. Everyone should visit or stop at this hotel at least once. Danced a waltz and rumba to the piano in the lounge, signature cocktails excellent. Balcony huge with loungers. Words fail me to adequately describe my stay. Hope to go back again.
Nigel W - Lichfield, United Kingdom
---
Located at the walkable distance from the station and a perfect place to stay. Thoroughly enjoyed my stay at Rome. Nice rooms with historic touch and decent amenities, however, couldn't avail as most of the time we were out exploring the city.
Basu K - Bengaluru, India
---
I stayed at this hotel for two nights only, arriving on a Friday afternoon and leaving on Sunday. It's not often I stay at 5* hotels, however I have done a few times in the past and I must admit I arrived with certain expectations as to what that means. So firstly, all the good stuff - the service was excellent and the staff really lovely and helpful, I also thought that the whole of the ground floor area (reception, lounge, bar and restaurant) was beautiful, as was the outside terrace with views over the sea and the pool area. It all had a luxurious look and feel to it. The hotel itself also looked beautiful from the outside, especially from the sea side. Now the not so good stuff: I must admit I was disappointed by my room. Yes, it was grand, and had fine views over the city, but it was incredibly outdated and tired looking. I felt I had stepped back in time to maybe the late 60s / early 70s. The decor was actually pretty naff with its fabric panelled wardrobe doors, old-fashioned stripey wallpaper, painted headboards and fabric framed mirror. While the bed was comfortable, the mechanism that allows the curtains to close wasn't working properly anymore leaving a gap in the middle. And as you get given a key to the room rather than a key card that activates the electricity supply (as is pretty standard these days), you need to go round switching on and off all the lights. The key with its room number keyring weighs a ton, so thank goodness this can be handed in at reception rather than having to carry it around with you. "My" room really desperately needs to be refurbished to be dragged into the 21st century. No idea whether they are already doing something like this on a rolling programme, but if not, I think they should consider it. Other good things: I did not try the Spa, but friends did and said it's great. We all really liked the breakfast buffet, which included several coffee choices alongside the typical pot of coffee with milk. The pool was a big hit too.
christine938 - London, United Kingdom
---