Please select your dates to see prices:
---
Loews Santa Monica Beach Hotel in Santa Monica, California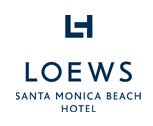 Loews Santa Monica Beach Hotel is a beachfront hideaway with dramatic views of Santa Monica Beach and the Pacific Ocean. Moments from Malibu and Venice, our exquisite accommodations on California's most celebrated beach bring an authentic local style and exceptionally personal service to this vibrant seaside setting. With a fabulous array of amenities, every guest at Loews Santa Monica Beach Hotel can expect an exceptionally authentic southern California experience as they delight in the relaxed ambiance and warm, personal service we have to offer.
This freshly redesigned luxury hotel showcases a modern residential new feel featuring the chic Ocean Spa & Fitness, alluring ocean view dining, and an expansive oceanfront pool and lounge area. In addition to sophisticated new accommodations and a coveted location, the breezy design of our beachfront hotel features a number of upscale facilities and services. Enjoy the oceanfront amusement park rides at the historic Santa Monica Pier. Bike, blade or jog along Muscle Beach's 26-mile paved strand, where surfers, performers and vendors line the path and the Pacific beckons from steps away. Let Loews Santa Monica be your whirlwind gateway to a wide range of LA area activities. World-class shopping and dining await you right outside our hotel at the Third Street Promenade and vibrant new Santa Monica Place open-air luxury shopping district. Or discover the tourist attractions of Santa Monica and Venice Beach on a Segway Guided Tour. Discover all of the exciting things to do in and around Loews Santa Monica.
Location of Loews Santa Monica Beach Hotel
Loews Santa Monica Beach Hotel
1700 Ocean Avenue
90401
Santa Monica, California
Nearest Airport: LAX
Amenities for Loews Santa Monica Beach Hotel
On-Site Amenities
Pool
Spa Services
Fitness Center
Beach Access
Interests
Beach
City
Hotels
Reviews for Loews Santa Monica Beach Hotel
---
Excellent and beautiful hotel, with great location on the beach. Great Service, very friendly and accommodating staff. Particularly excellent group at the concierge desk. They missed turn down service one night, and gave us a free bottle of wine as compensation. Class act all around.
---
From the moment we got to this hotel (and they handed us champagne) until we checked out with luggage help, we were pampered. One unusual thing that happened, was my husband and I took the glass of welcome champagne and headed to our room, then we finally took a sip, it was delicious (usually not the case with the free stuff) and we love bubbly, so we decided to head back up to the front desk and ask what brand it was. The clerk brought out the bottle for us to see the label and then handed it to us and told us to "enjoy!" Talk about empowering employees to deliver more than expected. Well, on our way back to our room (first floor, fire pit suite) we headed toward the elevators and the Maitre D at the restaurant saw us with the bottle and immediately ran and got us two champagne flute glasses. I mean, have you ever had people take care of needs even before you knew you had them????? Our whole stay was wonderful, from dining at the hotel, to drinking at the lobby bar. I would DEFINITELY stay here again. One night it was a bit windy and we were headed out to dinner and the gentlemen at the bell desk stopped us and got us the free shuttle immediately to take us to dinner. The hotel was beautiful and clean, I loved the fire pit suite, sitting out each night was relaxing, and the location cannot be beat for walking the beach (which I did several miles by myself each morning and felt totally safe!) or walking to restaurants. Loved it!
---
Overall the hotel was great we had no complaints. At check the lady was lovely we were offered Champagne complementary. The rooms were bright and airy the bathroom was of a good size with double sinks and a large shower. We had breakfast in the restaurant one morning the choices were good and reasonable priced. Pool was heated we enjoyed a swim at 7am !! during the day there was ample places to sit by the pool. The location was fantastic we could walk to the mall and restaurants, the pier was a few minutes away. Overall, we were very happy with the hotel and would 100% stay again. Staff were very friendly and helpful.
trusha2016 - London, United Kingdom
---
Slept very well as bedding was of good quality and high floor ocean view room was quiet. Bedroom was alright but quite small and only a moderate shower. Location is close to the pier so also close to the heart of town. Service was only average and it was marred on departure when an over-officious valet tried (in vain) to persuade us to prove we had been charged for valet services. Instead he was made to check this for himself which he did grumpily. Let's charitably assume he was the exception.
David G - Boca Raton, Florida
---
Loews Santa Monica is a very clean and comfortable hotel, located near the ocean. There are many local attractions. The Staff is very courteous and helpful. The overall appearance of the hotel is outstanding.
justinlabatte - Omaha, Nebraska
---