Please select your dates to see prices:
---
Viceroy Santa Monica in Santa Monica, California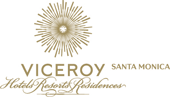 Located in Los Angeles's urban beach community, Viceroy Santa Monica combines a coastal cosmopolitan vibe with classic sophistication. Guest rooms and suites offer minimalist design and feature monochromatic color schemes with bold and unexpected accents. All rooms are bright, airy and spacious, and are equipped with sitting areas and desks, most rooms have views of the ocean or swimming pool, and feature in-room entertainment centers and premium amenities. Personalized service and utmost attention to detail make this the perfect retreat.
Business friendly yet vacation ready, the hotel is just steps from the Santa Monica pier, beaches, shopping, dining and nightlife. In L.A., it is all about location, and Viceroy Santa Monica gets high marks for its prime piece of real estate. Nearby is the Third Street Promenade and posh Montana Avenue - both trendy shopping areas with celebrity regulars and sidewalk cafés. Guest can relax or explore as much as their hearts desire. Venture out for some shopping, visit world-class museums or tee off at a championship golf course. Don't forget to go to the famous Santa Monica Pier, a Southern California landmark that has the world's only solar-powered Ferris wheel, a carousel and a roller coaster. The hotel is home to one of the city's finest restaurants, and a lounge where designer locals gather on a nightly basis.
Location of Viceroy Santa Monica
Viceroy Santa Monica
1819 Ocean Avenue
90401
Santa Monica, California
Nearest Airport: LAX
Amenities for Viceroy Santa Monica
General Information
162 Guest Rooms
Dining
Restaurant
24-Hour Room Service
Bar
On-Site Amenities
Concierge
Spa Services
Complimentary Newspaper
Laundry Service
Fitness Center
WiFi
Valet Parking
Pool Cabanas
In-Room Spa Services
In-Room Amenities
Bathrobes
DVD Players
In-Room Safes
Mini Bar
Marble Bathrooms
Flat-Screen Televisions
Luxury Linens
Luxury Bath Amenities
Business
Business Center/Services
Meeting Rooms
Nearby
Shopping
Museums
Restaurants
Nightlife
Beaches
Interests
Beach
City
Summer Getaways
Reviews for Viceroy Santa Monica
---
Had a wonderful work and pleasure trip with my besties. Staff were accommodating and lovely the entire stay. Great location and this was my second stay (had to come back). Kenny the bellman is my personal favorite. He took great care of us!
---
This was my fifth stay and my wife's second stay at VSM. We love the location and the attentive service by the staff. On this stay, we were disappointed in the size of the room and having to deal with the handicapped access features in the bathroom. For future stays, we would prefer not to have a handicapped access room if possible.
jamesstreet2018 - Atlanta, Georgia
---
Sixteen years I'd waited to receive the phone that led me to L.A. to meet the executives who'd "green-lighted" the film that's to become my bio-pic. I was overjoyed and given that the meeting place was 1.5 miles from the beach, I made a ressies at a place I promised not to name, or post photos if they'd "promise" to refund my $$$. Say. No. More. After traveling all night in Uber's, buses and trains I arrive at the Vice in just enough time to run through that GORGEOUS and well-appointed lobby, rip a change of clothes from my bag, change and hustle to get to our destination. My sweetheart had arrived a day earlier and refused to stay at the "un-mentionable" place and knowing I'd become quickly apoplectic if he had, decided to drop some coins (And believe you, me: that ain't an easy thang for him to do... which is why he has WAY more $$$$ than I do..$... but who's comparing? Right?!). Anyway. After the meeting we head back to hotel where I dropped down onto those freshly ironed sheets on that deliciously made bed and allowed the taste of beautifully understated luxury—directly across from the ocean—to take me away... Did I mention that the wall paper in our room: azure blue, felt as though it were a continuation of the moves and lines of the ocean just beyond our grasp? Well...I'd be remiss if I didn't remind you. Later, that evening we dined with Ben and Alicia from Canada, fireside as we were all wrapped in blankets, sipping on Gin & juice... laid back with... I awoke to the sun kissing my cheek(s). The cool marble massaged the stress from my feet, worn down from wearing a brand new pair of Jeffrey Campbell's. Not a good 💡 😮 Zana. Is. Da. Bidness!!!! That half-caf-soy-latte-with-a-teaspoon of 🍯 rivaled the best: Blue Bottle Peet's Verve Artisan's Coffee Shop I'm just sayin... she slayed that cuppa joe! And I LOVED her Comme de Garçon sweater. Slamming. I knew I could trust her given her fashion taste. And that million dollar laugh, and smile... get on outta here Zana (pronounced like Zsa-na... think Zsa Zsa Gabor). LOVED the lesson in an opportunity to engage in cultural humility🙏🏽. She made me not only wanna run out and buy a few Comme de sweaters (even if the were mid-drifts), but also, I wanted to stay another night, the-book for the future, and catch boat, plane and or train to Debravnek! And not to forget either Cory or Elena.. ladies, y'all are both so en pointe. My sweetheart went on about you, Cory, about how you made him FEEL... And Elena, you were so helpful, with your cool-as Black leather Converse, thank you for engaging with us and snapping our photos so early in the morning and not minding doing so. We FELT special. And that's the point: there was nothing artificial about our experience. As a matter of fact, both my sweetheart and I remarked repeatedly how being at the Vice felt like home. Keep on keeping it real, Y'all! Respectfully yours, Regina
reginalouise - Walnut Creek, California
---
We loved the Viceroy! The location was fantastic and the hotel was gorgeous, it even smells amazing. The staff was friendly and helpful. The rooms were nice and the food was great as well. I would definitely recommend
---
So love this hotel, everything is great about it, location, rooms, service, bikes, pool area, the buzzy bar, food, the smell and of course the staff, especially Matt on the concierge desk. This is our fifth visit and whether with the kids, friends or on our own we wouldn't stay anywhere else.
outlinedesign14 - Auckland, New Zealand
---