Please select your dates to see prices:
---
Alta Mare by Andronis in Santorini, Greece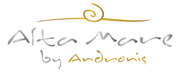 Nestled high above Santorini's legendary caldera, Alta Mare by Andronis welcomes you to experience complete comfort and luxury amidst the natural splendor of one of Greece's finest treasures. Surrounded by the island's pristine beauty and fabulous architecture, immersed in the pleasingly mild Aegean weather, relax and enjoy your Mediterranean escape. The Alta Mare's nine spacious, inviting rooms achieve a perfect combination of traditional Cycladic design and modern luxury. Their bright, airy style creates a seamless indoor-outdoor flow. Relax in elegant bathrooms, sleep in plush beds and take in the sweeping views from your private balcony as you soak in your private whirlpool tub. Seclude yourself from the world, find complete tranquility and enjoy every fabulous moment at Alta Mare by Andronis.
In the morning, stroll out to one of the fine beaches near the hotel, stopping in at Perissa or Kamari to admire the wondrous black sand before splashing into the cool Aegean Sea. Venture out on the open ocean for a relaxing day aboard a luxury yacht or take to the waves for some kayaking or windsurfing. Experience the fascinating undersea world of the caldera with a scuba diving expedition into the amazing corals, deep underwater caves and past the caldera's two islands. Warm yourself while sunbathing alongside the swimming pool. In the afternoons, enjoy an authentic Greek lunch at Alta Mare Café, followed by a visit to the Museum of Prehistoric Thera, where you will learn much about the island's rich history. As the sun begins to set over the island, hike to legendary Amoudi Bay for a truly magical night. Find a delightful restaurant along the bay, relax with an enticing cocktail followed by a sumptuous, traditional meal as you watch the breathtaking sunset over the Aegean. With your stay at Alta Mare by Andronis, every day is this amazing, and every night this magical.
Location of Alta Mare by Andronis
Amenities for Alta Mare by Andronis
General Information
9 Guest Rooms
On-Site Amenities
Complimentary Newspaper
Laundry Service
WiFi
Outdoor Pool
Private Whirlpools
In-Room Amenities
Air Conditioning
Bathrobes
DVD Players
Hair Dryers
Satellite Television
Flat-Screen Televisions
Luxury Bath Amenities
Activities
Cooking Classes
Scuba Diving
Snorkeling
Yoga
Wine Tours
Nearby
Historic Sites
Nightlife
Beaches
Interests
Summer Getaways
Reviews for Alta Mare by Andronis
---
My wife and I stayed for our honeymoon at the Alta Mare Andronis property, and absolutely loved it. The entire staff was extremely helpful, caring, and attentive to all of our needs. The hotel was small, but clean and very nice. I would highly recommended this property to anyone vacationing to Santorini.
---
This hotel was absolutely amazing! We stayed here for 4 nights late in October. The staff were so friendly and welcoming. Both the receptionists were very sweet. Everyone speaks very good English which is helpful. Sophia even gave us a list of must see attractions for our next island of Naxos which was so nice of her. The girls arranged a sunset Catamaran and even negotiated the price for us. :) Lucas, the bartender and breakfast guy was so great! Friendly and efficient. George, the manager, met us at the drop off point and walked us to the hotel, while also helping carry our luggage, We had a lovely room with a perfect view. The room was #6 Attikica. Even though it wasn't the biggest room at the hotel it was definitely one of the more private ones. We were at the bottom of the walk way, so the only people who came by were the 1 other room we shared a staircase with and even still they cant see your hot tub from the stairs.. Most of the other rooms have walkways that go by the hot tubs and are much less covered from above. That is pretty standard in Oia. The room that connects to the pool did not look like it would be worth the money. Especially in the busy season because everyone can see right into your room/patio while enjoying the pool and I would imagine the noise would be disruptive to your privacy, Breakfast was amazing, Every hot or cold beverage you could imagine. Different types of milk for those who don't drink dairy. Tons of egg options and add ins for your eggs. I highly recommend scrambled eggs, the fruit bowl and iced lattes. There was cereal options, bread options, meat options etc.The filtered coffee in Greece is not like home and the Greek coffee is gritty. Take it as an opportunity to try some new types of drinks. The location of this hotel is perfect. Close to many shops, cafes and the pedestrian walk way where you can access anything you need. There is a little market around the corner from the hotel which has a lot of essentials. Soaps, shampoos, food products, beer, fruit and even cosmetics in case you forget anything or don't want to carry your large liquids with you. The room itself was comfortable, good bed- nice sheets- bigger than a double but not a king. The shower was a little frustrating because the water would spray out all over the bathroom floor. I think they need bigger floor towels. There is a lot of outlets and decent amount of storage, The rooms were quiet and dark if you closed the shutters. The whole hotel was incredibly clean! The bath products were very nice. They service the room twice a day, and I know they try and wait until they see you leave to do so. Turn down service comes with a little snack- yum! Air conditioning worked pretty well for such a small unit. The patio chairs were comfy and the pool area was very nice. It gets the morning sun, just in case your room doesn't. This is not a child friendly hotel. Our patio was a couple stories up with no guard rail. Do not bring children here. I would highly recommend this place and would absolutely come back! Do not hesitate to book, its worth every penny.
Britt D - Calgary, Alberta, Canada
---
This location is amazing. The property is close enough to the main walkway that you don't have to travel far to get to your room, but fat enough away that you aren't bothered by thousands of tourists walking past you. The staff here is incredible. They gave us excellent recommendations for food and activities. If we ever needed anything they were quick to supply it.
---
Summary: My wife and I just stayed for six nights here - she is 5 months pregnant. The room, view, and amenities met our expectations, but we were blown away by the staff. Unbelievable; they made the trip go from "another great trip" to "outstanding and once in a lifetime". If you're wondering about whether to come to Santorini or whether to stay in Oia, jump to the bottom of this review. First, our hotel experience. Like I'm sure many are thinking - we didn't quite know what to expect with "cave rooms" or whether we should stay in Oia. What's the difference in a few hundred Euro per night? Some background - the hotel is Alta Mare - it is one of five hotels owned by Andronis in Santorini. It is one of a few in Oia at the northern tip of the island. The hotels (including this one) are built into the cliffs overlooking the sea. Most rooms in Alta Mare face south or west. Our room was a cave room - it was very nice, and luxurious. The jacuzzi was not very deep, but was convenient; we did not pay extra for a "perfect view" so we got half water and half of the town built into the cliff. We were glad we didn't pay extra; our view was great even though there were some better ones. We stayed six nights - for staying so long, it would've been nice to have just a bit more space in the room, but we made do just fine. What really sets this hotel apart is the location and the absolutely fantastic service, IN ADDITION to the lovely rooms set into the cliff side. Location-wise, it was just south of the super crowded part of Oia, but still very close and walkable to everything. Service-wise....it was a once-in-a-lifetime experience. Context: My wife and I honeymooned in Bora Bora at the St. Regis, so we've seen upscale. This was .... personal. Erica and Sophia (the two concierge / day to day managers - there is always on of them on site) were our friends, our guides, and personally invested in making sure we had a great time. They gave us fantastic recommendations (their restaurants were TOP notch - both little shacks and fancy sit downs) and they ensured we always got a table when we wanted), they booked our boat ride, they helped us plan our day of driving around the island. Everything. They personally made our six days the most productive, lovely they could've been. And the rest of the staff - Lucas (bright eyed, wonderful helper w/ breakfast everymorning and pool drinks), Mike (all around helper), George (General Manager) -- it is clear they are a family - a team. I've come to believe that is signature Andronis - so you won't go wrong with any of their properties. But Alta Mare is now "our choice". ...And it goes further - our last night on the island, my wife fell down - scared for our baby and her health, there were simply no questions. George and Erica took charge, Andronis had luxury cars take us to the hospital; our driver was the Andronis Electrician Christoph who genuinely cared for our situation and helped translate) - they didn't charge us, they didn't hesitate. They did what a caring family and hotel staff does. Our baby was ok but my wife was on crutches; when we returned they had put us in their nicest villa so she had to walk fewer stairs (there are indeed A LOT of stairs here), they ordered us food and made sure we were comfortable. In short, we will remember everyone at this hotel because these people made our trip. As for Oia/Santorini -- it's a small island, and we're very happy we picked it. It's more expensive than other great islands, but from what we saw, it's a bit nicer. The food was excellent, and whatever amenities you want are available. Oia is a lovely town - we wanted to relax for several days (baby moon) and just have a few excursions - it provided perfectly. We sat by the Alta Mare pool for a two of our days. Did a catamaran ride another day (go with the recommendation of Erica/Sophia on company), rented a car and drove around another day, and walked around Oia the last day. The car was great - but only do it if you're a comfortable driver -- roads can be tricky to navigate. The one time we stopped in Fira we did the cable car (that was fun) but the rest was simply a big city to us. If that's you're thing, definitely check it out - if you want more of a small town feel, head to Oia and get some R&R. Lastly, on recommendation from the staff, we spent half a day at black beach at Parissa on our driving tour. Highly recommend that - lovely beach, wooden chaise loungers already out there. Just grab one and the restaurants come serve you. Greek Paradise, with a staff that's like family. We're very glad we went with Alta Mare and Oia for six nights (vs. island hopping or city hoping on Santorini)
---
What we experienced at the Alta Mare by Andronis in Oia, Santorini was pure bliss. After traveling 25 exhausting hours, we couldn't believe what we walked into... a gorgeous city with vivid blue and white houses and the bluest water you will ever see. Our honeymoon home was beautiful and clean. Room service was wonderful and the food was delicious! We had an amazing room but then got upgraded to a bigger room with access to a private pool. What made our trip unforgettable was the staff. George, Sofia, Thanos, and Mike went above and beyond to make sure our stay was perfect. They are such sweet and genuine people. We got a surprise when we walked into our room and saw lit candles and rose petals all over the floor as a special gift for our honeymoon. They are more than accommodating by making sure we had dinner reservations every night. I will recommend Alta Mare to all my family and friends. It is a must visit hotel. A truly breathtaking honeymoon.
Jensham930 - Chicago, Illinois
---