Please select your dates to see prices:
---
Alta Mare by Andronis in Santorini, Greece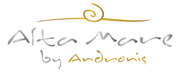 Nestled high above Santorini's legendary caldera, Alta Mare by Andronis welcomes you to experience complete comfort and luxury amidst the natural splendor of one of Greece's finest treasures. Surrounded by the island's pristine beauty and fabulous architecture, immersed in the pleasingly mild Aegean weather, relax and enjoy your Mediterranean escape. The Alta Mare's nine spacious, inviting rooms achieve a perfect combination of traditional Cycladic design and modern luxury. Their bright, airy style creates a seamless indoor-outdoor flow. Relax in elegant bathrooms, sleep in plush beds and take in the sweeping views from your private balcony as you soak in your private whirlpool tub. Seclude yourself from the world, find complete tranquility and enjoy every fabulous moment at Alta Mare by Andronis.
In the morning, stroll out to one of the fine beaches near the hotel, stopping in at Perissa or Kamari to admire the wondrous black sand before splashing into the cool Aegean Sea. Venture out on the open ocean for a relaxing day aboard a luxury yacht or take to the waves for some kayaking or windsurfing. Experience the fascinating undersea world of the caldera with a scuba diving expedition into the amazing corals, deep underwater caves and past the caldera's two islands. Warm yourself while sunbathing alongside the swimming pool. In the afternoons, enjoy an authentic Greek lunch at Alta Mare Café, followed by a visit to the Museum of Prehistoric Thera, where you will learn much about the island's rich history. As the sun begins to set over the island, hike to legendary Amoudi Bay for a truly magical night. Find a delightful restaurant along the bay, relax with an enticing cocktail followed by a sumptuous, traditional meal as you watch the breathtaking sunset over the Aegean. With your stay at Alta Mare by Andronis, every day is this amazing, and every night this magical.
Location of Alta Mare by Andronis
Amenities for Alta Mare by Andronis
General Information
9 Guest Rooms
On-Site Amenities
Complimentary Newspaper
Laundry Service
WiFi
Outdoor Pool
Private Whirlpools
In-Room Amenities
Air Conditioning
Bathrobes
DVD Players
Hair Dryers
Satellite Television
Flat-Screen Televisions
Luxury Bath Amenities
Activities
Cooking Classes
Scuba Diving
Snorkeling
Yoga
Wine Tours
Nearby
Historic Sites
Nightlife
Beaches
Interests
Summer Getaways
Reviews for Alta Mare by Andronis
---
My wife and I stayed at Alta Mare at the end of April 2018. We cannot say enough great things about this hotel and staff. The location was excellent, and the staff were the most helpful staff that we have ever encountered. An amazing trip to Santorini was made even better because of where we stayed!
---
We came here for 6 days in May to celebrate our 25 wedding anniversary. Right from the start, the staff were amazing. Friendly, attentive, warm. We had Ekari suite, which was good for privacy (relatively - everyone overlooks everybody else in Oia), and had stunning views. Highlights from the hotel for us were: eating breakfast on our private terrace overlooking the white buildings and blue domes of Oia, watching tiny boats on the glittering waters below; getting into the private jacuzzi on the balcony with a glass of wine to watch the sun setting. We loved Oia for people watching. It gets a bit chilly in the evening in early May, so be aware - but it is also less crowded, so it's a good time to go. We also liked to go down the steps to Armeni bay (a long trek with beautiful views), a slightly scruffy seafront with one amazing little restaurant and a marvellous laid back attitude. Have a beer, a swim, some perfect seafood...the you can get a free shuttle boat for a 5 minute ride to Ammoudi bay, and tackle the 300 steps back up into Oia. The jacuzzi came in handy on the days we did that! In summary thanks a million to to George, Rafaela, Yannis, Thanass and all the team at Alta Mare for making our trip of a life time even more special!
Mork H - Manchester, United Kingdom
---
My husband and I booked this hotel for part of our Italy/Greece honeymoon and it was the highlight of our trip! Beautiful rooms, amazing staff and great facilities. We were greeted at the hotel and personally escorted to the check in room where we were given champagne while we checked in. When they found out we were celebrating our honeymoon they gave us complimentary wine and fruit our first night there which was a really nice surprise. The rooms were stunning and had an incredible view with a private Jacuzzi. I loved loved loved getting served a fantastic breakfast every morning on our beautiful ocean front balcony. Price wise this hotel seemed more reasonably priced than other hotels in the area and I honestly can't imagine the other hotels being nicer! We were told that we could use the other Andronis facilities but never even bothered because we just loved the room and Alta Mare's infinity pool. When we went to the pool we had the place to ourselves, I liked that it was a smaller hotel, made it more private. Every staff member was incredible, very friendly and professional. I can't imagine having a nicer stay anywhere else. I would love to go back to Oia someday, and if I get the chance to I would choose Alta Mare again!
merb897 - Syracuse, New York
---
My friend and I booked the Romance Suite in Alta Mare with no expectations seeing as it was the smallest suite the hotel property has but upon check in we were pleasantly surprised. Our check in experience was amazing, I recommend that you organize your transfer service with the hotel and call them when you get dropped off so they can help you with your luggage (it is very exhausting and difficult to get your luggage to the hotel from the area that you are dropped off) the bellboy makes it look so easy! It is a short walk from drop-off to the hotel but there are many ramps and stairs. You are given a glass of yummy champagne as a welcome drink to enjoy during the check in process. We received a tour of the property and I was able to ask all the questions I had about my stay there. The suite itself was so clean and much bigger than I expected. Our private jacuzzi was indeed heated and it was cleaned every day during our stay which we appreciated because we had a windy night that brought a lot of dirt into our patio. The hotel's infinity pool is the most gorgeous that I saw on the island, it is extremely photogenic and also heated. We were also surprised with a complimentary birthday cake for my friends birthday and it wasn't just any cake, it was easily the most delicious cake I have ever tasted! There are two really good dining options close to the hotel, Catch restaurant for a nicer dinner (the hotel easily set up a reservation for us upon arrival, highly recommend for dinner your first night in Oia) and Pitogyros for the best gyros I had in Greece! Lolitas gelato is also very good and a short walk from the hotel. The Alta Mare staff were the most attentive, kind, detail oriented hospitable hotel staff I have ever encountered! They will take care of any reservations needed, they set up our yacht cruise reservation (also highly recommend) and will arrange taxi service at any time! Mr. Giannis was extra accommodating and patient with all of my questions. Room service came around twice each day and after leaving a mess while getting ready for the next activity, we would come back to our room clean and organized. The bellboy was super helpful carrying all our luggage to our taxi upon departure and not to mention, the hotel was kind enough to hold our luggage after check out because our flight was at midnight. I was so ingratiated by all the attentiveness that I happily tipped the staff (always tip if you are happy with service, in this case we were extremely happy!). Also, note that you are able to use the sister properties amenities during your stay. We enjoyed the pool at the Andronis boutique hotel (2 minute walk from Alta Mare) one afternoon and they have really yummy drinks and lunch options. They also offer a sunset dinner with live music out by the pool that looked amazing. The complimentary fruit platter and wine are also very good! Breakfast was served every morning as ordered the night before. A couple times the food wasn't as hot as I would have liked it to be upon arrival but they offer so many breakfast options and it all tastes amazing! Oia is definitely the town to stay in while in Greece and you can't go wrong with choosing Alta Mare! i would 100% stay there again and I cannot wait until my next opportunity to do so!
---
We spent 3 days here, as part of my wife's 50th birthday treat. We declined the hotel's offer of airport pickup and advised them that we'd organised our own taxi. I thought that would mean we'd need to find our own way from the drop-off point to the hotel(as the approach is pedestrianised with no taxi access) - however, we were personally met from our taxi by George, one of the managment team. Classy. He organised one of the hotel staff to take our bags ahead, and he then escorted us to the reception (it's a 2 minute walk) for a glass of cold prosecco while we checked in - a nice & very welcome touch. Reception is very petite - just a small room with a couple of chairs and a desk. This is typical of the Alta Mare concept: nothing big or flashy for its own sake, everything from service to decor is understated and relaxed, except where it is specifically designed to wow you and enhance your stay. We didn't volunteer that it was a birthday trip, but they asked whether we were celebrating anything and we confessed. Our room was called Andromachi - one of the more basic rooms, but also one of the most private ones. It is adjacent to two other rooms, but is not overlooked by either, and there is no path beyond it, so no other guests pass by. The room was fresh, bright and airy, quite spacious, with good views, and all expected mod cons. Worth noting that each room has a separate, dedicated wifi access point, in addition to the hotel-wide one. Speed and reliability both good. Air con was fine, shower excellent. The hot tub is in a small enclosed space accessed via the terrace, but set back from it. As such, it is permanently in the shade, but still had a reasonable view of the caldera. We were given a bottle of Andronis' own label white wine (very nice it was too!). I assume all guests get this, but it was unexpected and along with the really warm welcome & prosecco, it got our stay off to a great start. The hotel's infinity pool is beautifully designed. The website photos, good as they are, don't do it full justice. The temperature was perfect, heated but not at all hot. It's big enough to do (short) lengths in, and it never got busy enough for that to be difficult. Great to relax in & around. The loungers are comfy, and if you prefer your caldera view dry, you can go to the small area below and beyond the pool and chill out on a plump designer bean bag. Poolside bar was OK but not somewhere you'd sit in as a venue in and of itself, more just somewhere for the staff to be based. Again, bear in mind that there are only 6 rooms, so a destination bar is not the point! They provided complimentary chilled water when we grabbed our loungers. The hotel's location was perfect for us. It is accessed via a small lane off the pedestrianised main street in Oia. It is about 5 minutes stroll from the heart of the shops, and it is totally private - no tourists allowed down the access lane. There are 3 or 4 restaurants within a couple of minutes walk (including a couple of the high end ones, Lauda and Black Rock). We had a lovely breakfast on the terrace next morning, only issue with the setup was that the coffee was pretty cold by the time it got to us. After breakfast, we were heading out to explore, when the reception staff called us in and offered us a room upgrade to 'Elen', their best suite, for the remaining 2 nights of our stay. What a lovely surprise, it is such a beautiful suite - large seating area, two sets of french doors leading to either side of the large terrace, and a hot tub with fabulous views both down onto the hotel pool, and over the caldera. The suite also has a mezzanine 2nd bedroom, which was cute, although headroom is a bit restricted so it is very much just for sleeping in. All the staff throughout our stay were really pleasant and professional, and in particular the management team were very relaxed, friendly and seemed genuinely happy to be working there and totally comitted to making guest stays stress-free and memorable. That attitude, coupled with the privacy, pool, views, and minimalist cool of the decor, made our stay just perfect. I could not have wished for a better experience. There are more expensive options in Oia, but I am sure none of them could have trumped Alta Mare. When we left, to go on to Kamari, we were again walked to our taxi by the manager, and we said our goodbyes as if to a new friend (which I don't say lightly, my wife got a wee bit emotional!). I can't really think of a downside to Alta Mare, it was perfect for us. I guess there was the odd little detail that could have been improved - the access panels to plumbing in bathrooms was pretty roughly fitted and looked out of keeping with the rest of the decor, and the sink in our original room had a (repaired) crack at one edge. But I mention this only to reiterate that I didn't care about such trivial stuff: the real Magic of Alta Mare is in its ethos and in the staff who embody it.
---