Please select your dates to see prices:
---
Andronis Boutique Hotel in Santorini, Greece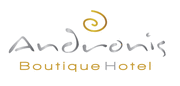 Shimmering waters, brilliant skies and Mediterranean warmth greet you as you arrive in Santorini, the idyllic setting of the Andronis Boutique Hotel. Magnificently constructed from ancient cliff-side caves, this one-of-a-kind boutique hotel has transformed its piece of the island into a dreamy Mediterranean retreat. An inspired confluence of classic Cycladic style and modern urban elegance, each room flows in a purely charming and relaxing manner, complemented by the cool, refreshing island ambiance. Relax in plush beds, enjoy luxuriously appointed bathrooms, stretch out on your private balcony or take in the glorious sunset as you soak in your own private whirlpool. Discover serenity and the wonders of Santorini during your stay at Andronis Boutique Hotel.
Your mornings may include a stroll to the Andronis Spa, where sublime massages and wellness treatments will leave you refreshed, invigorated and ready to explore the island. Venture to the caldera and head out on the open sea, enjoying a luxurious yachting experience or deep sea fishing excursion on the gorgeous Aegean. Scuba dive and snorkel along the island's caldera, exploring the vibrant sea life, coral and volcanic formations. Or, if you wish to stay on land, strike out on a scenic hike from Fira to Oia or a horseback ride high above the caldera for incredible sightseeing. Tour the region's magnificent vineyards and sample the delicious vintage unique to Santorini's volcanic soil. Afternoons could mean stretching out on one of the island's fabulous beaches or taking part in one of the hotel's delightful Greek cooking lessons before you settle down to your own starlit dinner. As the moonlight casts its magical glow across the Aegean, step into your whirlpool tub and take in the mesmerizing natural beauty of Santorini. There is a magnificence here found nowhere else on Earth.
Location of Andronis Boutique Hotel
Amenities for Andronis Boutique Hotel
General Information
Only 13+ Years Permitted
Dining
Restaurant
24-Hour Room Service
On-Site Amenities
Beauty Salon
Concierge
Spa Services
Complimentary Newspaper
Laundry Service
WiFi
Butler Service
Outdoor Pool
Limousine Service
Private Whirlpools
In-Room Amenities
Bathrobes
Hair Dryers
In-Room Safes
Mini Bar
Satellite Television
Flat-Screen Televisions
Luxury Bath Amenities
Activities
Cooking Classes
Wine Tasting
Scuba Diving
Snorkeling
Yoga
Business
Business Services
Nearby
Historic Sites
Nightlife
Beaches
Interests
Summer Getaways
Reviews for Andronis Boutique Hotel
---
I went to this hotel in my anniversary. It was amazing stay indeed. I liked the way they treated us from the start till we checked out. Positives: 1) They are very kind, very helpful. 2) The rooms were very clean, they clean the room twice a day. In addition to that, they get us the weather forcast for the next day. 3) They are helpful in arranging tours, booking resturants. 4) The place and the views are amazing. Negatives: 1) the pools and jacuzzis are not private as they are mentioned in booking.com. Everybody could look at us when we want to relax, its semi-private. I would recommend that they change the name to semi-private. The people sitting in the resturant and common pool are could look at us, although our pool was the most private that the others. 2) The lightining of the rooms, I felt that no lights were there in the room, they are few and dim. Thanks
---
This was a great experience! from them picking us up in Oia where we stayed the first few days to them carrying our bags to the room. I personally preferred Oia over Fira but the hotel was perfect! The views were breathtaking and the breakfast was so amazing! If you are staying in Fira you must stay here!
sarahspiro - Delray Beach, Florida
---
Room: Over looked the sea with stunning views. We had a hot tub which was heated to perfect and was able to request for it turn up or down. The shower/toilet felt as-if we were in a cave, smooth walls and spot lights. The bed was up stairs which had a breathe taking view, and you could open the windows out onto your on roof terrace. STUNNING Food: OMG breakfast we had so many options and the flavours from everything was impeccable. The evening food was amazing, we had 7 courses and each one out did the last. Wine in Santorini is on another level, make sure you try. Staff: Everything single member of the team was very attentive to the small details which is very rare to fine abroad some times. The housekeeping team are so happy and you can have a great conversation with them. Georgios Giourtzidis, the chief concierge at the hotel was FANTASTIC, Literally answered my emails quickly and helped create fake photoshoot competition so I could surprise my partner and ask her to marry me. They then decorated the room in rose petals and candles.
Gurj M - Shropshire, United Kingdom
---
Loved this hotel, everything was fantastic- staff could not have been better!! Everything was fantastic. From the minute you arrive you will be in Paradise. We upgraded to a cave whirlpool and that was nice as you did not have to leave the room to whirlpool, very private and we used it much more then if it were on the deck.
---
Everything about this hotel was incredible. Every little detail was not only seen to, but seen to with the utmost of courtesy and professionalism. The room we had was quite spectacular. It was spacious, very clean, well laid out and most importantly very comfortable. Everything around the hotel was easily accessible with a few short stairs. The entire hotel was kept very clean, at all times. Let me now talk about the staff. The staff all maintained the perfect balance between friendliness and professionalism. Each interaction was pleasurable. The staff in the front desk were always on hand to provide advice as to activities and restaurants and book what was required. The staff all were genuinely pleased to help / invested in your experience being a momentous one. Food too was another of the highlights. The breakfast was outstanding, in our opinions. We also had drinks and nibbles at the pool. These too, were of a very high quality. I do recommend the Gazpacho Bloody Mary, it was a standout. TL;DR: Must visit at least once.
---