Please select your dates to see prices:
---
Hotel Cala Di Volpe in Sardinia, Italy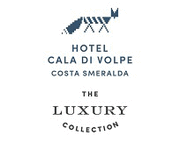 Off the west coast of Italy, the island of Sardinia is a distinctive Costa Smeralda destination with expansive Mediterranean and mountain views, rich history, and is home to one of the most famous jet-setting destinations in the world, Porto Cervo. Here, Hotel Cala di Volpe was designed to recall an ancient island village. This member of The Luxury Collection of Starwood Hotels & Resorts welcomes with towers, poticoes and artfully adorned bedrooms with private balconies.
Its grounds dappled with rosemary bushes and rockroses, the hotel offers a stylish base from which to explore the area's vineyards and picturesque small towns. Play a round of golf at the adjacent Pevero Golf Club or take advantage of the hotel's onsite water-skiing school. If you're looking for history, nearby archeological ruins date back to 1700 B.C. For a peaceful day trip, visit the low-key Maddelana archipelago or the old Spanish town of Alghero.
Location of Hotel Cala Di Volpe
Hotel Cala Di Volpe
Porto Cervo Costa Smeralda
07020
Sardinia, Italy
Nearest Airport: FSC
Reviews for Hotel Cala Di Volpe
---
I am writing this a little late but I certainly wanted to make sure this hotel got the review it should get. I have to say before I booked this hotel I was worried about some of the comments made from previous posts. So much so I emailed the hotel and told them of my concerns. I was immediately impressed by the same day response from the manager to my email and how they would address any concerns I had before and upon arrival. When we arrived I have to say just one word. "breathtaking". This hotel is beautiful. Our room was clean and elegant with wonderful bedding and toiletries Everything you possibly would need was there. The people in the hotel couldn't do more for you. From the front desk to servers to higher management. Everyone makes you feel like your special. This place is stunning and would come back in a heart beat. The food is amazing , the drinks are yummy and the complimentary bar food was a lovely touch. I have stayed in many beautiful hotels. Four seasons being my go to. But this hotel is right up there with service and luxuries you would expect from a high end resort. This place is not cheap but you get what you pay for. If your budget can afford it don't look back you will love it from the minute you arrive. Special thanks to concierge for all their wonderful advice and to Mr Frank Mulas who took time in his busy schedule sit down with us and share a few drinks.
---
This is a wonderful hotel. It has a very nice old style jet-set feel about it. Food is very good, bars are good and the beach/pool areas are just like you want them. Location could seem odd but much nicer than busy central Porto Cervo. If you run, don't miss a run to Romazzino. We rented a boat one day which the hotel sorted out for us. This is great, do that
---
From arrival we were stunned with the beautiful location and the design - it is a postcard perfect type of place. The colourful walls and little towers reminisce a fairy tale castle. Absolutely well preserved and immaculate with manicured lawns and emerald water bay. Staff are extremely courteous and helpful. The food is fresh and plenty. Few suggestions: • I would recommend more fresh vegetables at breakfast buffet and a selection of healthy seeds to top up the porridge or the fruit salads. • It will be nice to have some service around the main swimming pool during the day. • We could hear our neighbours through the wall every morning and maintenance staff speak loudly in the mornings on corridors. • The room card was addressed to Mr only despite that Mr and Mrs were booked and checked in :) The rooms are airy with beautiful decor and plenty of space. Beds are uber comfortable and cleanliness overall is spotless. Everything is immaculate and beautiful. We shall definitely come again and can't recommend it enough. Massive thanks for your great work! The Maréchals
LoriMarechal - London, United Kingdom
---
We've travelled many times to Italy, but this was our first visit to Sardinia. Hotel picked us up at the airport and we were very pleased to learn that they had upgraded our room to a beautiful suite with a terrific view in honor of our 30 year wedding anniversary(they also surprised us with a bottle of prosecco).. The overall property was beautiful, staff very professional, attentive and in particular the daytime concierge Annalisa and Giovanni were terrific. We were recommended to non-touristy restaurants and interesting towns to visit plus shown the highlights of the island including sunset at Phi Beach, hiking trails and shopping at Porto Cervo. Cala di Volpi delivers a luxury 5 star experience with an international flair and I would definitely recommend it to worldwide travelers.
mara4ski - New York City, New York
---
If you want exclusive luxury in a setting that is beautiful, then look no further. Everything exudes effortless quality and luxury. The setting is excuisite, the rooms luxuriant, the public areas are tasteful and stylish, the staff attentive and professional, the food is excuisite and the cocktails are to die for. Not cheap, but I have stayed in more expensive hotels that are nowhere near as good.
Stirred_n0t_shaken - London, United Kingdom
---